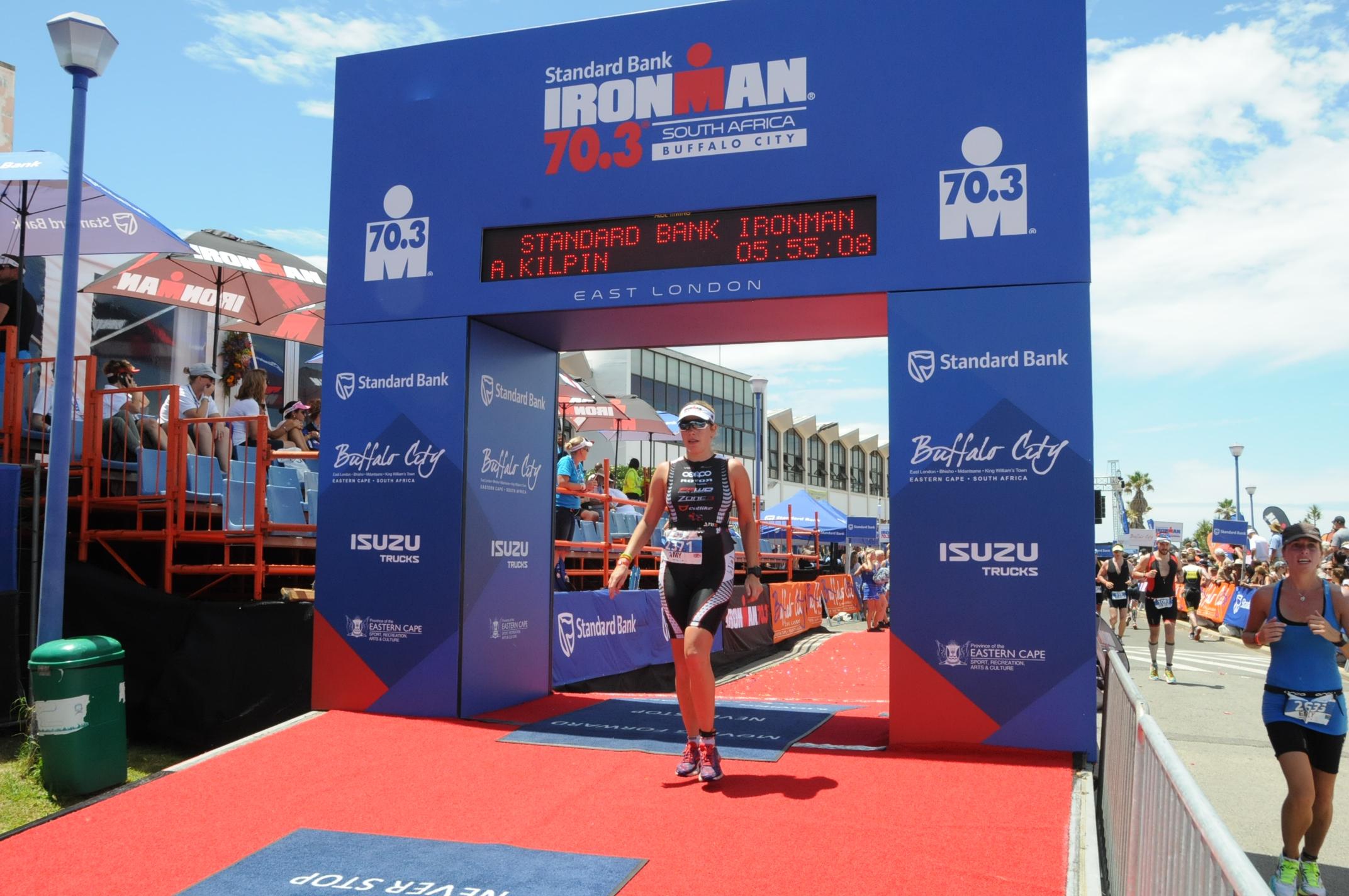 2016 is a milestone year. I turn 30 and enter a new age group. So last year I decided that I would celebrate my 30th by doing what I love – racing and travelling. As it just so happens, there was a race the day after my birthday. Ironman 70.3 South Africa. A yet unvisited country to tick off.

It happened when I was chatting to my hairdresser. She asked what I was doing for my 30th and suddenly the horror coursed through me. What am I actually going to do!? I can't just stay in England and do the conventional meal and drinks. I don't mean to sound ungrateful, and I will of course be celebrating this way with friends and family. But I wanted it to be memorable, I wanted to do something that would really mark the occasion. This was perfect.

It was never going to be a results-driven race for me. Firstly, that wasn't the objective of the race. It was mostly about my birthday, of course. But secondly, it was in January! Who races in January!?!? Realistically, I was never going to be at race fitness at this time anyway – I wouldn't have been long back in training after my end of season break, plus it was right after Christmas. It would be a nice 'no-pressure' race.

Unfortunately I'd had a few setbacks in the weeks leading up to the race. A trip over Christmas and New Year meant that I'd had almost two weeks off the bike, then almost immediately afterwards, I was struck down with 'man flu' and barely ventured out of the house for four days. The consequence? No training. It was getting extremely close to the race at this point and I was starting to get a little bit concerned about whether I was even fit enough to complete it, let alone get a respectable result!

A chat with my coach concluded my apprehensions and we mutually agreed that I was not race fit and that it would just serve as a training day. As I'd had time off two weeks out from the race we decided a conventional taper wasn't necessary and that I would train right up to the race. I was reassured, however, that even if it was just a training day, very few others would be benefitting from a week of volume training in the sun and an opportunity for race practice in the very depths of January.

I'd decided to spend five days training in Stellenbosch to get some acclimatisation in before the race, and what a great decision that was. I had heard good things about 'Stellies' as a training location and I wasn't disappointed. I happened to arrive right in the middle of a heat wave – 40 degrees of endless sunshine (it felt endless as it got light before 5am and didn't get dark until 8.30pm!). The next few days I put some decent training sessions in and didn't feel as bad as I had expected. Things were looking more positive.

I felt at home in Stellenbosch. Maybe it was all the vineyards?! No really, it was a beautiful place, so peaceful, and more importantly, I felt safe. Just a stroll across the stream to get to the expansive open air 50m pool (usually near empty), and the running track with a dramatic mountainous backdrop. The beautiful wine route road right on my doorstep, a vista of mountains and scenic trails. Yep, idyllic. This was definitely the right call.

Before I knew it, it was time to pack up and fly down to East London, but not before a trip into Cape Town to the top of Table Mountain and a sunbathing stint in Camps Bay. Even 3,000ft up a mountain, it was hot. This is my kinda place. And the views – just wow.

East London, on the other hand, had little in the way of scenic flair. It's kind of in the middle of absolutely nowhere, a run-down town by the coastline and local onlookers gazing in wonderment at all the carbon bikes while they struggle to sell small wooden elephants on the pavements.

I had a few days to train before the race, which mainly involved a spin out onto a highway and past a township where I very slightly feared for my life, and a run up the monstrous hill which would characterise the run course. No one could swim until the allotted swim practice the day prior to the race – where they were so vigilant about safety we had to have a pre-swim briefing and be checked in and out of the water with our timing chips! THAT'S how choppy it was.

I felt fine in the water and as it was my birthday, headed back for a short jog before getting ready for a day out. My friend Claus arrived for the weekend only so we drove up to a place called Cintra, a rugged, beautiful beach in the middle of nowhere with pristine white sands and blue waters. It could be the Caribbean. Minus the palm trees. Lying on the beach in 30 degree sunshine after a hearty lunch in a small local café, life felt good. Really good.

Later on I had to rack (music booming out the loudspeakers in transition) and attend the race briefing. I love race briefings with Paul Kaye; even though I've been to so many that they get repetitive, he is entertaining and also manages to make you feel really psyched for the race ahead. He casually mentioned that "this race is the second toughest 70.3 in the world". Oh. *Gulp*. Then added that if you see bubbles beneath you at the turnaround buoys, don't worry, it's not sharks. It's the divers – they are our shark guards. YOU WHAT.

So walking out feeling slightly more sweaty than when I walked in, we headed back for a home-cooked meal of boring rice and tomato sauce. Birthday celebrations in full swing! Not. Time to rest. I was feeling more excited about the prospect of racing again.

On race morning, I had accidentally set my alarm for weekdays instead of weekends. Good start. It was a good job Claus woke me up because had I been alone, I would have missed the race. Ahem. There's a no-pressure race and then there's just plain complacent! Sort it out!!!

We made it with plenty of time to spare and I was lining up on the beach ready for the rolling start – they were letting people go in groups. After days and days of sunshine, today looked ominous. The sea was rough, the winds were up, and the clouds were dark and stormy. The "swim" started way back on the beach so you had to run to the shore before wading through the massive wave break, which nearly knocked you over if you didn't brace yourself. It was slow going until you were out past it and could start swimming.

It felt pretty choppy but not horrendous, and I just settled into a pace and plodded on. I was conscious that I wasn't pushing very hard but with choppy waters and a tough course ahead I just relaxed. Maybe a bit too much, but it didn't really matter. I even stopped swimming a couple of times because some guy had massive issues sighting. And when I say massive, he was swimming diagonally across in front of me, repeatedly back and forth. I even shouted an expletive loudly the second time I had to come to a standstill. Grrrrr.

A slow wade out of the water, a glance at my watch (35 mins, damn. Slower than I thought!) and a massive long run up the beach before an even more massive run up a steep hill into transition, and time to grab the bike bag. That's if, you can find your bike bag. I had rehearsed my place, but my bag wasn't there. The bag I grabbed initially didn't contain my kit. I'm sure that was my number? Maybe that's not my number? I glance at my wrist. My number had rubbed off my wrist band. There were no numbers on me. Ok try the next set of digits that sound the same. I am now running up and down the bike rack thinking I have gone slightly mad.

Finally, I resolved that the only way to make sure of my number was to run to my bike and check. I ran across transition in my wetsuit, looking like an absolute rookie. Yep, that's what I thought. Same number as the one I had tried to go to first time. Ok, back to the rack. There I found my bag a few spots up from where it should have been. Someone had very kindly put it back in the wrong place just to confuse me. THANKS FOR THAT.

I knew I had wasted A LOT of time here (I later found out I was nearly 7 mins in T1!!!) so quickly got ready and out onto the bike. The first couple of hundred metres was fast and flat. That didn't last long. Soon we were climbing out of the town for about 3km, slow and steady. I had set power targets to stick to so was taking it very easy, riding conservatively as people pushed on past me (yeah, he'll burn out by the half way point, probably). It was slightly wet with light rain, which actually was perfect, the cloud coverage and rain were keeping me cool.

I was a bit too conservative, on hindsight. I knew it wasn't an important race and I didn't really feel like hammering myself, so I stayed where I was comfortable, easing off on the downhill bits with some nice free-wheeling, and cruising up the long slow climbs like I was on a Sunday coffee shop ride. At the turnaround point, I saw that I had taken nearly two hours to ride 45k. Erm… If it takes me the same time to get back, that is shocking. That cannot happen.
As I turned around I told myself it's time to push. Luckily, it was mostly downhill and flat with a few rolling hills on the way back in. I was making good progress. No one was overtaking me now, I was only overtaking people. It was far more enjoyable (now I remember why I usually go for flat courses. Damn those hills).

You know when they say never try anything new on race day? What about nutrition? Definitely not. Well, I did. At the end of last season my coach told me I wasn't taking on even nearly enough nutrition and I was struggling to eat solid foods on the bike now I was at the 'sharper' end of the field. So we tried something brand new, emptying gels into a bottle and sipping it throughout the bike course as well as energy drink. That's a lot of sugar. I was very wary about how this would pan out, but I felt excellent. Absolutely not a single bit of discomfort in my stomach whatsoever. Boom!

I thought I was on for a 3:08 bike (it's all that 4,000ft of climbing that makes it slow) but the bike course was too long (91.5k) and with one last big climb before descending into the town, my average pace dropped a bit. Anyway, I flew off in 3:12 and onto the run, feeling pretty good.

The run went right along the esplanade by the sea before heading up the most horrific hill I have ever seen in an Ironman event. The total run elevation was 1,000ft of ascent, and it pretty much all came in this one section of the run, over 1km long. I plodded up in the heat – the sun was now out and in full force, and it felt penetratingly hot. I could feel my shoulders burning, and burning… (don't save time by not putting sunscreen on in T2 kids).

Two laps, and my nutrition was going amazingly well. A gel every 25 mins and water at every aid station, I could maintain my (not very fast) pace. The hill though was really slowing things down. I tried to make up time on the way back and ended up overtaking everyone coming down the hill. Yes for gravity.

I was actually, on the whole, feeling pretty comfortable. I wasn't busting a gut in this race, it was nice and steady and I only really pushed the last couple of kms of the run. Into the finish chute, god that feels good. That last "sprint" finish nearly killed me. Then I recovered my breath and was fine.

I managed a time of 5:55 but had no idea what my position was as Ironman messed up the tracker so no results were displaying at all. To be honest, to get a sub-6 hours on that course, I was happy with that. Later on, at the infamous after-party, athletes always seemed extremely impressed when I told them my time, because apparently the course is so notoriously hard that not many people get under 6 hours!

In the end, I found out I came 10th in my age group out of 150, and was 48th female overall out of over 500.

For a race which I was ill-prepared for, and had completed 15 hours of training in the week leading up to it, which was in the very depths of the off-season (these South Africans are in the middle of their Summer – it would be the equivalent of me racing in July), which I had raced very conservatively, and in a new (pretty tough) age group, I'll take that. I'll definitely take that.

I was happy with my result; for the first race of the season (and extremely early at that) and one with no pressure attached to it, I felt pretty good. I know I could have performed better but it didn't matter, I'll save that for another time.

I had incredible experiences, saw some amazing place, met some cool people, and entered a new decade in a new country, and that's aside from a fun, challenging race. Now it's time to celebrate at home with my friends and family.

The most important bit was spending my 30th doing something awesome. And that, I did. South Africa is lekker.