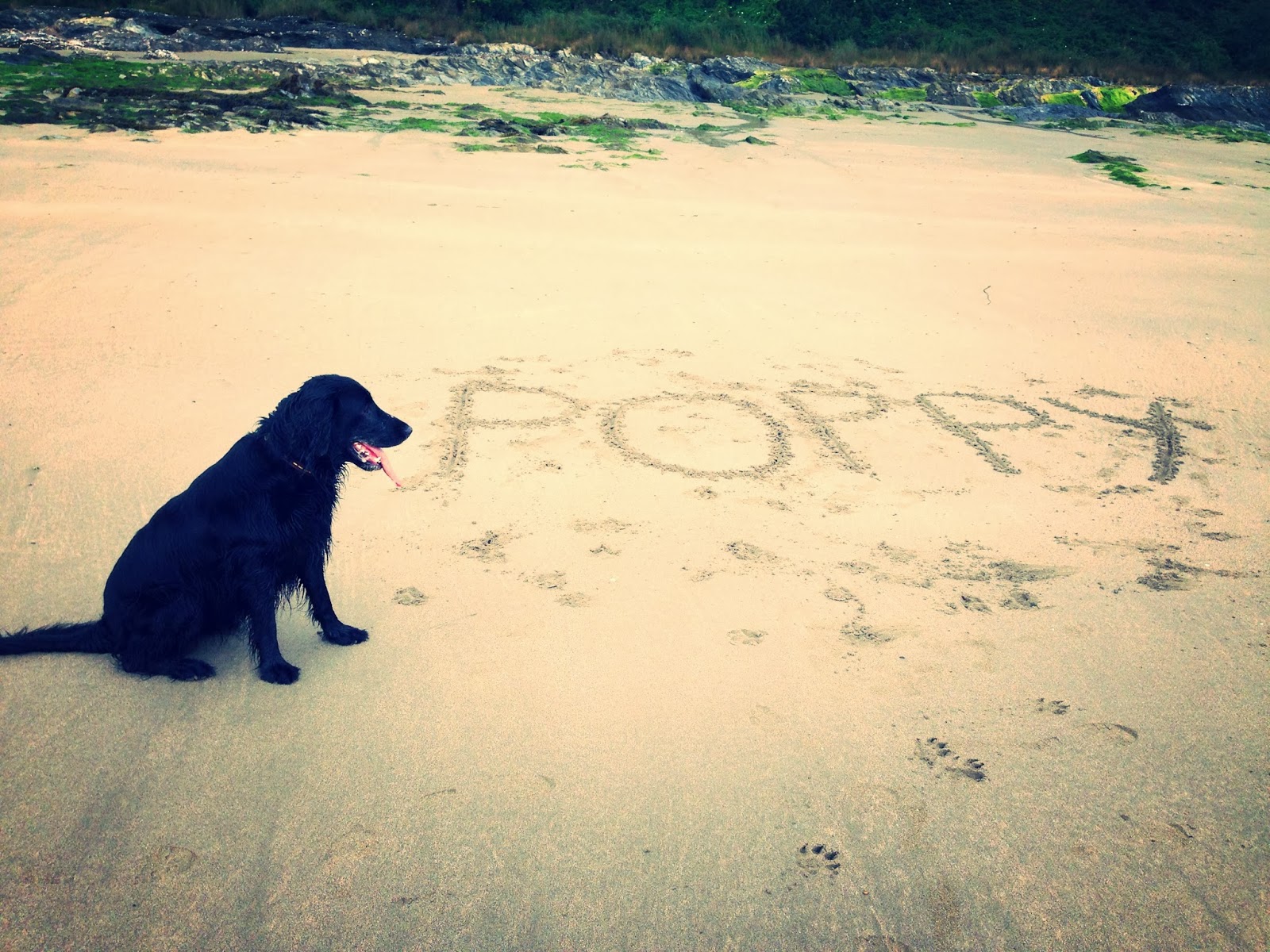 Last December, I took the plunge to get a coach. This was primarily to tone my training down, as I have a very strong tendency to over train, and it wasn't helping me improve as much as I'd like to (not that I had much to 'improve' on as I was utterly rubbish!). So in the world of a structured training programme and under the direction of someone who actually knew what they were talking about (Steve Lloyd, Absolute Tri), I had an enforced rest day once a week.
Beach time R&R with my dog
This took a bit of adjustment – resting was not really in my repertoire. But seeing the gains I have made this year, and many a technical article on how an athlete only actually improves during the rest phase, I took heed of this advice and did what I was told. I had to get used to training blocks which included 'recovery' weeks, a week of easier training, and even had a whole week off after Mallorca 70.3 and Ironman UK.
Then there's the end of season rest period. That is now. I am mid-way through an entire two weeks of training, and I have mixed feelings about it. I anticipated getting very itchy feet, feeling like I had gone slightly mental, and craving some of those exercise endorphins I have such an addiction to. Not the case. I decided that I would do absolutely nothing for the first week, then maybe incorporate a little light 'non-triathlon' exercise in the second week.
First week flew by, and here I am. I was so busy organising the sportive I set up and run twice a year that I barely noticed I wasn't actually training! Many people have asked me how I have managed it, when I am so used to training. It's a strange one, because I have found it very easy…
The Cycle Sportive
Maybe I'm just getting lazy?
Or, more likely, my mind and my body both need this rest so much that I have adapted naturally to the rest period. It's like sinking into a hot bath, it is kind of a relief, to be perfectly honest. There is no pressure to get up, fit early morning training sessions in, rush home from work and train all evening, spend most of the weekend rushing around training – I can just relax. It makes for a refreshing change.
A cheeky mojito (ssshh, don't tell my nutritionist,
Fitnaturally
)
It has also provided the perfect opportunity to catch up on things I haven't been able to do. Some things have been an integral part of the R&R phase – I have had regular physio sessions with my fantastic support team at
Emma James Physio
, and this has been a fundamental component of my recovery (especially for my post-marathon DOMS).
A few visits to my physio have been in order!
I have also had some family time, a few dog walks, I have been horse riding and climbing, my other two passions which I rarely get time for these days, the all-important bike cleaning, and of course, I would be lying if I said I hadn't taken the opportunity while not training to have a few 'beverages'. I'm not a huge drinker and never have been, so can quite happily go without, but I have to say, it has been nice to not worry about it and also to catch up with friends who I have not seen for most of the year…!
Therepeutic horse riding
Despite an underlying temptation to train (it's pretty easy to ignore at the moment), I have learned in my few years of triathlon the vital part that rest and recovery plays in not only your short term goals but for long term performance. I know that if I carried on now I would burn out, and wouldn't reach my 'peak' next year in as good form. It's not even the physical rest – all this training is mentally tough too, and for a brief couple of weeks of the year, I can sit back and not have to worry about it, take the pressure off myself, and let those not-quite-so-marginal gains settle in ready for another year of PBs…