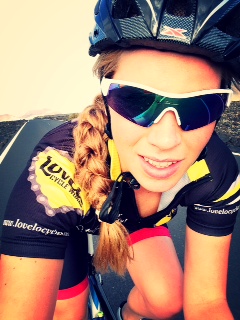 I guess it's natural that as my training progresses, my body continues adapting to the training load. That's common sense. But I don't think I'll ever fully mentally understand how I can be sustaining such high volume training - it's flippin' crazy!
I've just completed the biggest training week of my life - 32 hours of hard graft. I had planned another training week in Lanzarote and my coach Rick just rolled his eyes at me. When he sent through my programme my instant reaction was "bloody hell, he's trying to kill me". I had an adrenaline rush just looking at it - a mixture of excitement and nervousness at the amount I'd be pushing myself during that week.
Double swim days, 2.5 hour brick runs off long bike sessions. Wow. This was going to take some serious mental application to get through - especially as I was doing it all alone! Many people feed off their fellow club peers or training buddies. I had me, myself and I to get through this!
This time my stay in Lanzarote was sponsored - I stayed at the absolutely stunning
Tiagua 81
, one of the properties owned by
Lanzarote Retreats
. This was luxurious stuff. I am a triathlete known for skipping off abroad for solo training camps but I usually go basic, to save on cost and because I hardly spend any time there anyway. This was like a premier training camp, business class style! I was also reunited with the very swish Cannondale Slice courtesy of
Markus Fricke Cycle Hire
. This TT bike is immense. There's simply no other way of putting it. End of.
Primarily, of course, I was there to train, and train I did. My life for a week consisted of eating, training, eating, training, eating, training, eating and sleeping. A lifestyle I could get used to all too easily. For some reason it always rains on my first day arriving in Lanzarote then the weather proceeds to improve over the course of my stay - always the same pattern. But we all know the wind is the most ferocious element to tackle on the island, although one day I was starved of a refreshingly cool wind on a long run through the desert, and got quite sunburned, resulting in an exceedingly attractive showcase of red and white patterned skin.
I feel like a broken record when I say this, but this time last year I could never even begin to imagine that I would ever complete 32 hours of training in a week. I was doing roughly around 12 hours a week this time last year and I felt like that was pretty full-on at the time! Obviously there's the accurate adage 'quality not quantity' but to be fair, when you're training for long distance stuff, endurance training is where it's at.
It felt amazing to train on consecutive days without suffering. Strangely, and unexpectedly, I felt recovered before every session. I think I owe this to my
fitnaturally
nutrition plans, replenishing myself with milk and nuts and all natural good stuff,
Cherry Active
, which is literally a miracle muscle elixir, and the fact that I was asleep by 9.30pm and lavishing in a resplendent 9 hours sleep every night!
I was also lucky enough to hang out at
Sands Beach Active
, who were interested in interviewing me while I was making the most of the open air pool. There are few better experiences in the world than a swim set under the sun! Apart from maybe my dodgy swimsuit tan lines now adorning my back... I was also priveleged to meet the wonderful Iron couple, Stephen and Bella Bayliss, who reside at Sands Beach.
Carrying on with this pseudo-fame trend we also carried out a bit of filming at Lanzarote Retreats! I played an extremely strenuous part, as Mark Fountain, owner of
Fountain Fotos
, filmed me chilling on a sunbed. It was part of a video promoting Lanzarote Retreats, a base from which to enjoy the island from any angle. I also rocked up with a mountain bike. I can categorically say I did not ride it though - this could have ended in likely disaster!
On the whole I just feel pleasantly surprised that I can sustain that volume of training. It felt amazing, and it is, at the risk of sounding extremely cheesy, absolutely incredible to feel the fittest I've ever felt in my life. (I didn't say fastest, by the way, that needs a *bit* of work!) Rick, in his usual deadpan way, (and accompanied by a shrug when I told him), wasn't surprised at all. I know endurance is my strong point (it's definitely not speed) but having a week where all you need to think about is the next training session and how you are going to address the calorie deficit was the refreshing break I needed.
A lot has been going on in my life recently and Lanzarote is my perfect little escape. I am becoming quite attached to the island, building a network of friends and contacts out there, and I'm so grateful that I have the opportunity to do this. So thank you to everyone who made it possible.
DISCLAIMER: Since coming back from Lanzarote I have had a cold and four days off training so THAT'S what 32 hours of training does to you...