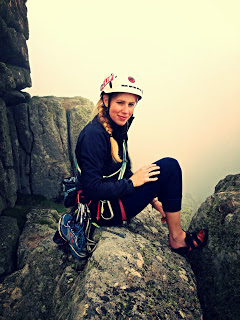 It's been a while since I have been climbing. That is a mild way of putting it. A few years ago climbing WAS my life. Every single weekend, I would be gravitationally challenging myself by hanging half way up a rock face in some corner of the country (or maybe another country).
Because of my tendency to throw myself into things completely (all or nothing attitude, all the way), triathlon has become the 'new' climbing, and the past year of my life has been dominated by an unhealthy obsession with swimming, cycling and running. This means that climbing, the passion that once consumed me, has taken a back seat to the point where I haven't even been on rock for a year.
As I edge towards the end of the season, however, I decided to take a few days away in Cornwall for a much anticipated climbing weekend. The aspect in Cornwall for climbing is out of this world - steep cliffs, the sea crashing below you, the rock quality at top friction, and beautiful, rugged scenery. Perfect way to live your life.
As well all know, reality more often than not doesn't live up to expectation, and as I drove towards the cliffs in high spirits ready for my first day of real climbing in a year, the mists suggested otherwise, with a heavy, damp drizzle, 10 meter visibility and absolutely saturated undergrowth. For anyone that is unaware, climbing on wet rock is not exactly ideal (recipe for a death sentence).
We headed over to Land's End in any case and decided to attempt an 8 pitch route from the bottom of the sea cliff - around 150 feet of climbing. To summarise, it was wet, scary, slippy, and not a confidence filler. Not even close. After around 3 hours we topped out, much to the amazement of some wedding guests at the hotel on the top of the cliff, and headed back to the car for a well-earned sandwich (famished).
Day two was a similar story but after driving the entire length of Cornwall (no joke) in search of some dry rock, we settled on a crag on the edge of a village which had a random chapel built into the rock (although it had been a ruin for 200 years). Unique, but it was something. Which at this point, was better than nothing.
After faffing around for a bit as the weather was being a bit bi-polar, we started making an attack on some routes on the crag. Five routes later and it turned out a rewarding day. Rock quality was awesome, even though the surrounding wasn't quite as epic as being on a sea cliff. More importantly, I had a smidge of my climbing confidence back, and that was what I came looking for this weekend.
Ultimately, it was refreshing to be indulging in something other than swimming, cycling and running for once, and to be challenging myself in less of a cardiovascular way and more of a mental way. Climbing is mostly mental (with a bit of agility and strength thrown in). To ascend a rock face involves logic, technique, and a lot of confidence. I think it's complimentary to triathlon, as it involves stamina, often endurance, mental discipline, and self confidence.
I also think it compliments life itself (bold statement), because I truly believe that real life is lived when you push yourself outside your comfort zone, challenge yourself mentally and physically, and be so immersed in the natural world in the process. Confidence is key here, because if you believe you can do something, you really can.
I have missed climbing, it is still a significant hole in my life while triathlon takes over, but I wouldn't change it for the world as I know that the rocks are not going anywhere. They are there, waiting for me, ready for my next challenge...