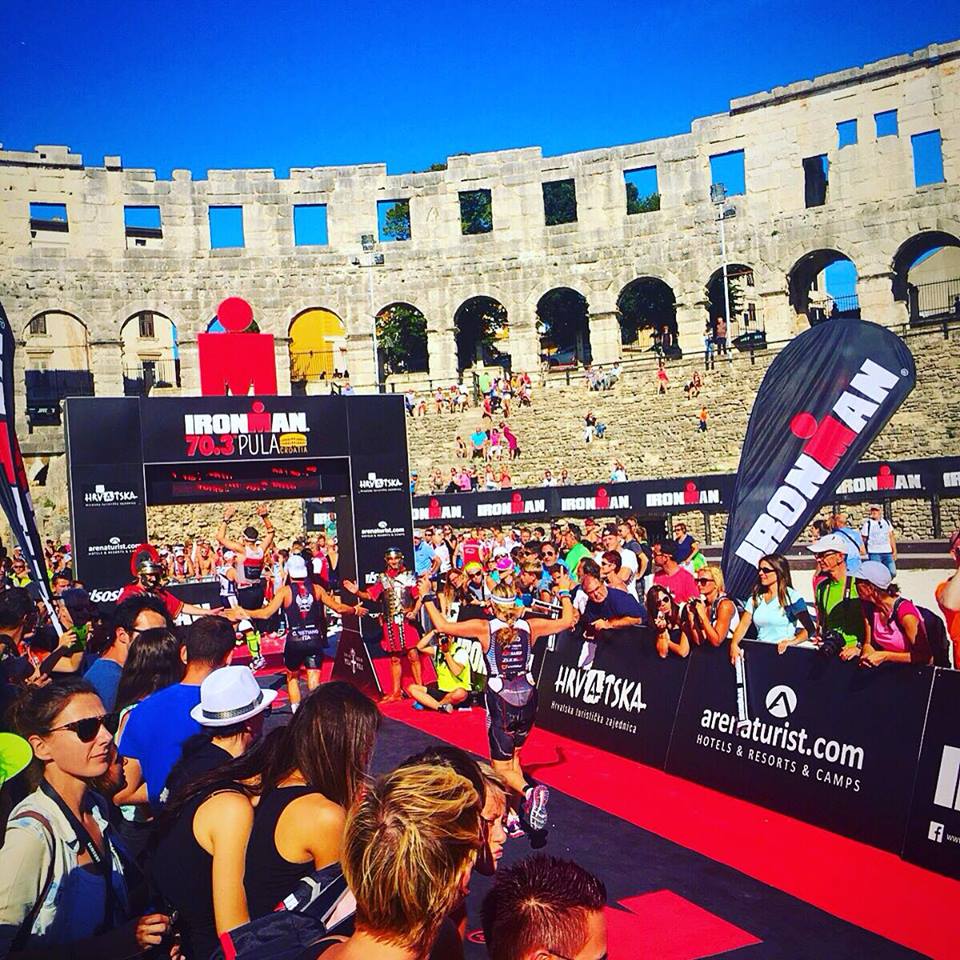 Finally, it was my last race of the season. It felt like it had been a long time coming, and yet in some ways, the season has just flown by in a flash.
I entered Ironman Pula 70.3 as a suffix to Poland 70.3, nicely spaced six weeks apart. Then at my first race of the year I qualified for the 70.3 world championships, a race which sat slap bang in the middle of the two. Ok, so this meant my season was very much condensed at the end of the year - three 70.3s in the space of six weeks was always going to be tough.
To this end, I wrote off Pula as a holiday. I knew that I would be fatigued by this point in the season and with two hard races under my belt just weeks before, I was never going to be fresh for this one.
Conversely, Craig, a coach who runs
Kineo Fitness
and has been helping me out with my training programmes, said this could be a great race for me, I would be in amazing shape for it and it could well surprise me. I felt a little dubious about this knowing how accumulative fatigue affects me towards the end of the season, and then after the 70.3 World in Austria where I had a disappointing performance, I took a bit of a confidence knock. As a result, I wasn't feeling very positive about Croatia. It could end up being a holiday and little else.
After Austria, I was unbelievably tired. I took a week off training and when I tried to get back into training again, I had next to no motivation. We decided to cut my training sessions right back as there was only two weeks to go until my next race by this point, and you certainly can't gain anything in that space of time other than additional fatigue. It felt strange just completing one short training session per day - I had so much time! I was spending a lot of time working so it suited me perfectly.
Although I felt tired, nearly every training session felt great. Because it was only lasting about 45 minutes to an hour max, I could go all out. This meant quality over quantity, and it seemed to work. I was putting out some solid times. Maybe Croatia won't be so bad afterall.
I arrived in Pula four days before the race, and it was hot. Hovering around 30 degrees, the humidity also hit me hard - I hadn't realised it was such a humid climate here. Pula is a small but attractive city and it didn't take long to practically see it all. Unfortunately (or maybe fortunately) I had a huge amount of work to do so spent nearly the whole day in the days leading up to the race working from the apartment. In this way, I guess it enabled me to rest, a lot, which probably helped. The odd short training session kept me moving, otherwise, it was feet up.
The day before the race, I woke up with a horrific sore throat. Oh god. I had been expecting this. In reality, I had expected it to come sooner. Somehow I had managed an entire season (which started early in April) without a single cold or illness. After each race I looked after myself really well. Increased the amount of colourful fresh foods in my diet, took some supplements and ensured I got plenty of sleep to optimise my recovery. It worked. Until now.
They say when the body stops, that's when you tend to 'de-stress' and this is when illnesses arise. I think the rest I'd had maybe tricked my body into thinking I wasn't going 'all out' anymore and it relaxed. In any case, when I felt like this the day before the race, I had pretty much resigned myself to not racing. There is simply no point, at this point in the season, to push through an illness and make myself worse, stressing my immune system for a race which wasn't an A race or even a B race. I had nothing to prove. I wasn't looking to podium or qualify or anything, that had been done and I knew I wouldn't be at my freshest anyway.
Later in the day it was time to rack, and I had decided that I would rack anyway and make a call on race morning. If I woke up feeling worse, that was it, decided.
As we all know, racking gets you 'in the mood' to race. Everyone busy in transition, music, the buzz, the excitement. Visualising running through transition to your bike, mapping out the fastest route in your head. Athletes everywhere, excited chatter and the thrill of race day looming. Oh yes. That's extremely hard to ignore. I absorbed it. I wanted to make it happen.
A practice swim in the sea went relatively smoothly, I was feeling on good form despite the sore throat. It was pretty choppy in the water but totally manageable. I felt ready. Now it was time to eat as many carbs as possible and rest up, praying that I wouldn't wake up with a debilitating cold virus.
Race morning, and a nice sociable alarm at 7am. I woke up, went through a bodily inventory. Throat - fine. Head - fine. Anything else? Nope. Weird. I felt fine. Absolutely fine. Game on!
All week the weather had been pleasant - hot, with light winds. Race day was forecast to be gale force winds and 24 degrees. The temperature gets a tick, the wind, no thanks. Unfortunately, this wasn't about to change. I queued up outside transition and Paul Kaye, Mr Ironman announcer himself, said 'good luck Amy' as he walked past me. No idea how he recognised me but it certainly put a smile on my face!
This race was a rolling swim start, and I positioned myself at the front of the 26-30 minute swim time group - not optimistically, as I knew I was a little slower than this, but more to avoid getting caught up in the churn - as they were releasing people into the swim start one by one every second it was still a little bit of a mass swim, just without the mosh-pit at the beginning.
It actually worked well. I got a nice clear run in and set out feeling good. I was getting passed, a lot, mostly by men I think, but all was going smoothly. I was pushing nicely within my comfort zone. At the turnaround point, everything changed. Despite the water looking pretty calm, as soon as you turned around, the waves were smashing you in the face. It felt like I was in a washing machine, and it was extremely unpleasant. I felt like any progress I had made on the way out was completely dissolved on the way back in. It felt like you were fighting against the sea, struggling, and not going anywhere. I tried desperately to draft, I couldn't see any of the buoys as it was almost impossible to sight. I was willing for it to be over.
Finally, as we made our way back into the small cove the 'chop' eased a little and I got back into my pace, but it was shortlived as there was the exit. How welcoming it looked! Thank GOD for that. I glanced at my watch and almost fell over in shock that it said just over 31 minutes. How the HELL had I managed that with that rough swim!?
Felling pretty pleased with myself, I ran in and out of transition nice and swiftly. It was crunch time - the forecast 50kph winds hit us straight away. This was going to feel like an extremely long bike leg.
The bike course was one loop which was an extremely redeemable feature of the race - especially with these winds, two loops would have been mentally really tough. The profile wasn't flat and I knew I would struggle to hit a fast bike split with such ferocious winds. It was lumpy. On and on, the rolling hills kept coming. I swear at one point I wondered when the hell there would be a downhill section as we had seemingly only been ascending. Some of it was steep too - short, but still steep!
After my nutrition debacle in Austria I was careful to try and get more calories in this time. I had two gels on the bike and even managed a Get Buzzing bar this time. Actually, I wasn't pushing horrendously hard, I was just keeping everything nice and steady, and I think it contributed to me being able to ingest solid food.
It was strange, but I felt really good. Sure I was feeling tired with the hills and wind, but I was taking it all in my stride. I think because there was no pressure for this race, I felt calm, relaxed, and although I was pushing hard, it wasn't an all-out effort. It felt comfortable, put it that way. I certainly wasn't busting a gut. It was actually enjoyable, for once.
What was even more enjoyable was after 50k, when we had completed almost 900m of climbing (what!? Race guide said 700 odd), and the rest was pretty much downhill and flat. Oh yeah, this felt good. I was hitting over 50kph for a large part of this, and then the odd little incline and flat windy section brought down my average to 38kph. Nice. I'll take that. At the halfway point I had realised I was gunning for well over 3 hours, perhaps 3:15 but after hitting this section, I knew I'd make sub-3. Not bad for a ferociously windy bike leg!
I entered T2 after 2:55 on the bike. Yep I'll take that too thank you very much. A rapid T2 split transition so we just dumped our bikes on the rack in the order in which we entered it - no numbering system made this super speedy!
Out onto the run. This was where I had struggled all year. Pretty much every run off the bike had felt really hard. Not this time, apparently. I was feeling great. Actually fantastic. Running strong, I was holding 4:50/km pace and it felt sustainable. I wondered how long it really would be sustainable for though. After the first lap it had slipped to around 5:10. If I could hold it here I would be on for a decent run.
The run seemed to be passing really quickly. Again, I just felt pretty comfortable. Unlike many of my other races this year where I felt like I was struggling and that time was going SO slowly, it just seemed to fly by. I was enjoying it! After about 13km I did start to feel pretty tired. It felt like it wasn't the usual race tired - this was just fatigue from all the recent racing. I kind of felt like there wasn't much point in trying to push super hard at this point, so I just cruised along, knowing I was slowing down a bit. I didn't really have the energy to try and smash it, I was tired. Tired of putting everything into this entire season.
The last 5km I pushed a bit harder, it was going to be 25 minutes of my year left, that was it. I ran into the Pula Arena, one of the most intact remaining Roman amphiteatres left in the world. The red carpet stretched out in front of me, lined by cheering people either side. I grinned, giddy with relief that my season was at an end. I was elated. I didn't really care about my time, my position, I knew I had had a strong race and more importantly, I had felt really good. My run wasn't the best at 1:51 but considering how much racing I had done in recent weeks, I was happy. My watch said 5:22. I had been aiming for sub-5:20 at this race so given the ferocious winds, that was pretty damn good.
Weirdly, the clock above the finish arch said 4:50. Paul Kaye announced my name and said sub-5 was a incredible time. Fleetingly, I wondered if my watch was wrong. It can't possibly be - I set it at the start of the race.
Later, I found out there was an issue with the swim. Ironman sent an email shortly after I had arrived back at my place, announcing that due to the vicious winds and waves, two of the buoys had been set free and as a result, some swimmers had swum off course. To ensure it was a fair race, they were to void all swim times.
Unfortunately, as I later found out, I had been second in my age group out the water (and 16th female overall). I was third off the bike in my age group too. After the run, I was positioned fourth but that was after they had removed the swim from the equation. I found out I would have been third in my age group if the swim was still counted for. Because it had been voided, I was 1.5 minutes off third place, staying in fourth.
This was infuriating! Although I had very little expectations for this race, to miss out on a podium due to the error of the race organisers when I was rightfully afforded a podium position was gutting. Really gutting. After a rant and a degree of disappointment, I knew I had to forget it. It was out of my control. I know I was a rightful podium finisher for this race, and that knowledge made me very happy.
Later, I was absolutely glowing. I was so happy that I had ended my season on a strong note, concluded what has been my most successful year of racing with a positive result, and to be feeling absolutely fantastic afterwards. I felt emotional, I still do now. It has been an intense, fulfilling, and pivotal year. I have had experiences I will never forget, and achieved things I never even dreamed would be possible.
The day after the race, I came out with a full blown cold. It was almost like my body had waited, just one more day, to allow me to race, and to race well despite my immune system not being at 100%. Either that or the race just tipped me over the edge! I'd like to believe that I had that one last solid race in me, for a reason.
That's it now. Five weeks off training, no more races for 2015, no more races in the 25-29 category, where I first started all this triathlon stuff. Rest, recover, recuperate, reflect. I'm signing out of this season with a massive smile on my face, be it a slightly snotty one. Over and out.