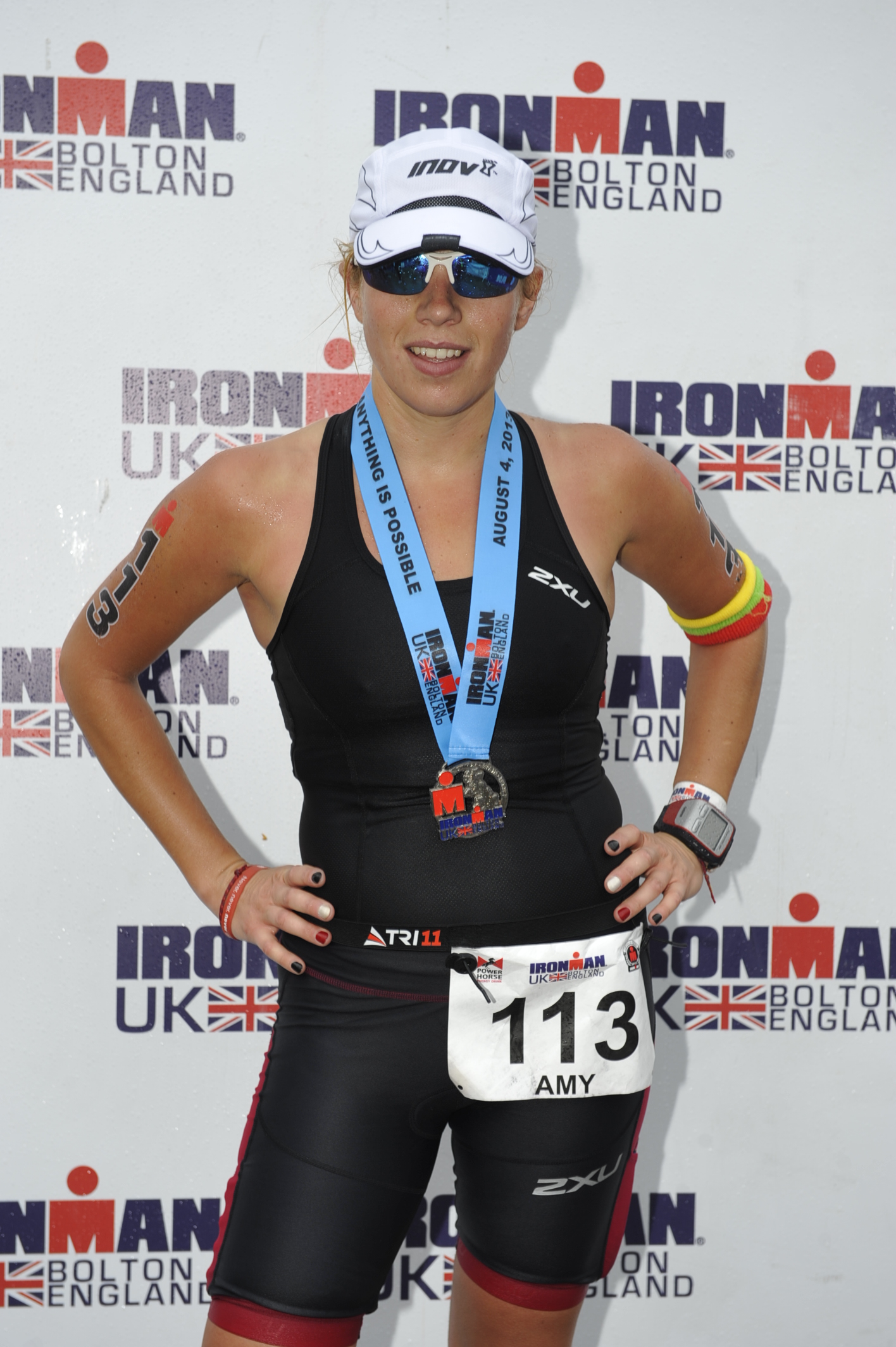 Ironman. We've all heard the hype, the majority of people have heard of Ironman but cannot quite comprehend the reality of such an event. Those who have completed one certainly have a few stories to tell. Yes, it is popular these days but realistically, the percentage of the population who have completed an Ironman is microscopic.
A whole year of training, a monumental amount of money, something that has taken over every aspect of my life - it all came to fruition on 4th August 2013. Something I never felt I would ever be able to do, and it may sound like the bog standard story of a normal person becoming an Ironman, but it really is quite special.
Aside from the fact that such a small number of people are actually crazy enough to do this kind of thing, being a female only exacerbates this. Only 12% of Ironman UK competitors were female. That's around 180 out of 1,600. That's a minority if ever I saw one.
Anyway, so race weekend. I had been feeling pretty confident as I know I have done everything in my power and beyond to ensure that I reach that starting line in absolutely top condition. A coach, a nutritionist, physio sessions, sports massages - it hasn't been cheap!
Showing off my race nails, professionally coloured to match my bike
On race morning, however, I felt very fragile indeed. The forecast was atrocious (note to self - never sign up for races in the UK...), it was grey, raining, and I had stomach ache and nervousness of the highest order. There was a strong inclination to run away and not do it, but the fact I had spent so much time, money, effort in training, and I had family and friends with me, I knew I had to get to that start line and get in a bit of positive mental attitude.
Race morning. Looking much happier than I felt.
Everything had been done the day before so after just 4 hours of sleep and a 3am start, I eased into my wetsuit and headed towards the swim start with a fellow competitor. 1,600 people in the water at the same time is quite daunting, and it proved its worth during the swim.
Strategy: just pace, go steady, and get to the second half of the marathon in a good place. Wise words from my coach. "The race doesn't even begin until you get to the second half of the marathon. Remember that."
The mosh swim
Swim: it was basically a mosh pit. I got battered, knocked, swallowed a bit of water and kicked a few people off my feet. One lap, a quick jog out of the water and back in for lap two. It was crowded but I managed to enjoy it, somehow, and it passed really quickly. Soon enough I was out of the water and running towards T1 in the respectable time of 1:18:49
A fairly swift T1 (if you can call 6 minutes swift), and out on the bike.
Bike: here was all about heart rate. I knew that in order to survive the marathon I needed to keep this fairly low so was aiming at under 150bpm. I needed to pace and get the nutrition in during this section. It's a fine balance between getting enough calories in for energy and not overdoing it so you end up with gastric issues later on. I was under strict guidelines from my nutritionist to have peanut butter sandwiches and natural energy bars incrementally. No gels featured yet! It was a long slog. It's a very hilly, tough course, and I was relatively slow. Suffering from back pain towards the second half, I decided to smash the last lap so I could get off the bike as quickly as possible. As I was feeling ok legs wise the heart rate pacing went slightly awry. I came off the bike, finally, after a long, slow 7:29:04
The long bit
Another 6ish minute transition (I just wanted to start the run now) and out I went.
Keeping form
Run: started strong, and decided that my strategy was to retain good form, no matter what happens. Oh, and don't walk. At all. This goes against a lot of the Ironman run/walk strategies but I knew that within the first few minutes of running I was going to get through this fairly comfortable. So I ran, drank coke and water at every feed station and a gel every 45 minutes. It rained, rained some more, and carried on raining, but I didn't even notice it. The run seemed to go slowly and I knew that I wouldn't quite break the 13 hour mark, but given the circumstances, I think I got a pretty decent marathon time of 4:18:41, and a sprint finish to boot.
Category position: 10
Gender position: 56
Overall: 750
I would have like to have broken the 13 hour mark but on the whole, I am very pleased with the result for a first Ironman, and it has left me hungry for more...