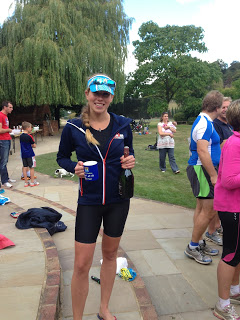 Winning. Well that's certainly a word which has never been in my vocabulary. As this triathlon thing is starting to get a bit more serious, though, I do realise that I may have to aim to win something at some point. So I did just that.
I had another relatively big-ish training weekend planned, as dictated by my coach. However, my bike sponsor,
Lovelo
, forwarded me an email about a local triathlon this weekend which was taking place in a village a few miles away (
www.aldburytri.co.uk
) I thought about it, wasn't hugely over keen on the idea, and came to the conclusion that because it is a local race, I probably should do it. So I emailed the organiser two days before and said I was in.
It's not even my kind of race. Firstly, I have been training for Ironman for a year. That means lots of zone 2 training, long and steady. While my endurance is now pretty decent, my speed is pretty non-existent! The last few weeks I have, however, been introducing speed work into my training to prep for London. Secondly, the swim was replaced by a row on a concept II rowing machine. Interesting. Low key isn't even the word to describe this event - it is very much a social thing rather than a competition!
Anyway, so I had a look at last year's times on the website and suddenly realised something. I think I may be able to beat the woman who came first the last two years running. A foreign concept to me. So, my new objective - to win it.
Race day dawned rather swiftly, I wasn't really taking it massively seriously but I thought if there was a chance I could win this little local race, it would be something. And it would most certainly be a first! Race strategy - absolutely smash it.
A friendly chat to some other participants and then we were off. I haven't rowed for about two years, but managed a 14 minute 3km row (first female off the machines in my wave), and off to get my bike.
The bike course was very, very hilly, but it was all familiar terrain to me as forms the basis of my training routes. 25km in 54 minutes (like I said, hilly!), and I genuinely thought I might die as my heart rate didn't go below 170 for pretty much the whole course.
I knew I was borderline on the previous winner's times, so started out hard on the 6k run. That is, until the massive hill about 300m from the start. Ouch. Heart rate maxing out zone 5 I plodded up the ploughed field (yes, tough terrain yet again). We hit a road a bit later on and I was in my element. Hello 7 minute miles. Back through some more ankle-breaking ploughed fields and steep hills (yep, still tough) and I knew I was on to a winning run time of 31 minutes.
I finished feeling like I still might actually die, and breathlessly told the organisers that I felt the race was genuinely harder than Ironman. I'm not even kidding - I can go steady for 13 hours but 1 hour and 40 minutes of pain is hard to deal with. And it was serious pain, the entire way. I was in a hurt locker for that whole race. This speed malarkey can't be healthy...
I kind of knew I had won and the organisers later confirmed it to me. A few kids races and a BBQ later (very sedate, like I said!) and they announced the prize giving. I was shaking a bit, I have genuinely never won anything in my life! I was the proud bearer of a mug and a bottle of champagne, but most of all, a winning smile.
Ok, so it's not the Olympics, Kona, or even a mildly professional, serious triathlon (strictly speaking not even a triathlon!), but this is confirmation that my hard work appears to be paying off. Everyone has to start off somewhere, and I have a feeling this is just the beginning.....