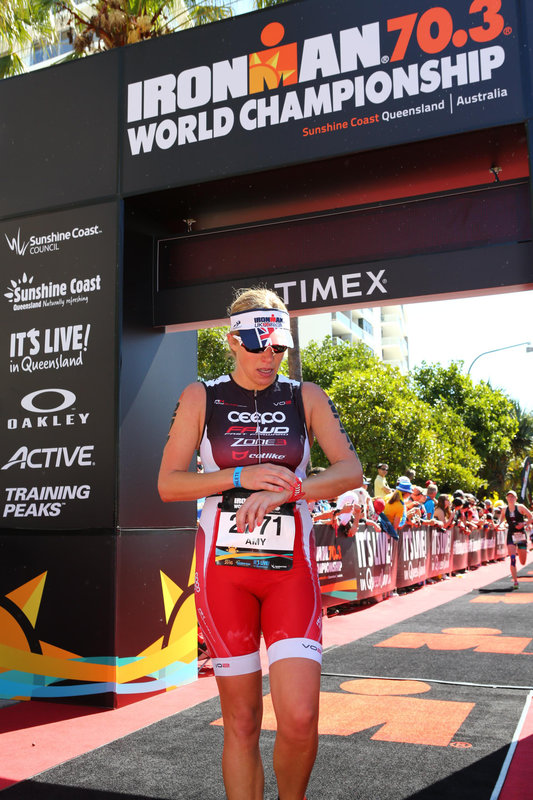 Last year, I qualified for the Ironman 70.3 World Championships for the second consecutive year. The 2016 season, therefore, would be all about this race. The A-Race. As I had unfortunately not had the best race in 2015, I had no other objectives for this race than to simply get more out of myself – to do justice to all the hard training and commitment that I put in.

As a season, I have had some good results, with a couple of PBs - and simply put, my data was looking much better. I had worked hard towards this race and in the final weeks leading up to it, I was doing absolutely everything possible to help me on race day. This meant regular chiropractic, massage and muscle release, as well as what felt like constant stretching and foam rollering. I had my nutrition dialled in and had lost a bit of weight. I was feeling leaner, stronger and fitter – there was no reason why I shouldn't have a good race.

This year, the 70.3 World Championships weren't just a quick skip over to Europe, but instead, were taking place in Australia – another country I hadn't ever visited, so was excited to tick off. The plan was to arrive a week before the race in order to recover sufficiently from jetlag, recce the course, and make sure an active taper would put me in a good place for race day.

After a long solo trip, I finally arrived in Brisbane where a friend, Mark, picked me up from the airport – we'd be sharing accommodation for race week and as we have the same coach, it was good to swap notes and do our taper sessions together.

Mooloolaba, on the Sunshine Coast, was the race destination and it lived up to its name. Athletes poured into town throughout the week and we were enjoying a few quiet pool sessions in a lovely local outdoor pool, a couple of bike course recces and plenty of beach time. On the Thursday leading up to the race, we were straight into the Ironman merchandise tent (yes, I know. But last year, I missed out on all the world champs paraphernalia due to arriving late, so I wanted to make sure I got everything I wanted this time!). The queues were phenomenal. The cost of my purchases even more so. Oh well!

We decided to leave registration until the next day due to the 100+ person long queue. Conveniently, our accommodation was right in between transition and the Ironman village, so we were really in the thick of it. On the Friday, we decided to do a swim course recce. Unfortunately, the sea was absolutely monstrous. Known as a popular surfing spot, it was probably always going to be a little on the 'swell' side, but this was something else. Strong winds blew in and the sea was the roughest we had seen it all week. I stood on the beach not even wanting to get in.

We did, and it was as bad as it looked. This was going to make for a very tough swim leg if it persisted through to Sunday…

After recovering then registering (less queues this time), we went off to Australia Zoo to escape the athlete mayhem, and it was a welcome distraction from the looming race. Lying in the sun stroking a kangaroo, you could almost forget there was a big, important race coming up in just two days.

The day before the race, I wasn't in a great place. I often feel a bit weird the day before a race – sometimes it transpires in the form of feeling unwell; sometimes I am just psyched out mentally. This was the worst experience I had ever had – mentally, I felt completely and utterly weak. I felt highly emotional, fragile, and vulnerable – for no apparent reason. It was bizarre and I don't know where it came from – the only thing I can think of is that it harks back to a few years ago when I really did feel completely out of my depth when it came to taking part in triathlons. I don't come from any sporting background and getting my head around the competition side of the sport has been (and still is) a steep learning curve. I get easily psyched out by looking at other competitors and feeling like we are worlds apart – part of me even felt like I didn't deserve to be there. It was probably ridiculous, and I couldn't really snap out of it.

After some pitiful crying on facetime to my parents, I eventually started to feel marginally better, but it basically lasted all day and didn't put me in the right frame of mind for racing. I really hoped that I would wake up and shake that stupid mental state into something ready to race.

Luckily, I did.

I woke up on race morning after a pretty decent sleep, feeling relatively calm and relaxed. My stupidly early alarm of 4.30am, despite the fact that my start time wasn't until 8am, was because transition closed at 6am. I managed to eat comfortably, not having to force it down a bit with the usual pre-race nerves. No point in being nervous yet – I was hours away!

The sun came up and the sea was the flattest we had seen it all week. YES. This was a huge bonus. Thank god for that.

Into transition and I quickly realised that my rear brake was clamped onto the wheel. You what? That wasn't like that the other day. Oh Christ. I ran over to the Shimano mechanics and as I stood there, thinking how beautiful the sunrise was, I was slightly concerned that we only had 10 minutes to sort this problem before transition closes. Amazingly, I remained pretty calm, even when the mechanic seemed to struggle to fix it.

To resolve the problem, we basically loosened off the rear brake so that it was virtually unbrakeable. I also had to pop some metal cable end back into my brake lever every time I braked – apparently the brake spring had gone so we couldn't fix it – this was a very short term "solution" (used very vaguely here, as I considered the massive descent in the middle of the bike course with virtually no rear brake).

Ah well. Onward. I wandered back to the apartment to drop off my pump and then went to watch the pro start. Still feeling pretty calm, I was getting more excited and keen to begin. I went back to the apartment twice more a couple of loo stops and a quick second coffee.

Suiting up on the beach front, we were nearly ready to go. A quick practice swim and I was on the beach start line. It was a deep water start and my wave (30-34 females) seemed pretty calm, unlike last year's madness (they were raring at the bit!). We swam out to the start line and I strategically placed myself the other side of the start buoy (to the left – not in front!) to avoid any swim start carnage.

This worked well and I settled into a rhythm pretty quickly. I realised about half way along the course that I wasn't really pushing that hard. It wasn't that I was going easy – I just wasn't killing myself trying to shave a minute or so off. I'd rather go at a steady sub-threshold pace to conserve energy. The swim was entirely non-eventful and I felt relaxed and comfortable exiting the water in my usual 33 ish minutes. Into the world's longest transition (around 1km, probably longer), and off towards my bike. I rolled out on the bike keeping an eye on my power to make sure I wasn't getting too excited too early on.

The first part of the course was a dream come true for me – it suited me down to the ground. After some undulations getting out of town, there was a pancake flat motorway out and back section up to the 40km mark. I settled down into position and held a good pace at my target power. Drafting was all around me, unfortunately – the course was so condensed with riders that at times it was absolutely unavoidable to be in the middle of a pack – I ended up overtaking about 20 riders numerous times, only to be caught up with them shortly afterwards.

All of a sudden, there was that horrific spine-tingling sound of carbon scraping on tarmac. I glanced around and there was a huge pile-up behind me. This is what I had feared – too many riders cycling too close together and people dipping in and out without looking. All it takes is one slight touch of a wheel and everyone is down. Amazing, for what is a non-drafting race. It shook me a little and I powered on, trying to keep my distance as much as possible.

Around the half way mark, the hills started to make an appearance. These were mostly undulations up until "THE hill" – a monumental 20% ish climb which luckily, didn't last for too long. As I prepared for this climb, I changed to the small ring too hurriedly and my chain dropped off. Damn. I stopped to put it back on, fumbling a few times before I got it right. I lost the girls I had been chasing for some time and plodded on, preparing myself for the hill of hell.

It wasn't as bad as I had anticipated. I think by that point in the race you're working pretty hard anyway so it didn't feel as 'extreme' as when I had gone up it on a steady recce ride. There were a few people off their bikes, walking. Ok, I'm not great at hills but I'm certainly not that bad. I got to the top and did a little "whoop" for joy at having accomplished it. Game on.

I worked hard for the undulating section at the top and down the descent before we looped around and had to get up to the same point again – this time taking a more of a traverse-type road, so there wasn't a massive hill but just a little bit of rolling road. I pushed on and on the second time down the descent, I finally caught the girls up that I had sat close to before my chain fell off. Not that bad at hills then Kilpin!

Feeling encouraged, I passed them and pushed on for the undulating last stretch home. We were about 15k from the finish now and I wasn't feeling too bad.

I came off the bike with exactly the same time as at my recent race in Poland – 2:47. I had hoped the course would be a bit faster than this but to be honest, the second half including the hill and quite a bit of undulating road hadn't been that fast, and I felt like that was a pretty honest effort from me. Ok, time to bring it home on the run.

After exiting transition we went immediately up quite a significant hill – steady but long, and I pushed to hold my target pace. Coming down the hill was great and I was above target pace. This would be the first of two 10.5k loops. At the turnaround point, the headwind hit and I knew it would be a tough slog back, especially as I was starting to feel it a bit. The last section before the finish line/lap two turnaround was uphill and into a headwind. It was absolutely brutal and my pace slipped significantly.

The second lap was more of a case of just trying to hold onto some resemblance of my target pace than actually hit it – it was slipping, and I was feeling tired and my legs ached. Sounds obvious, but it seemed worse than usual. Possibly just accumulative fatigue – this was, after all, my 6th half iron distance race this season. Or maybe it was that goddamn hill and the wind!

I pushed (plodded!) on to the finish line with a run time of 1:46 – slower than I wanted but with the hill and wind, again, probably not a million miles away from where I am at right now. I finished in 5:16 – again – not the fastest race for me this year, but with about 5 minutes accounted for in the huge transition, it was a pretty honest representation of where I am at.

I didn't feel over the moon but I didn't feel disappointed, I just felt ok. It was one of those anti-climactic races – so much build, emphasis and pressure across the whole year – everything was shaped around this one race and I finished feeling "OK".

Later, I realised I was being a bit hard on myself and despite coming 56th in my age group – certainly nothing impressive – I was in the top third in my AG and top 20% of women overall. For a world champs, where you are racing against the best of the best, it's not awful.

I managed to have a week after the race to explore Australia a bit and after some post-party celebrations, started on a 100km+ road trip driving down the Pacific Highway from Brisbane to Sydney. This was fantastic – although I was now alone, it was an incredible way to see more (albeit a tiny part) of this new country. It culminated with a couple of days staying with friends in Sydney, before flying back to the UK.

That's it – the dream is over. I have one more race as I felt that finishing my season in early September would be too early, and make for a long winter, so after a leisurely week with virtually no training apart from a few enjoyable 'fun' runs and one freezing cold swim in the aptly named Iceberg saltwater pool at Bondi beach, it is going to be back to training, strict nutrition, and one final push to mark the end of this season.

Ultimately, I need to remind myself of how far I have come (forgive the cliché) – if I asked that person who was coming last out of the water and a few places from last in small domestic UK races in 2013 whether they would be in the top 20% of female 70.3 world championship finishers, I would have asked them where the flying pig is to be seen.

Those that know me, however, will know that I won't be satisfied with that – I know that with some further work and a bit more time in this sport, I can better that result. I'm excited to continue working with my coach Mark next year and see the ongoing improvements, and after two consecutive 70.3 world championship finishes, work towards the next big goal. Whatever that may be...