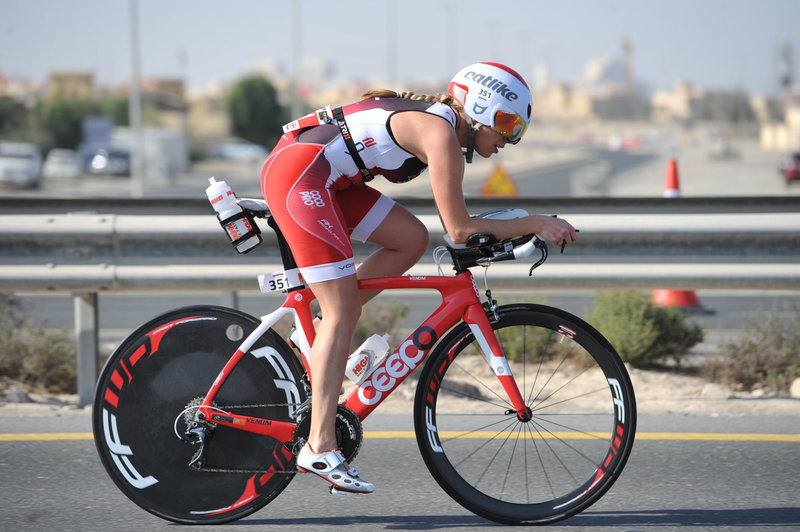 The first race of the year is always an unknown. You've been training hard all winter and until you race, you don't really know where you're at.

Last year, I raced Ironman South Africa 70.3 in less than optimal condition – I went into the race feeling very unprepared due to a number of setbacks. In spite of this, I had an OK result, but I was definitely nowhere near my full potential.

This year was different. Rather than having had two months with my new coach, I'd had a year and two months. I'd had a PB in every discipline in 2016. I'd managed a whole winter without illness. I'd been putting a lot of hard work in, and it was time to see what I could do.

When my coach Mark said to me just after the 70.3 World Championships in September, right at the end of my season: "I wouldn't be surprised if by January you're not the same as, if not in better shape, than you are now", I almost couldn't fathom it. In January?! No one is in great form in January. It filled me with fear, excitement, and a little bit of disbelief.

Over winter, and Christmas, I worked hard. After just two weeks completely off training at the end of the year, my end of season break went quickly and it was straight back into the meaty stuff. I managed to get a decent bit of endurance in during a 10-day stint in Lanzarote but other than that, it was all about the quality work.

Remember when coaches recommend that it's all about "winter miles"? Yeah, it's not. I didn't do that many. As we all know, I hate cold, wet weather, so my solution is simply not to train in it. Let's just say that I became very familiar with my turbo and Netflix.

I went to spend a day with Mark in Loughborough in early Jan to find out how we were getting on. I couldn't contain the beam on my face when he said my swim was almost spot on, and that I looked like "a completely different swimmer" to the last time Mark had seen me swim in June. The bike was similarly feeling good, and he wasn't even concerned about my run. Positive stuff.

After feeling a bit demotivated over the Christmas period due to pretty intense work commitments and lack of rest days, we tweaked the programme a bit. Ramping the training back up a bit, we incorporated more rest days to factor in more downtime from training when work gets tough. It sounds hyperbolic, but this seemed like the magic formula. With the newly incorporated rest, I had a better work-training balance, which meant I was less stressed, more rested, and more motivated. Every single session was spot on.

I almost couldn't believe how good I felt – I wasn't just hitting the numbers that Mark had set me (power on the bike and pace on the run) – I was surpassing them. When my training plan said 15 minutes at 80% FTP at the end of a 2 hour threshold interval turbo session, and I felt so good that I DOUBLED it AND increased the target power by 20 watts, you know you're onto a good thing.

The same thing was happening on the run. I genuinely felt like I was in better shape than I was for the World Champs in September, which is saying a lot for January – it was the off-season, after all.

Then, in our pre-race chat, Mark said the way I was going, I could go under five hours. This was ridiculously exciting – I had been dreaming of this for the past two years – it was a huge goal and a massive milestone to reach. I was beyond excited, but didn't want to get my hopes up too much. Just do the best I can. "It's all about the process", Mark reminded me.

The race seemed to just appear out of nowhere, and I was suddenly celebrating my birthday with the looming disbelief of having a race in just four days' time. I arrived in the very early hours of Wednesday morning after having shared (inadvertently) a taxi with Tyler Butterfield (who was an absolutely top guy and came fourth in the race) from Dubai airport.

From that moment on, I seemed to struggle with sleep. The seemingly insignificant four hour time difference was affecting me – as I lay awake at 11pm, it turned into 12, 1am (and it still felt like 9pm) – I counted down the hours with a mix of exasperation and boredom, worrying about how this might affect my race.

I felt ok during the day so just got on with all the usual pre-race prep. Swim went well, bike went well (for the whole 20 minutes I managed to do before giving up in favour of retaining my life – the Dubai traffic was a little too heart-flutteringly dangerous to justify), and a final run was bang on target. In spite of everything, I knew I was in a good place.

Two more nights of just four and five hours sleep and it was race day. How the hell did that happen? I felt like a zombie. Mechanically, I went through all the pre-race routine. I arrived at transition nice and early. Everything was prepped and planned. Nutrition sorted. Until I realised that I'd left my bike Garmin at the hotel. Ok, still time to go back, get it, and come back to transition before it closed.

When I got back to my room, though, I realised that I'd left it on all night, which meant it was low on battery. Ok, plan B. I charged it, wrapped it in a plastic bag, shoved it in my trisuit pocket, and put my wetsuit on, hoping for the best after googling "how waterproof are Garmin bike computers" and reaching the conclusion of "not very" – apparently they are not designed to be completely submerged in water for prolonged periods of time. Oh, and it was sea water.

Nothing to lose, surely. Apart from a Garmin.

I headed down to the start, missed the swim practice due to googling priorities, and lined up on the start.

Off we went. I realised immediately that I hadn't positioned myself very well and was too wide. Well at least I wasn't getting battered by arms, I consoled myself. The water was calm after a few days of some chop – great news. I was feeling good, thinking I was onto a good time as I was passing a lot of people (or so it seemed). As I exited the water, though, I was disappointed to see my time of 33 minutes. I felt like my swim had improved to justify a much better time than that. I later found out even the pros were a few minutes slower so perhaps it's a slightly slow or long course. Oh well.

Into T1 and out on the bike. After about 20 minutes I was hurting. Oh jesus christ. This is NOT boding well. I was going to have to endure hours of this – surely I couldn't hold on? I knew what power I was aiming to hold and what speed I needed to average if I wanted a decent bike time. We had aimed for around 2:30 but I had anticipated a more realistic 2:35.

There was a bit of a headwind on the way out which meant I had to dig pretty deep. I got caught up in a massive group of guys with bikes in front and behind me – I had nowhere to go. Suddenly a race referee on a moped appeared from nowhere and waved a yellow card. Hang on – who the hell was that for?! I looked at her, thinking she'd shout someone's number or confirm as they drew level with her, but the moped sped off.

I was now left wondering if it was me or someone else – it had been so ambiguous. Surely they realise the narrowness of the course is leading to bunches of cyclists though?! Ridiculous lack of targeted penalisation there!

After the turnaround point, the wind was finally behind us. Oh yes, you beauty. As I pedalled on, I even ran out of gears, sometimes going over 50kph on the flat. This felt so good, and it spurred me on even more. I realised at one point that no female had passed me on the bike at all. Oh wow, maybe I was having a great race after all.

About three quarters of the way through the bike I realised I was on for a sub-2:30 bike split if I could hold the target power and average speed. I was flying, I had never felt this good on a bike.

I was simultaneously too excited about getting a sub-2:30 bike split – a bike time I certainly didn't think was feasible!

I went into T2 and as I came out, two gels accidentally slipped out of my pocket. Too late now – I carried on running. After about eight minutes I knew I was in trouble. My stomach hurt already (unusual for me) and I was struggling to hold my target pace. Come on, come on, come on!

After two gels and around the half way mark, I realised I couldn't take on any more gels as it was making my stomach cramp and I was feeling sick. Not good. I pushed on, my pace slipping all the time, but it got to a point where I was absolutely determined to hold onto it in order to have a half respectable half marathon time.

The lack of sleep, lack of energy, and lack of heat induced a few Johnny Brownlee moments – I genuinely felt dizzy and had to concentrate on not losing it – "must stay focused and in control."

For what felt like an eternity, I ran on until that blissful finish chute came into sight. I sprinted (or what felt like a sprint at this stage) and I heard the familiar, encouraging sound of Paul Kaye's voice as I ran through the finish line. THANK. GOD.

I had done it. I had finished in 4 hours and 54 minutes – not only had I broken the five hour barrier but I had smashed it. I thought I'd feel incredibly emotional – instead, I didn't feel an awful lot. I just felt sick.

A friend who had also raced tried to talk to me but I could barely reply as I felt so sick. Gradually, it eased off and I went to soothe my legs in the ice bath (paddling pool). Still no real elation. How weird.

I wandered back to my hotel and called my family. I'd had no idea, but apparently I had come 4th in my age group and was 13th non-professional female overall. Wow. This was by far my strongest result ever. I'm not sure it had even sunk in.

Later on I was informed that my result had been classified as DQ, which was massively deflating after getting a huge 14 minute PB - I was pretty hacked off at the whole unfairness of the situation and went to appeal. After lots of "we can't do anything" on the day and evening of the race, I formally appealed by email on my return home.

They admitted there had been huge problems with the course and with the officials on the day (er yeah, 67 DQ when most races log 1 or 2 definitely indicates an organiser problem rather than an athlete problem!) and promised to resolve them for next year.

They reviewed my case and reinstated my result. Thankfully!

I think how hard I have worked to go from a 7:28 (yes, really) half ironman time back in 2012, to get a 4:54 in 2017. I have said it before – I am not gifted with natural talent – every bit of everything I have achieved has been down to true hard grit and relentless commitment. Getting the acclaimed 'sub-5' (for age groupers at least!) has been a dream goal of mine for two years now. And finally, finally, I got there.

I'm really proud of this result for what was only January. I had the highest average power output I've ever achieved during a race and I was only 10 minutes off some of the pro women bike splits. Although my run was disappointing, realistically it was only 3 minutes off my best ever half iron run time, so I can't really complain. None of this is coincidence – it has been down to sheer hard work (and probably many, many grim hours on the turbo!).

On top of this, I've just received an email inviting me to the 2017 Ironman 70.3 World Championships in Chattanooga this year, as a result of being one of the top performing athletes in my age group in the world. After initially thinking I wouldn't go, I have convinced myself that it's an awesome opportunity, and to go to the 70.3 World Champs for three years running is pretty cool. So, I'm doing just that.

It's the start of another exciting season and I can't wait to see what happens! A-race here we come!