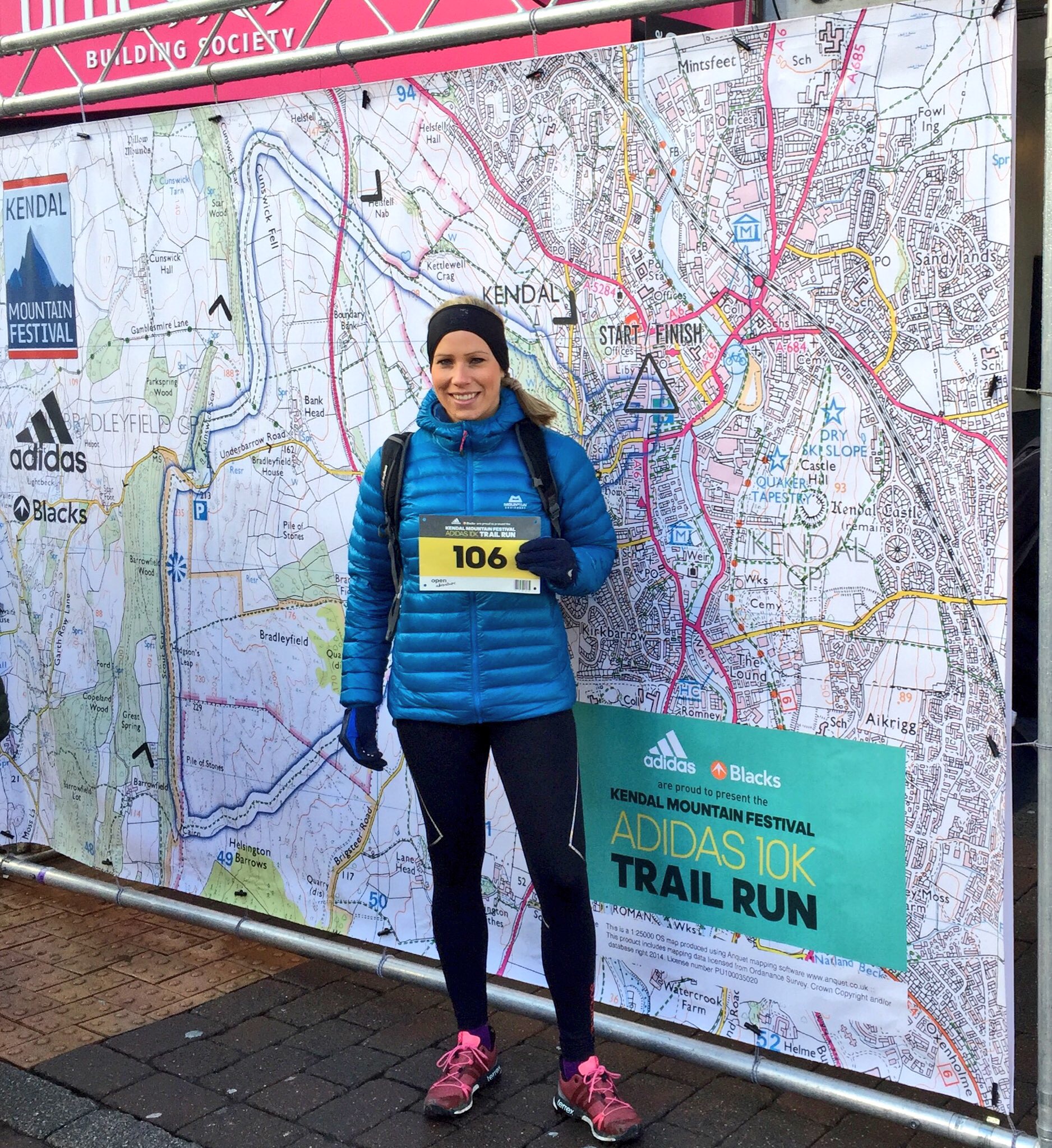 After the pretty unimpressive end to my 2016 race season, culminating in a bike crash and a few superficial injuries, I had two full weeks scheduled off with a further two weeks as unstructured 'exercise' (as and when I feel like it).
In some ways, the crash came at a convenient time as I had scheduled down time anyway – it enabled me to spend some time with my awesome chiropractor and just take a breather from the intensity of day-to-day training. In reality, I just ended up working very long hours, but that's another (and far less interesting) story!
My first week back in training wasn't exactly pushing the boat out – my coach was keen to keep things very simple in the beginning, with light training and low intensity. All in all, we had to take it easy.
So when I was contacted by the outdoor shop
Blacks
to take part in the
Kendal Mountain Festival Adidas 10k,
the obvious response was: "of course!".
Weirdly, I had booked to attend the Kendal Mountain Festival anyway – as a former climber and an avid lover of the outdoors, I try to go every year if I can. I had booked to see some exciting names such as legendary British Mountaineer Chris Bonington, famed female rower Sarah Outen and Danny McGaskill (who requires no introduction).
Just throw a 10k fell run in there as well, it'll be fine. I only announced this to my coach about two days before the event itself. All he said was: "Just don't try and get a PB, will you?" – I could almost feel him rolling his eyes and shaking his head at me in jest.
I mean really – I was about as likely to get a PB as I was to win the thing. I'd had the better part of four weeks off training and even at the best of times, I am nothing like the lean, mean, fell running machines of purist runners who scaled the fells like mountain goats on acid. Oh no, this would very much be a plod. If I liked it or not.
I was lucky enough to be given a pair of
Adidas Terrex Gore-Tex off-road running shoes
– and thank god I did otherwise I would definitely have face-planted at least a few times. The aggressive soles were great for that kind of terrain – which mostly consisted of mud, mud and mud. Oh and a few sections of token cobbles, just to add to the challenge.
Amazingly I was a bit nervous on the morning of the run (although, just got to say how great running events are - an 11am start was most welcome!). Basically I felt pretty out of shape and a little bit intimidated by all the good runners that would inevitably be taking part. Blacks interviewed me at the start and I really wanted to chuck in a comment about the fact I had been off training so I would look marginally less like a running luddite, but there wasn't an opportunity, so instead, I feigned confidence and tried to remember how on earth you do actually train to do a 10k run.
All was good and after reluctantly parting with my comfy, warm down jacket, we were off. It was about 0 degrees and the fells were snow-capped. Luckily for me though (with a known aversion to British weather), it wasn't raining. Phew. Actually it was quite pleasant. I say that, but as we ran out of town and within less than 200m, we were "running" up a very steep hill.
It went on. And on.
I do feel like a summer of cycling has helped my hill running though as I'm sure I wouldn't have been able to do that a few years ago. I was actually over taking people! Don't get me wrong, I wasn't flying up but I was slightly less ploddy than I have been up hills in recent years. Well at least that's something!
It was an awful lot of undulating (and uneven) terrain but around half way (god are we only half way!?), we crested a hill and right in front of us was the most gorgeous scenery – mountains all around with a cloud inversion right in the valley below. It would have taken my breath away, if I'd had any to spare.
There were moments when I felt like my lungs might just spontaneously combust, such was the burning in them. I felt the same about my calfs and quads as well, then realised it was just because I am un-hill-fit.
Occasionally there were some bottlenecks at stiles, which meant we actually had to queue up to get across it (how very British). This gave me a bit of a breather but I clocked the time and at one of them it took a whole minute. I wasn't too concerned and was slightly glad to get my breath back to be honest.
After a recent bike crash, I have to say I am evidently suffering from a little bit of injury-prevention-paranoia, as when we started the descent, I started to lose *a lot* of places. I thought I was doing pretty well but about five or six girls just cruised past me in the slidey mud while I was tiptoeing through it thinking: "Don't slip! Don't slip! You might DIE!". Yes, apparently when you're back in training it's good to STAY back in training – I didn't really want to run the risk of a slip/fall and be back to square one again.
After the slidey mud section we ended up coming back into town going down steps which were constructed of cobbles. YOU WHAT!? Who even thought that would be a good idea? Uneven terrain made even more uneven!? I held onto the handrail as a 'just in case' insurance policy.
Finally, I went through the finish line feeling pretty damn exhausted. I scraped in at just over an hour and laughed at my unimpressive time, before realising that we would be late for Chris Bonington and had to leg it down to the town hall, still sweating and panting.
Apart from the fact that I didn't feel in great shape to take that on, it didn't really matter as it's off-season, and it's all good training anyway. I found out that I was in the top third of the senior women category (about 35th or something) – absolutely nothing to be proud about but maybe slightly better than I had expected given that I am not a pure runner and I wasn't in the best shape for it.
The rest of the festival was absolutely fantastic – if you haven't been and you love outdoor adventure, I implore you to go and check it out. It's without doubt the most inspirational stuff I've seen all year – like all these amazing YouTube clips or Facebook stories, or books you read or films you watch on TV – all thrown into one weekend, and the best part is that the person who did those amazing things is stood right in front of you telling you all about it. Just brilliant.
A massive thanks to
Blacks
who sent me the awesome Adidas Terrex shoes and entered me into the Adidas 10k run, and to
Kendal Mountain Festival
for putting on another absolutely incredible weekend!
Right, back to training – it's getting serious now!