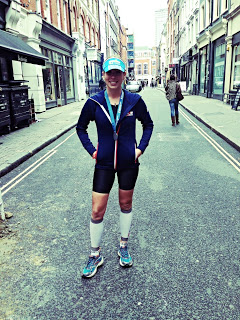 Last tri of the season. This is it.
I signed up to the PruHealth World London Tri last year before I had even signed up for Ironman. At this stage I was so rubbish at triathlon that I just thought it would be cool to race the same course as the world's best triathletes at the London Olympics. It was *quite* a long time before the dawning realisation that it was a world championship final for age groupers as well hit me. I was what some fondly refer to as a "total punter".
So in the run up to this event I had that awkward conversation where people asked me if I had qualified, and I had to explain that er, no, I paid for a ballot entry... Obviously if I had known I would have gone for the qualifiers, ahem! (Hardly. I was obviously focused on Ironman and not really gunning for Olympic distance fame!)
However, as the season evolved and I was getting faster, and still buzzing slightly from my win last weekend and my recent realisation that I can actually push myself past a zone 2 HR, I had a bit of a strategy for this race. I popped in to see my lovely sponsors
Lovelo
Cycle Works the other day and was asked about my race strategy for Saturday, to which my response was: "smash the s**t out of it".
After a slightly shocked reaction to my abuse of the English language, I feel like there was enough of a mutual understanding to the effort I planned to put into the last race of the season. At the very least, I privately wanted a PB (which I was confident I would achieve) and top 10 in my age group (which I was also relatively confident I would achieve, but knew it would be tough).
Obviously I'm not competing with the world's best here so it may seem a little inconsequential, but it's small steps of progress for me. I wanted to go for it. My training had tapered back a bit this week in preparation for the race, and my nutritionist was giving me optimum fuelling to make me race-ready! You can read about my nutrition fuelling on the
fitnaturally
website
'What Amy eats'
blog.
I felt sick on race day morning but with the rather unconventional race time of 12:10, I had all morning to feel nervous. This is actually worse, in some ways. But luckily my coach Steve Lloyd of
Absolute Tri
was down at the Worlds for the whole weekend, so after a coffee and a bit of banter I felt more relaxed.
Swim was relatively uneventful, the water was a bit colder than it has been this Summer but once acclimatised and after a quick start I settled into my pace. I think I probably could have pushed harder on the swim. It is the discipline which I tend to pace myself much more on rather than maxing out - this may be a good thing though! I was out of the water in 30:49, a PB of over a minute.
The transition was not good. After getting out of the water there was a run along the road for quite some way before running uphill on slippery, wet, muddy grass and with probably 2,000 bikes it was becoming quite treacherous under foot! It was also a long way from the swim exit which meant the clock was ticking. I faffed a bit and after almost 5 minutes (yes, it was a mission, all the competitors times were above average for T1), out on the bike (carefully, to avoid a Bambi style moment on the mud).
The bike was flat, fast but with tight corners and wet roads. Oh, and quite a few arrogant blokes with ludicrously expensive TT bikes but zero road awareness. I nearly crashed at one point as some guy with all the gear but no idea cut me right up on a sharp bend forcing me to brake sharply - I was very close to a crash there and after swearing at him I hope he was more careful for the rest of the course! I think I was only overtaken by two females on the bike but with different wave start times it wasn't easy to tell how far down the field I was. I averaged 20mph for the entire course (think it was just short of 40k, more like 37k) and kept my pace strong and my HR high! 1:08:04, another PB in the bag...
Another unacceptably long transition (think it was the muddy run uphill around the entire transition before they channelled you off to your bike slot), and with a new pair of Newton MV3s, I ran out feeling tired but staying strong.
Four laps of the Serpentine and a relatively good crowd of support, and at least it wasn't raining. I was doing the mental maths on the run, I needed to get a sub-45 minute 10k to get in under 2:30, and I was keeping a really consistent strong pace with 11-ish minute 2.5k laps. Again, I was only overtaken by two women but knew I couldn't go any faster with my HR pushing 178 the whole way. I knew it wouldn't be sustainable for too long.
The final lap came and I sprint finished feeling strong but pretty knackered (slightly contradictory but I'm sure you can relate), with, guess what, a 10k PB of 45:50.
Overall my time was 2:33:14, a PB of just under 20 minutes (since June!). I'm happy with that level of progress in just three months.
Stats are:
7th in AG (out of 20)
27th female (out of 180)
Ok, so it's not the World Championships (yet), but I like to think it's about the journey, not the destination, that makes life most compelling. Because when I reach that destination, the sense of reward and achievement will be unbelievable....