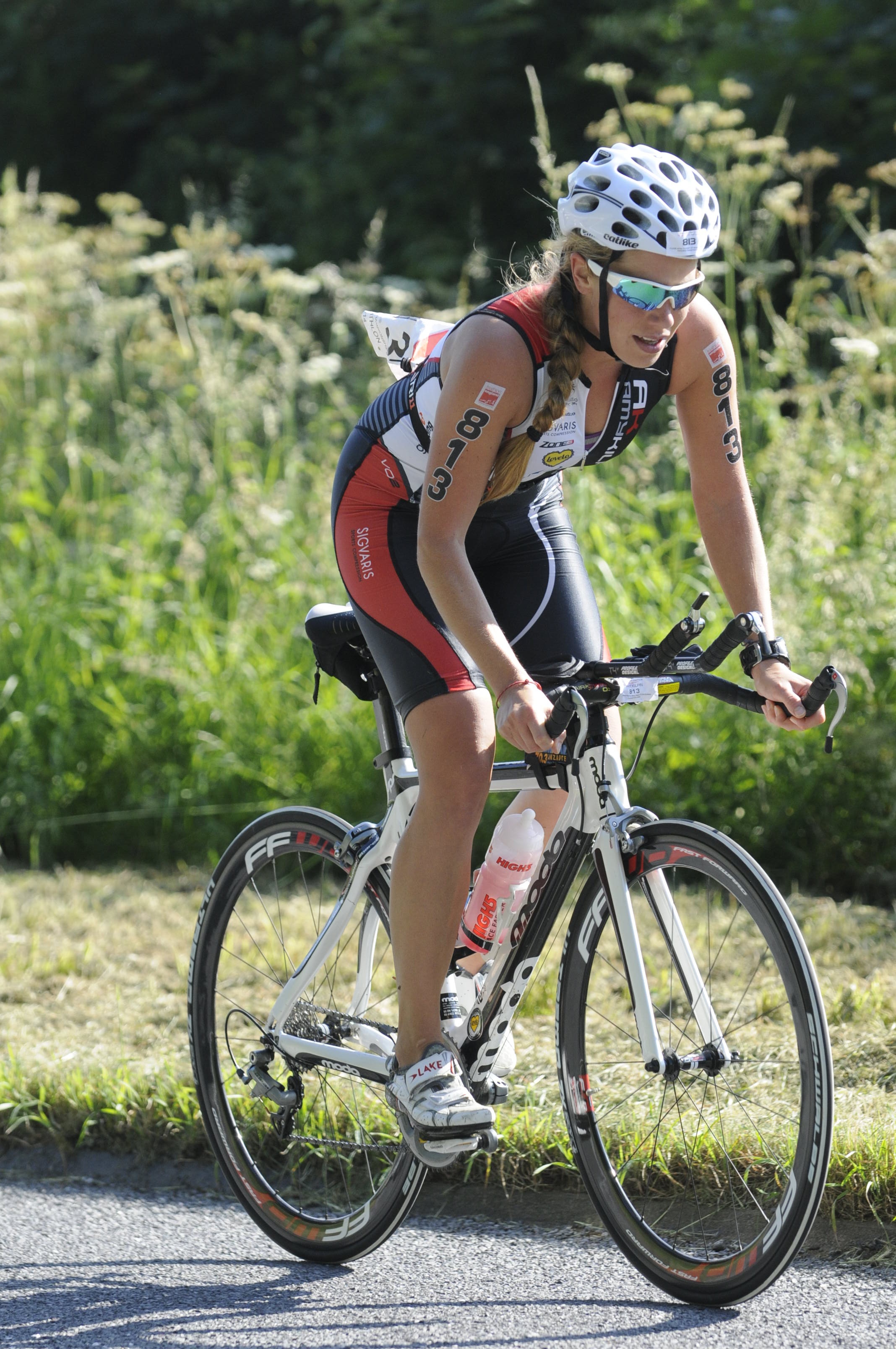 Last year I decided to enter some of the iconic races. I had absolutely no idea where my season would be going; at that point I didn't have a single sponsor and was just doing triathlon for a bit of fun, all before it turned serious... I had heard the Dambuster was a pretty popular race so I entered it. No particular regard for distances - 2014 was a bit of a mish mash of distances; everything from sprint to full iron, why not!?

The Dambuster was going to be a bit of an unknown for me though as I hadn't done an olympic distance tri since September 2013. Because this was the National Standard Distance Championships I knew the field would be absolutely stacked; shorter stuff is definitely not my strength and I knew there would be some super fast girls there - my hopes were not particularly high!

I arrived the day before to familiarise myself with the course. I had heard that the bike course was pretty tough - eh? It's Leicestershire, it's pretty flat there no? No. Apparently not. As I drove the course I was filled with a slight dread as I knew that my bike is not my strongest discipline and that there would be some serious competition. Add hills into the mix and I knew I'd be struggling to keep up.

The sun was shining brilliantly on race morning; at least the weather was playing ball. Nearly 3,000 athletes meant that this race was one of the biggest on the UK circuit. I was in the second but last wave and with plenty of time to spare after racking, I could enjoy watching people set off (this is code for - more time to get irreversibly nervous).

As I stood taking photos of the lake in the early morning, someone called my name, and I looked around to see the legendary Cathering Faux wearing a high-vis tabard on the other side of the barrier! I had a lovely chat with her, once I got over the shock of her knowing who I am and recognising me! Something wrong here!? She was helping out the organisation of the race, torn between being partially glad she was on the other side and partially envious of those racing. I was just wholly envious of her talent to be honest!

So, the race. A dry land start (positioned right at the front, even though I know I'm not the fastest swimmer. This was part of my new strategy to not get bashed around in the water, mosh-pit style) and we were off. As I swam I settled into my pace and realised that the lead pack was ahead of me and I was at the front of the chaser pack. I knew my swim was going reasonably well but I could not quite catch up with the lead pack, and because I was at the front of the chasers there was no drafting opportunity, which was a bit annoying! Solo swimming it is then!

I was out of the water in 26 minutes which I was really pleased with, as this is 5 minutes off my 31 minute time from September, pretty good progress! The official time was 27:09 minutes because there was an uphill run into the transition area and over the first timing mat. But I'm taking the 26 min as a PB!

T1 was not ideal. They had cut the grass prior to the event but left it all there, and therefore T1 consisted of 1 inch of grass cuttings stuck to the bottom of my feet and trying in vain to get my feet into my bike shoes without taking half the lawn with me. I actually SAT on the grass to try and do this, which then rendered me with a grassy behind as well. As I ran out of T1 and onto the bike, I was halfway down the road before I realised I had grass on my face. Classy.

Bike time = hill tackling. Here we go! Immediately on the bike I could feel my quads working, maybe because of quite a high training volume recently, and with a number of races in recent weeks. This didn't bode very well. I was pushing hard from the start thinking I should really pace myself for the hills a bit more. I had been warned about the famous 'Rutland Ripple', which belies the monstrosity of this massive dip in between two very sizeable hills. I was making good time in the first half, however, averaging a decent 32kph.

In fact there was a section about halfway where I was averaging 38kph so I thought I would be onto a good time. I quickly realised though, that I wouldn't beat my last Olympic distance bike time (where the course was slightly shorter than 40k), not only because this was longer but also much, much hillier (and hillier than completely flat).

During the bike course I realised something. Olympic distance is actually a really nice distance. It doesn't have the excruciating pain of the sprint intensity, and yet there wasn't that feeling of dread knowing that I would spend the next 3 hours of my life on a bike before running a half marathon, a la Half Iron distance. Yes, this was good, just over an hour of bike before a nice quick 10k. Supposedly.

The last 10k consisted of wind and hills, which meant that the probability of anyone arriving into T2 feeling fresh was pretty non existent. Bike completed in 1:20:40. Not exactly record-breaking that's for sure. I ran into T2 and had another epic! I ran along the wrong rack and spent abut 30 seconds looking around me for my racking spot. Oops. Over there. What an idiot, I am usually good at not going all 'lobotomised' during a race.

Grass gate take two. Trying to get socks on and remove the grass before shoving my feet into my run shoes was proving a bit challenging. Grabbed a few gels and ran out to face the 'pancake flat' 10k, as someone had so delightfully reassured me. Quite quickly, however, I realised this was NOT a pancake flat run. Don't get me wrong, I mean it wasn't 'hilly', but definitely undulating. Oh god, this was actually hurting quite a lot.

Ok, maybe I don't like this distance much. Because it was an out and back, before long there were all the super fast girls running past me, probably 20 minutes up on me! Inevitable, but not exactly a confidence booster. Damn. (Forgive the pun). I was pushing super hard and my heart rate was around 180, wow this was tough. I'm not even going to mention that it was a warm day as I spend so much time training abroad this would not be a good excuse for my slow run time!

I knew that I wasn't going to get a PB here, and I could see my run time slowly slipping away from my ideal. However I powered through and finished in a disappointing 47:25, and a total time of 2:38:43.

My overriding feeling, after I could actually breathe again, was disappointment. It was probably illogical of me, considering that not only is Olympic distance not my thing, and I have only ever competed in three or four in my life, but it was also a stacked field due to being a European and World qualifying event. I was 14th in my age group so quashed my top ten finish game plan, and was 42nd woman overall, out of 180. But it is what it is and I guess it could have been worse. But I also know categorically that it could be a lot better.

My coach reassuringly said "This is just the start. This is why we need to do the shorter stuff, so you get faster". Well I'm up for that. After my season of going short, middle, long and a few in between, it will be all about speed...