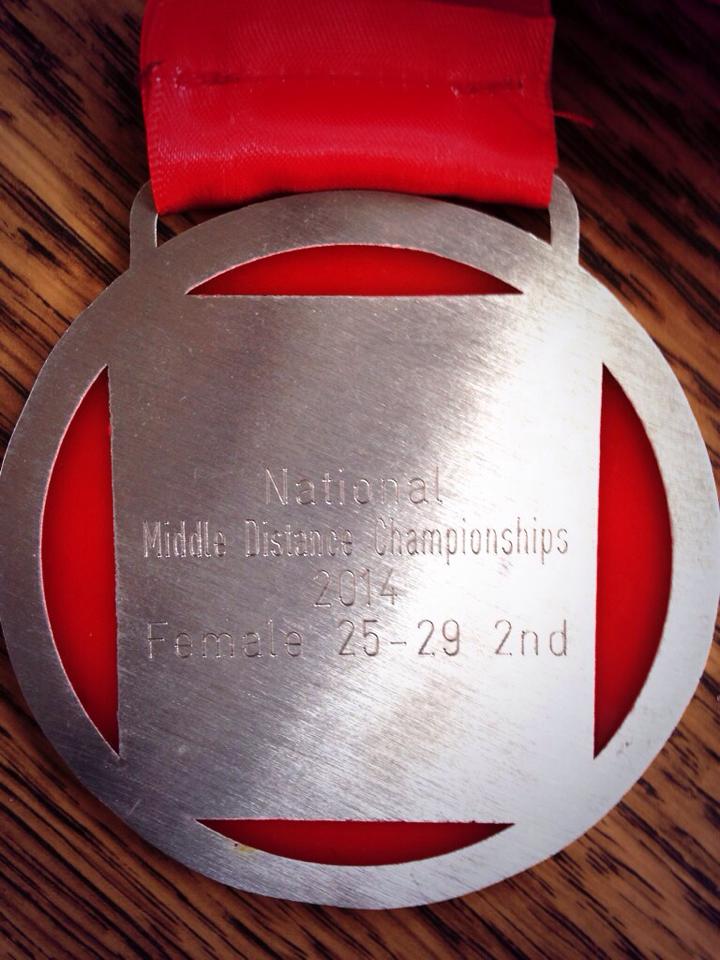 There must be something in the water, because this past week has been a little bit strange to say the least. Yesterday, I walked away from the National Middle Distance Championships with a silver medal.
What the…?! This kind of stuff doesn't happen to me. I've never been 'good' at anything. At least not to the extent that I win stuff. There are a couple of possible scenarios here.
It was a fluke (likely)
I underestimate myself (very probable)
It didn't actually happen and I'm living in a matrix style perception of reality (probably not likely, but possible. Maybe.)
I guess there are only so many times I can keep saying "yes but the field was thin. Yes but my age group is less competitive than others. Yes but the conditions played to my strengths. Yes but if you actually look at the OVERALL times mine wasn't that good. Yes but if it was an international race I wouldn't have stood a chance in hell."
Because yes, those things are probably all true. But the fact is, I'm WINNING STUFF. And what's more, I'm taking significant chunks off my PBs every time. (And yes, I know I will plateau and probably struggle to get any better, but I'll cross that bridge when I come to it.) For now, I'm happy with how things are progressing.
It's funny, one month ago I stood at the start of Ironman Mallorca 70.3 (
race report here
) absolutely sick to the stomach with nerves. I had no idea where I stood benchmark wise – a full winter of training but nothing to guage where I am at performance wise.
So at the start of the Grafman Middle, I was yawning, a little bit bored, and not particularly bothered about the race in all honesty. This stemmed from the fact that this race was actually not one of my 'key' races this season, it was more of a filler and actually, my last coach, Steve, said I should enter it as it would provide a good benchmark of where I am at in comparison to the rest of the country. So I booked it practically a year ago and almost forgot about it.To sum up, I was not psyched. I went up the day before to get a feel for it, dossed around on my own, had a romantic meal for one in a pub, and got up on race morning feeling fly with a new Ffwd carbon wheel on my bike, but not much else. Oh, and I was number 13. Bad omen or lucky for some!? We will soon find out!
I had anticipated this being a STACKED field, but a glance at the start list in the information tent told me otherwise. As is sadly often the case, especially with longer distance events, the female field was quite thin on the ground (comparatively to men) with only about 90 women out of 600 or so competitors.
Anyway, I wanted to warm up but the water temperature was too cold (14 degrees, quite chilly actually) to be standing around dripping while the race briefing took place so I decided to wait for the allocated 5 minute warm-up slot in between waves – it would have to suffice. It was quite amusing when, as I stood on the front line of the swim (run-into-the-water-type start), the race director Keith said: "We're going off in about 10 seconds, or why not now!? BOOM) which panicked everyone a bit as we jostled into the water with the grace of a herd of hippos.
Having strategically positioned myself right at the front I managed to avoid the mosh-pit fight-fest a la Mallorca, and had quite a smooth swim start. But I soon realised I had made a bit of a schoolboy error by positioning myself on the outer edge (must have been my nonchalance at the beginning – not switched on!), which meant I was taking the buoys quite wide and therefore not gunning along the quickest route.
I felt pretty smooth on the swim, didn't feel the cold at all, felt very relaxed (nonchalance, yet again) and just cruised along without exerting myself too much. In hindsight, I should probably have pushed harder but was conscious of not going too full on and holding back some energy for the rest of it. It was one of those, run out of the water after the first lap then back in things which I think makes you lose time. Anyway, I was out of the water in 34:29 which I thought was not particularly good.
It was at that point that I thought I might just cruise this race, I wasn't that bothered about it and I didn't have very high expectations about it. What I didn't realise is that I was 3rd in my age group out of the water. But there were quite a few bikes in my wave area so my strategy was to go steady and consistent and just see what happens.
On the bike, the course is predominantly flat-ish, well, undulating, and I thought that I should get a better bike split than in Mallorca purely on this basis. But an hour in, and I was feeling it. The thing with flat-ish courses is that it's relentless! There is no recovery, the heart rate is constantly in zone 4 and the legs are just pumping along. It is also quite demoralising doing laps of a long straight road. Mentally, I found that bike course one of the toughest I have done.
On the first lap out, which was an out and back, I could gauge how many women were in front of me. I counted about 25 and thought that I may as well give up trying to do well and "just finish". I was pushing along at about 31kph and knew that it would be hard for me to maintain that speed (because that's actually quite fast for me) for an entire 90km. But if I could just do that, just hold onto it, then I'd be happy with myself, forgetting the other competitors.
Nutritionally, for some reason everything clicked like magic during that race. I am very lucky to never suffer from proper GI issues, but I do tend to get a bit of discomfort in my stomach after eating on the bike, especially in aero position for prolonged periods, and then I can feel it when on the run too. But as soon as I was on the bike, I was hungry, which was unusual for me. Probably because I didn't get panicked in the swim or feel nervous before the start.
So I was smashing back peanut butter sandwiches and Get Buzzing bars (thanks to
fitnaturally
, who writes my race day nutrish plans, it means I don't even have to think about it!), and getting plenty of energy in. I started getting overtaken by a few chicks in the second half which initially annoyed me, but I just couldn't be bothered to try and catch them. After what seemed like a very long bike course, I came into transition thinking I had just scraped under 3 hours, but afterwards, my split had recorded at 2:52:15 so I was quite pleased with that.
I have to admit, one thing I am brilliant at is multitasking, so as I ran into transition I quickly counted the number of bikes in my wave area, and there were 5 or 6. This, I figured, put me at about 6th or 7th in my age group. As I went out onto the run, I felt frikking amazing. What!? Where did this come from? The run goes along Grafham Lake on a beautiful flat concrete surface, right up to the damn.The sun was shining, and I felt super, super strong. Steady on love, we're only 15 minutes in. Oh yeah, damn, I have a whole half marathon to run yet. I had to remind myself not to push too hard or I'd burn out. In fact, I knew it was an inevitability that I wouldn't be able to hold this pace and pretty soon, I would start feeling it and my laps would get slower and slower.
However, as I nailed a few gels, quite a few men, and started to encroach on more and more women, I realised something. I'm not feeling any worse. In fact, I'm feeling just as strong, if not stronger, all the time. This was HUGELY different from Mallorca, where I had really, really felt it on the run. YES. COME ON. I started picking off my competitors. "There's another one in my AG, let's take her down." I love this game.
People were waning. It was apparent that the heat was getting to the competitors. Not for me, having spent half the year abroad on training camps (see, told you they were valuable!). I was still thinking that I probably wouldn't have done hugely well, and despite taking a few down, there weren't really any girls in my age group close behind me anymore, so I could relax and not really care. I wasn't going to podium that's for sure. 4th, 5th, 6th – what's the difference, not much. I felt like I wasn't hugely bothered with this race and that I should just keep going steady and finish feeling good.
Half the run goes off-road and it's quite undulating, so I wasn't expecting a super fast run time. But as I came onto the home straight (which was about 2.5 miles long), I started to put down the hammer. I saw a girl ahead of me who I was slowly catching up with. She was number 14, one ahead of me, so I thought "let's chase her down!" This was going to be tough though as I think we were running at a very similar pace and every time I saw her she looked strong. I ended up getting quite close to her and ran through the finish right behind her. I couldn't quite make it up. Damn.
I finished the run with a half marathon PB of 1:45:27 and quite a pleasing 17 minutes off my half Iron distance PB, in 5:14:47. I also later found out that I posted the fastest run of the day in my age group. Sweet.
Not long afterwards, I found out I was 2nd. Oh right.
It was weird, because I had that thing which happened to me at the end of Ironman. I didn't really feel much. I think in reality, I had pushed harder than I let myself think. Not in terms of fast effort, but I had just remained so consistent that it had been less perceived effort but had actually involved a lot of hard work to hold the pacing. The girl I had chased was in the age group above me as well! Nothing like a motivator though no!?
Ok, 2nd. That's cool. Second. Hang on a sec, this is the National Middle Distance Championships. I had a Triathlon England rep congratulate me and told me to attend the prize giving a bit later on. It wasn't quite sinking in for me. I knew I should feel elated, but I didn't. Why?? I had cried at the finish line of Mallorca! Weird. I hung around for prize giving. They called my name. I was given a silver medal. I stood on the podium and had my photograph taken by Triathlon England official photographers.
I left to drive home.
Only later, when I had managed to get a bit of energy back and the realisation had sunk in, did I feel elated. Wow, second in the country. All the excuses started pouring into my head. The ones which were justifying why I had won this silver medal, the usual spiel about me claiming "I'm not that good." SHUT UP.
I can quite categorically tell myself that I can stop saying I'm not very good anymore. And to those people that have conveyed negativity towards me: I am good. But it has been damn hard work getting there, and I'm not finished yet.