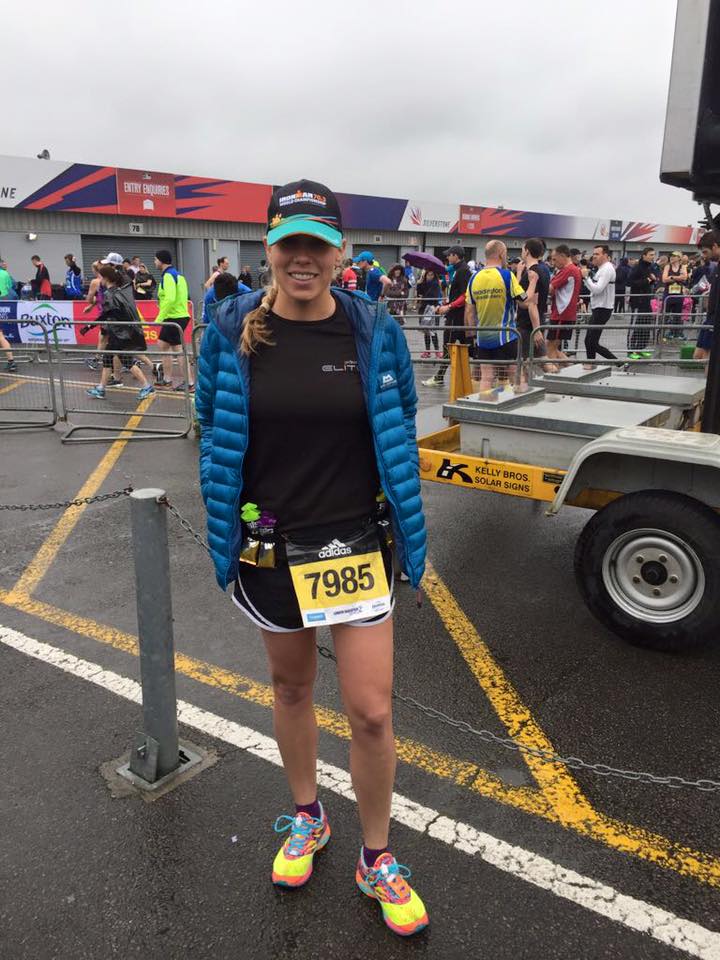 Last year I ran the Silverstone Half Marathon and decided it would be a good benchmark race to do every year. So on a rainy day in March, I was heading there again. After getting a PB there last year, it would be interesting to see how much I had improved in a year.

I had forgotten how massive the race is – used to racing with around 2,000 or so competitors in 70.3 events, here I was on the start line with around 8,000 or so runners. It was mad! Costumes and all, it reminded me what I like about UK running races – they are so popular and most people are just there to enjoy themselves and get a nice shiny medal at the finish line.

I queued up fairly close to the front but steering clear of the super fast looking people, warmed up and ready to see what I had. We were soon enough off and after dodging people for the first kilometre or so, I was settled into a nice pace. Nice, hang on!? This was quite a bit faster than I had been aiming for. But it felt so comfortable, so I decided to go with it.

5k in, still feeling mega comfortable.

10k in – should I be working harder? Still quite a way to go, let's see what I've got with 5k left and then open it up.

12k in, took a second gel, instant stomach cramp. What the hell? I was almost doubled over in pain and nearly slowed to a walk. It felt like a stitch, a real stabbing pain. Weird.

It faded slightly but didn't go away. I learned that if I exhaled completely, emptying my lungs, it disappeared for a few seconds but then came back. So ensued a series of me running a few steps, exhaling all the air out of my lungs then repeating this process over and over again. Every hyperventilated? Yeah, it felt a bit like that.

Regulating my breathing was virtually impossible and as such, my heartrate felt like it was probably all over the place too. My pace had slowed – not gradually, but just suddenly, like it fell off a cliff or something – and I just couldn't get back to where I was. God damn it!

Basically, the rest of the run from here on in was just a massive struggle. I was literally hanging on. Not sure whether I would have struggled this much without the weird cramping, but even my legs felt so heavy – I was in a lot of pain to hold onto this pace.

Finally, I hit 21k. But I was still going. Apparently the course is long. I went through the finish line (21.4k – amazing how much of a difference that 300m makes!) in 1:38:00 – a PB of nearly 2 minutes.

I hate to sound dramatic and/or pathetic but I cried from the sheer pain that I had been in for the past 40 minutes. Then I got over myself.

I was hoping to be a little faster, by a few minutes actually – and whether that was realistic or not, it didn't matter a huge amount as I did what I came to do, and that was to beat my time – you can't really ask for much more than that.

Later on, I found out that I was 33rd woman overall out of 2,400 – this was a massive shock! I wouldn't exactly classify myself as a runner, or at least certainly not 'up there' as a runner. I was pretty happy with that as the year before I was around 72nd female, so a significant year on year improvement, even if we are only talking about a couple of minutes.

Irrespective, it was a solid training day and now just with a few weeks out from my next big 70.3 race, I am feeling in good form.

It's only March and I've already had PBs in all the races I have competed in – testament to the hard work I've put in over the past year and invaluable input from my coach Mark Pearce. Things are shaping up well. Next stop, Texas! Yeeeehaaa!