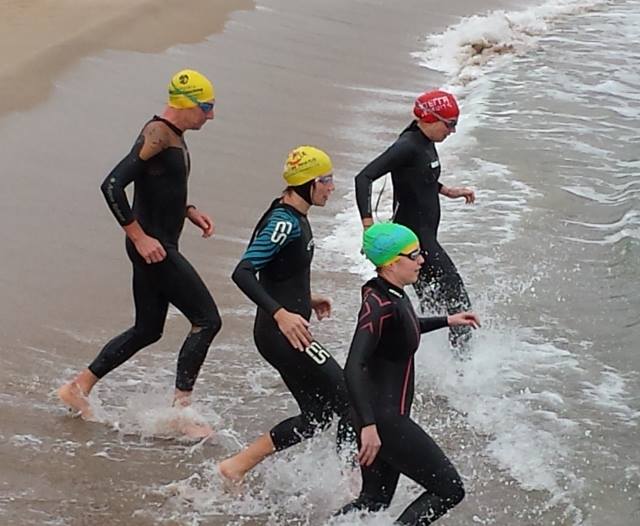 Virtually a week after my solo training trip to Lanzarote I was flying out to Alicante (might get some drop off in my readership here!), for a long weekend swim-focus camp with Swim Smooth expert
Martin Hill
at
Triathlon Training Spain
. It's tough but someone's got to do it!!
I was looking forward to a few days away to refine my swim technique but didn't really know what to expect as I have never done anything like this before (not even a group triathlon training camp – I always tend to do stuff on my own, in a borderline socially reclusive kind of way…)
Anyway, after being collected from the airport I did the normal thing within an hour of touching down and changed into my running stuff in the back of the car. Straight out on a 1 hour run along the sea front. I think this was the dawning realisation for Martin that I was going to be like this all weekend…
Later on it was pool time, and we were being filmed. Uh oh…
There were just four of us which made a nice sized group, the dynamics were also great so we all hit it off straight away. It's really easy to get on with people who have the same interest as you, same objectives and stuff. Enter bantersville.
The filming was from three angles: above the water to look at our body alignment from above, from the side to see the catch and pull phase, and from in front to check our breathing and arm position. All would be revealed later on the big screen – no hiding place!
A drive up long curving roads up into the middle of the mountains, and we reached Martin and Linda's home. Happily met by the wagging tail of Cal, their German Shepherd, and a freshly brewed cup of tea, we settled down to watch (and laugh at) ourselves swimming on the big flatscreen.
The two hour video analysis in slow motion which then ensued was fascinating - with true alignments drawn on top of our positions to show what position we should be trying to achieve in the water. We also watched videos of pros (swimmers and triathletes) to show correct form and technique (hello Harry Wiltshire).
The best bit was the three course dinner which had been lovingly cooked by Linda and which awaited us after the seminar ended. Seriously good home-cooked food, and a cosy, immaculate bedroom. It was like being at home - only better!
The next day I was up before sunrise to get in a Wattbike session and brick run before the day of swim training began (of course. No rest for the wicked). After a hearty breakfast we were off with packed lunches (courtesy of Martin's wife Linda) and on our way to the beach. Sounds idyllic no? Well, as much as I would love to gloat about the hot, sunny climate, it was in fact a cloudy day, around 13 degrees celcius with sea temperature of 14 degrees. OMG. This wasn't going to be as pleasant as anticipated… That's pretty much UK lake temperature at the beginning of the season, and we all know how hideous that feels.
The sand was cold (yes, actually COLD) and as we "warmed up" on the beach I was kind of dreading getting in. And I was right – it was painfully cold. My feet were excruciating with the cold and my face went blue after about 15 minutes! Sure this is not what I signed up for?! Warm weather training camp in Spain!? Basically I'm completely inefficient when I'm cold (more so than usual), and I can't seem to move through water at all. It's like being a tank in glue.
We worked on some open water skills for a while before attempting to warm up/dry out in a coffee shop (apparently Alicante is famous for chocolate – who knew?!) before heading to the pool for a 2 hour swim technique session. This is where the real grind began. It was very focused on marginal gains so involved drill, after drill, after drill. Really good stuff though, (doggy paddle, anyone?) and all different, including using the awesome
Palm Paddles
endorsed by many a pro triathlete! The time flew by – Martin was 100% attentive, never taking his eyes off us for even a second. I was absorbing information like a sponge – any insight I can get into improvement in my performance I grasp desperately (because I desperately need it!).
Day three dawned and this time I watched the sun come up turning the mountains a shade of red during my wattbike session, pre-breakfast (breakfast like a King, FYI). The day was going to be glorious – not a cloud in the sky; just mountains, blue stuff and that penetrating warmth from the sun. More of this please!
After breakfast we had a bit of time so did some strength and conditioning. Martin showed us how to use pull cords for dry land swim training, although Rick has had me do some of this and my strength and conditioning coach, James Drabble from
Trojan Training
, writes all my S&C programmes so I was familiar with most of it. I ended up doing my S&C programme since we had time – picture this: TRX and resistance work under the sun – beats the gym ANY day, even though I was dodging sap which was dripping onto me from the massive tree in the courtyard! (Don't ask).
Off for another sea swim but this felt like an ACTUAL holiday this time. The sand was warm (that's more like it), the sky blue, and it felt seriously good, even in the water. The only demotivating bit was when us three girls were all swimming flat out and when we looked up Martin was on his back sculling ahead of us at the same pace. Show off :-)
Another 2 hour stint in the pool and we were filmed again, so when we went back to the house to watch the comparison, it was good to see small improvements in just a couple of days. The reason this is possible is because it's so intensive. Having a coach with you 12 hours a day is pretty full-on. Even when we weren't training, Martin is a fountain of knowledge and without imposing this knowledge on you with self-assertion, he rather humbly offers information and answers with clarity and patience.
It was unusual focusing on just one discipline (well, mostly anyway!) but immensely useful. Not only that but without the knowledge acquisition, skill development, technique refinement and self-analysis that the swim camp offered, it was just fantastic to get away and train in the mountains and by the sea and be looked after with such care and attentiveness that it felt like home from home!
With less than two years of swimming under my belt I obviously need as much help as I can get! Having said that, I'd recommend this to anyone – training and holiday – what more could you want?
DISCLAIMER:
I won't be going on any warm weather training camps for another few months so don't worry… no more sunny brag-fest pics for a while…