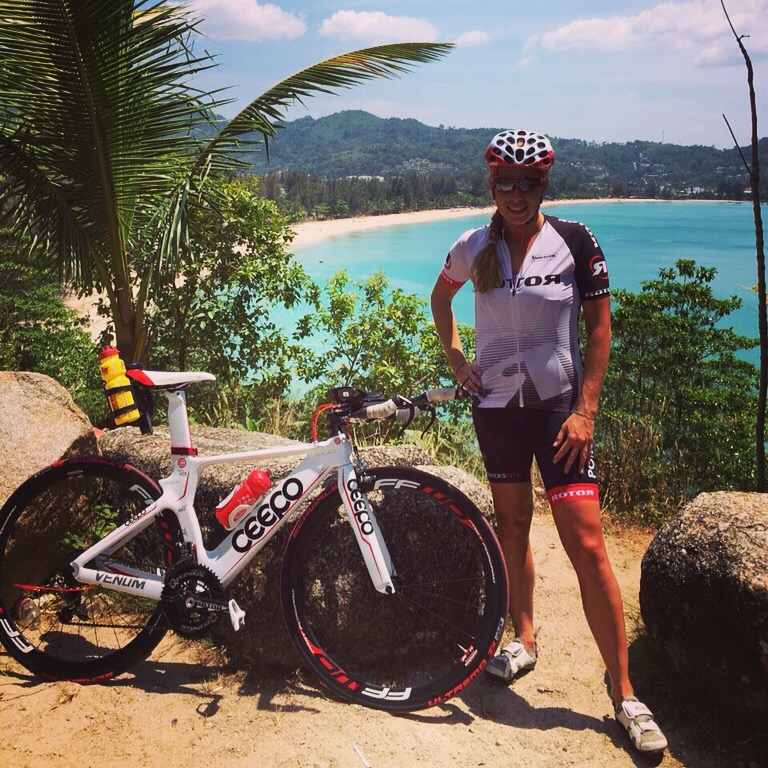 Sometimes, it's very important to remember why you do things. Triathlon is one of those things. It's kind of easy to get lost in the numbers, the data, the positions, the PBs and the hype of achievement. But it's supposed to be fun, right?

I guess this is a marginal reiteration of my last blog; that life is about more than just being a slave to training and racing, especially at age group level. But if you can experience some incredible stuff in the process, I think you've reached something pretty spectacular as your achievement has become part of living life to the full.

I have just spent 10 days in Thailand to acclimatise before my race in Malaysia this weekend, and I can say unequivocally that I've had one of the best times of my life. And you know what? Training was just one part of that.

When I first signed up for this race I was keen on acclimatising somewhere with amenable training conditions relatively close to Malaysia to get used to the climate before the race. Thanyapura sports resort in Phuket seemed like a really logical option, with amazing facilities and endorsed by the one and only Macca, it had to be a good shout.

I ended up having to go to Bangkok for a few days with the friend I was travelling with, Claus, because he had work commitments. Initially I wasn't 100% sure about this – "but where will I train!?" That became a slightly secondary issue as Bangkok is one hell of a place, one hell of an experience, and one hell of a place not to miss. It was crazy and extreme in every way imaginable, and I took the experience for what it was.

A few days later and we were in the serene tranquillity of Phuket set amidst the vista of tropical jungles and white sandy beaches with turquoise waters. Thanyapura is very health-focused, with calorie and macro-nutrient breakdown on the food menus, fresh fruit, vegetables and coconut water aplenty, and some longer rides and serious training to counter my (only slightly!) debaucherous few days in Bangkok. It was going completely from one extreme to another. And I loved it.

During that week I had some serious training, and training in 36 degree heat and high humidity is certainly not to be underestimated. I had a few dark moments, especially while on the run (one of which involved almost being attacked by a stray dog!), but I think the acclimatisation process did the trick. The rest of the time was holiday time. I guess I originally planned this to be a serious training trip but when all the training is done before midday, what else is there to do but explore one of the most beautiful places in the world? (Oh, and lie by the pool).

We visited the famous paradise island where 'The Beach' was filmed, saw tropical lagoons, floating villages on stilts, the archipelago (one of only three in the world) where 'James Bond island' is situated, visited bars with endless pools, drank fresh coconuts, ate fresh, delectable Thai food for less than £10 for two, had Thai massages most days, lounged by the pool, rode on longtail boats – the list is endless.

It was a rewarding time, and I think there's something kinda cool about training specifically for a race while experiencing these things. This really is what life is all about!

I have now arrived in Malaysia and suddenly it feels like the serious race stuff is happening. In Thailand it didn't feel real; I couldn't quite grasp that I would be racing very soon, I felt so far removed from that race vibe, but maybe that's exactly what was needed!?

I am in a country I have never visited before but I feel well-acclimatised to the heat and humidity, I feel fresh and healthy from quite possible the perfect pre-race prep imaginable, and I'm once more feeling confident about my abilities. Let's just hope it all comes together on race day.

But in spite of all this, whatever happens on the day, it almost doesn't matter. Because this trip has enabled me to experience moments I will never, ever forget, and train and race in one of the most incredible locations in the world. And when you put it all into perspective, that's pretty special stuff.