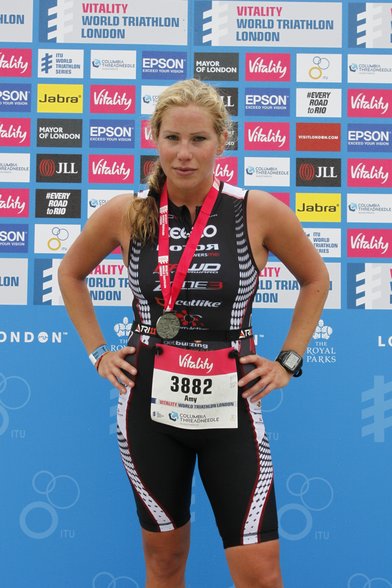 I'm not really built for speed, it's fair to say. But when I signed up for all my races for 2015 I decided to add in a couple of shorter ones to keep things fresh and try and fire up some of those non-existent fast twitch muscles. Plus I love racing, and it's not feasible to be racing a 70.3 every weekend!
I raced the London ITU World Triathlon in 2012 when it was the championship event, but at the time, I had no idea that it involved qualifying, I didn't even realise triathletes could race for GBR at age group level. I was a total luddite. So I decided to revisit it.
My one and only triathlon in the UK for 2015! And guess what. It rained.
I'm not one to moan about British weather (cough cough) but really. It was dire. I was close to bailing when I saw the forecast but decided to man up and take it! Actually it wasn't that bad. It didn't really rain before or during the race apart from the last lap on the bike. By that point you don't really care anyway. So I had planned everything to the point of perfect execution. Got up super early (5.15am anyone!? OK it's not quite Ironman early) and drove down to London with plenty of time to spare. Casually hanging out chatting to people on stands before the race (the lovely guys at Triathlon Box) before wandering down to the start.
I was wondering why all the people who were congregating at the start had blue hats when mine was green, but wasn't massively bothered. Until the guy called out blue hats 8.30am start. Erm, sorry? I asked the guy when the green hats were due to go and found I had missed my start by 30 minutes. Oh. So it was 8am not 8.30am. Oops. Casually missing my start. Anyway the guy said I was good to go so that was all fine. (Phew.)
"Welcome to The Serpentine", said the woman ushering us onto the pontoon. Hmmm. The irony. Jumping in it felt pretty cold but because of the small start waves I was smashing along trying to get in the front pack and feeling pretty awesome actually. So far so good. I was keeping pace with one other guy but about half way round he dropped back. No one in front of me. Ok, so much for drafting. But good that I am the fastest in my wave! I posted a swim PB of 26 mins, woohoo!
I ran out and about a million miles into transition up a massive grassy bank and out onto the bike course. Straight away I was pushing hard but had decided to dump my heartrate monitor for this race. No point as I'm going to be red-lining the whole way anyway. But looking at my pace I reckoned it was unlikely I'd be able to sustain this! I went with it anyway. You can't get a consistent pace going on this course anyway as there is a long straight flat bit then a massive 90 degree tight turn, and again, 90 degree turn, then a full 180 at the turnaround point. Which disrupts your pace but does give you mini recovery. Also quite sketchy on the turns on a congested course but luckily remained unmarred.
The laps went on forever. Five of the same monotonous out and back, plus there was a pretty strong headwind on the bike in literally every direction you turned, wet roads, and one of my brakes was permanently rubbing on the back wheel but I didn't want to get off to adjust it. Not ideal conditions! Good news is I managed to hold my pace though, quite to my surprise, and ended up averaging 20mph on the bike course. Considering rubbish conditions and a total of about 40 tight turns I'll take that.
I have been trialling
MyEndurance
Train Sustain and a few other products but was a bit nervous about trying something new on race day. As I wasn't hugely bothered about this token Olympic in rubbish British weather I tried it – worked a treat. The crunch time would be the run though…
Onto the run. I was actually dreading this. I feel like I have lost run fitness and haven't done as much running as I used to, with very little threshold work, so I knew I wouldn't beat my 45 min time from two years ago.
I was flying on the first lap (flying for me, anyway!) with average pace of 4:34/km which felt great. After two laps I had slipped a little but managed to hold the pace throughout the run (four laps also felt like they went on forever) and finished in 48 minutes.
I managed a PB of 2:28 and 3rd in my age group. I also got the 15th fastest swim and the 17th fastest bike out of the whole female field (and fastest bike in my AG) so all in all I think it was a pretty successful race, for a distance I don't tend to do and a race which I almost missed! Plus I think I quite like Olympic distance…
After Mallorca I needed this. It has helped restore confidence in myself and the work I am doing at the moment involves more threshold work, generally pushing myself harder and I am starting to feel the gains already.
Despite the rain (did I mention the weather at all!?) I still managed to get blagged into the VIP area and press areas, meet the Brownlee brothers and a few other inspirational athletes after watching the incredible elite race! Also got to hang out and say hello to my friends at
Triathlon Plus
mag,
2XU UK
and
Zone3
.
It was a great day and I spent some time with some great people. What's more, I am feeling more confident heading into the Worlds. A few crucial weeks ahead of me now. Back to the grind…