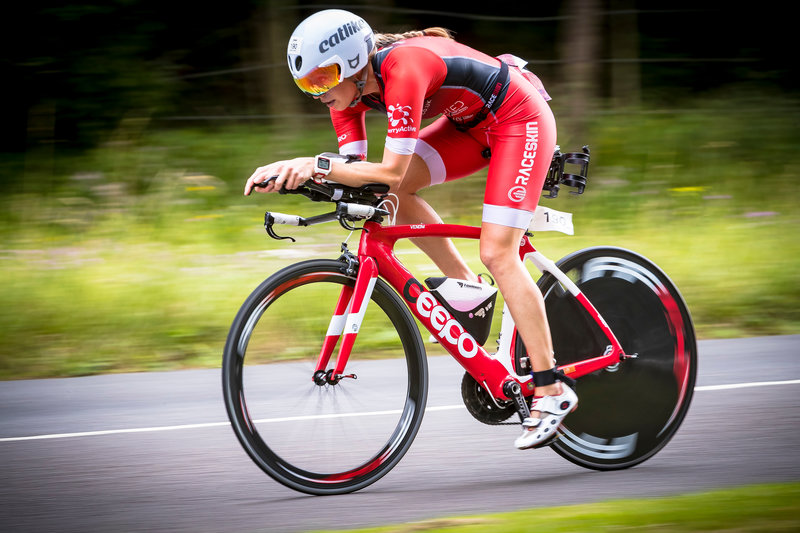 After Luxembourg 70.3, my coach decided that I needed another race before my next planned race to "sharpen me up". Oh, so a further two 70.3s isn't enough then!? Fair enough!
So I found a local Olympic distance race around the planned date, three weeks out from my next key race – Ironman 70.3 Gdynia, hoping I wouldn't be too 'blunt' by the time it came around!
The week leading up to this race, I was in the Lake District for a week of training, completing some pretty hard sessions (and eating lots of cake to counter that). In fact, the past two weeks had been predominantly about high intensity sessions and hitting those target numbers, but when you get hill reps in the Lakes, they truly are hills!
All was going really well and I continued to get positive feedback on Training Peaks. Not only were the numbers all looking good, I was feeling good on it too. (Apart from the day I got locked out of the holiday cottage after An FTP development ride and had to wait an hour to be let in by the cleaner. Cue MASSIVE HANGER).
We decided not to taper for the race as it was only really a training day, so I trained right up to it. Tapering is overrated anyway right!? Just time to focus on carb loading then…
It was kind of unusual being at home the day before a race – as you all know, I tend to race abroad so this was a pretty unique experience just chilling at home pre-race day. So much so, in fact, that it didn't even feel like I was racing.
Bright and early on Sunday morning and I met my old school friend Fran who was taking part in the sprint distance. We had to get there early to register then had a few hours of faffing about as our waves didn't start until a bit later. I felt stupidly relaxed, it was so weird, literally no pre-race nerves whatsoever.
Partially because it wasn't really a 'race', more of a training day, and probably partially because I was in Marlow and not Mallorca (or similar)!
Off we went. The swim felt long and I didn't feel like I was pushing that hard – I thought I'd be tired from the previous week of training and could feel it in the swim, so just sort of held it where it felt comfortable-ish. Two laps down and finally I was being hauled out of the water by the swim exit guy. I looked at my watch, 28 minutes. Well that's rubbish for 1.5k!
David shouted at me that I was fourth lady out of the water (always flippin' fourth!), so I legged it into T1 and ran out along the really long grass section to the potholed road (slightly less glamorous than a beach/silken roads on the continent, but I'll take it).
I almost immediately passed a girl coming out of transition on the bike, and a minute or so later, passed another. However, I happened to pass her on a hill, and I'm not known for being a mountain goat. So ensued some furious pedalling as I suddenly realised that if I passed her, she would be likely to come cruising past me all calm and collected a few seconds later. In a bid for that to not happen, I was burning a few too many matches and it took me at least 20 minutes to recover from it!
During this whole debacle I actually passed another girl, so as I reached a downhill section and tried to recover my breath (and the mass of lactic acid in my quads), I realised I was potentially in second place. The long undulating section of road seemed to take a while (and the road surface was absolutely dire – isn't this supposed to be a posh part of the country!?) before we reached another long steady climb.
Just before the turnaround point on the climb I passed another lady. Ok, we are on. I think I am now leading this race. Jesus Christ. Well that's a first.
As I turned around I knew I was quids in as I had passed the other girls on sections I typically find tough. The way back was downhill and a lot faster. Time to put the hammer down.
I averaged nearly 40kph heading back towards T2, and got confirmation that I was first lady off the bike, in 1:10. Oh wow. Ok, just to hold onto this run then.
Given how hard the bike had felt in terms of my legs feeling tired from all the training that was in them, I was anticipating running off the bike a little like a semi-squashed ant. In fact, the first 500m or so did feel a bit like that – my legs felt stiff and I thought I could be on for a struggle, but I glanced down at my watch and registered surprise at my pace.
I settled in to the pace and it started to feel comfortable, so I decided to hold it there. I was completely on my own, there seemed to be no other competitors on the course at all – not even any men, it felt extremely lonely! Apart from the odd marshal at a turn point, it was like a scene from a post-apocalyptic movie. At one point I thought I had actually run past the turn point as it was just eerily quiet.
I completed lap one and my pace was still on, and there was no sign of any other women. I started to pass a few people who had begun their first lap and had to dodge a few Sunday walkers, but other than that, the second lap still felt pretty lonely out there. I was managing to hold onto my pace and still feeling comfortable (this isn't how racing should be, surely!?) but in the last section, I started to worry that someone might pass me so sped up a little bit.
I ran through the finish with a 45 minute 10k run time and a total time of 2:25 something or other. I had confirmation that I had won the women's race, I couldn't quite believe it!
I later found out that I was a full 7.5 minutes ahead of the next lady (damn, I could have slacked off even more on the run!) and was 17th overall including the men.
Ok, so it's only a local race and the competition probably wasn't exactly super-high standard, but as they say, a win is a win and I'm taking that.
Truth is I know I'm in the best shape of my life right now and to even reap some of the positives of that, even if it is just a small local race, feels so rewarding. Especially on tired legs J
It was a huge confidence boost as I go into my next big race at Gdynia 70.3, and a stepping stone towards the Ironman 70.3 World Championship in just seven weeks' time. I'm really excited to see what I can do in my next two races – so far, this season has been the best ever performance-wise. Let's hope it doesn't stop here…