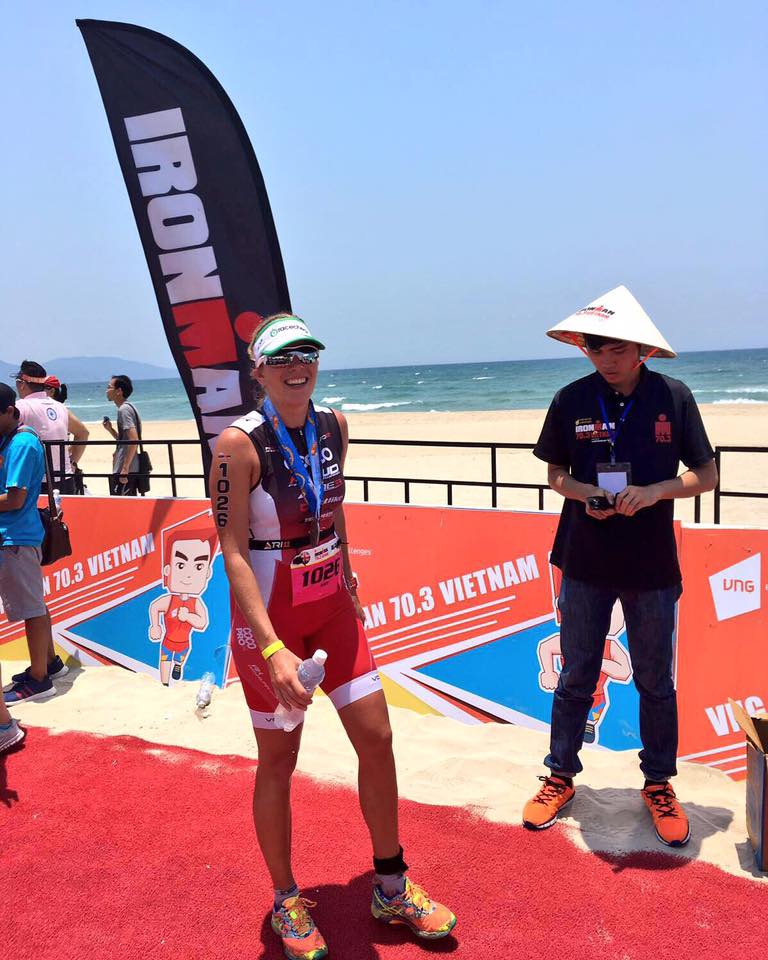 After two half iron distance races already in 2016, both of which were more 'warm-up' races than serious performance-seeking benchmarks, I was ready for my first 'proper' race of the season. Vietnam 70.3 was definitely a destination race. I picked it due to the location - a country I hadn't visited - and also because the course looked like it suited me. The plan was to spend a week in Phuket, Thailand, beforehand in order to get some acclimatisation in. Could be a lot worse!

Straight after my last half in Lanzarote, my coach said it was time to start the heat prep sessions. This sounded interesting! And when I say interesting, what I really mean is horrible. When Mark said "these are probably the worst training sessions you will ever do", I knew I was in for a treat.

So when I arrived back in the UK and it was a balmy 6 degrees Celsius outside, I started preparing my bathroom. The instructions were to put the heating on in the bathroom, fill the bathtub with piping hot water, close the door, and do a turbo session from hell. It felt like hell. Probably hotter, actually. I bought a thermometer with a humidity gauge so I could control the conditions. I had to weigh myself before and after sessions to measure fluid loss. Stuff got real.

These weren't just 'have a steady spin and get used to the heat' turbo sessions. Oh no, I got thrown fully in the deep end. These were 100%+ FTP sessions. Apparently, according to my coach (who helped prepare the Brownlees and other Olympic triathletes prior to the Beijing Olympics), heat adaptation wil occur faster when training at intensity. Great. It just gets better.

These were the kind of sessions which would be really hard even on the road. Much harder on a turbo (mentally). Then add in the heat and the humidity. Oh and staring at a bathroom wall for 1-1.5 hours. Yep, you can picture it.

I was also warned that the first few would be "absolutely horrendous" and that I wouldn't get anywhere near my power targets. Mark wasn't wrong. The second session was the classic 3x 20 mins at 90% FTP. A session which hurts like hell at the best of times. I don't want to sound pathetic here (but I am going to, irrespective), but I *actually* cried during this session. Every single fibre of my being was crying. It was probably one of the worst training sessions I've ever done. And I wasn't even close to where I should be power-wise.

I was also losing over half a kilo in sweat every time – and that was with taking on about 2 litres during the session – quite substantial in just over 1 hour on the turbo! For this 10 day period, I felt like all I was doing was constantly drinking water. And rightly so.

We had scheduled in five heat prep turbo sessions – apparently that would be all that was required in order to acclimatise to race in the heat. True to the plan, and quite miraculously, by the fourth and fifth sessions, I was feeling good and back to hitting my power numbers spot on. Fist pump. Bring it on!!

Before I knew it, I was off to Thailand for another stay at Thanyapura – the training paradise on Phuket. Amazing training facilities on my doorstep for a week = perfect.

Because I had completed the heat sessions, it didn't feel too bad being in 37 degree heat and 70% humidity. I only had two bike sessions during the whole week – it wasn't necessary at this stage to over-do the training. Plus the heat on the bike was nowhere close to what I had been experiencing in my bathroom. The flow of air you get on the bike felt easy compared to my stuffy, windowless bathroom.

The run, however, was a different story – this was where the heat would really make itself present. The plan, therefore, was to get a lot of running in to get better adaptation ready for the race. This meant I ran most days, including an awful 1.5 hour stint where I had to fend off stray dogs chasing me and try not to constantly be drinking water to compensate for perpetual sweat loss. It was character building – but so would the race be, and if I wanted to perform, it was a necessary evil.

There were no flights direct to Danang, Vietnam, from Phuket, so I had to fly via Singapore. After a week in the rural, tropical retreat of Thanyapura it was time to experience something in complete contrast. My friend Claus and I had decided to go large in Singapore and book Marina Bay Sands for one night as a stopover between countries. Neither of us had been so it would be a new experience. And it certainly lived up to expectation.

The hotel is famous for its rooftop infinity pool – the largest in the world – with a vast sweeping vista of the city's high rise buildings. It was extremely surreal, and absolutely incredible to experience. Singapore is largely characterised by its displays of wealth, order, cleanliness and efficiency. As a mild OCD-er, it was like a dream come true! I fell a little bit in love with the tiny part of the city that I experienced. It was also a nice training hiatus, if only for the 15 hours or so we were there!

Next stop, Vietnam.

GOOOOOOOOOD MORNING VIETNAM!!!!! (It had to be done.)

After arriving at the hotel, I was straight off out for a run. Instantly, I noticed how much easier it felt here. There was definitely less humidity and it felt cooler, even though it was pretty much the same temperature as Thailand (35 degrees). I noticed that I started to feel cold in air conditioning too – the acclimatisation was going well.

A nice spin out on the course confirmed that it would be a fast one. Pancake flat roads, smooth tarmac, and straight roads. The swim, on the other hand, was interesting! I went out and came back after about 10 minutes because it was choppy, there were jellyfish, and it was still under debate as to whether the swim would even take place since the Danang coast had seen millions of tons of dead fish on its shores recently – apparently due to chemical waste being dumped into the sea. Hmm – not so appealing!

The race organisers and local government were conducting rigorous testing, and it was confirmed that no bacteria or heavy metals were found in the tests and that the water was safe for the swim to take place as planned. Good.

A welcome banquet at the official race hotel was unequivocally the best I have ever been to. There was excellent food in abundance, live entertainment, music from Vietnam's only singer/music artist, and an exceptional race buzz atmosphere. It was held outside in the grounds, as people crowded around the lit-up pool chilling on sunbeds, eating and drinking (water and iced tea on this occasion!) in front of the on-stage entertainment. I have to say, I was impressed. The goody bags were also amazing – this race was shaping up to be very well organised – and you know what it's like, the small details really do make a difference!

Soon enough it was 4.30am on race day. The sun was coming up, burnt orange, over the ocean. There was a stillness in the air and a light haze in the sky. Despite hardly any sleep (strange for me as I usually don't have a problem), I was feeling good and ready. It's amazing how just the absence of a wetsuit seems to make race morning less about kit-faffing! Tyres pumped, nutrition on the bike, Garmin on. Down to the beach.

There are definitely worse places to start a race. The sun was up, warming the soft white sand, and the ocean was glistening. The air was warm and pleasant, the loudspeaker was on and the excitement was building.

I went into the sea for a quick practice swim. It was probably the quickest warm-up swim I have ever done in my life. As soon as I started swimming, I was getting stung – all over. It was like being pricked by thousands of pins – all over my face, arms, neck and legs. I promptly turned around and got out of the water. That was that then. I wasn't really worried – everyone was in the same position and although I had a nice rash on my arms, you can't do much about jellyfish. Just get on with it and draft as much as possible!

The rolling start made for a fairly relaxed start and after having to wade in due to a bit of a choppy entry/exit I just settled into my pace. The stinging soon began, but I ignored it. The swim was pretty uneventful other than that, and I waded out (slowly) after quite a relaxed swim pace in 35 minutes. A massively long run up to T1 and I was out on the bike, trying to get sand off my face (not sure how that ended up there).

The bike was fast. The course heads out all along the coast in front of an endless stretch of beautiful sandy white beach, before turning in-land over a massive bridge (which, for a bridge, was actually a pretty decent decent bump due to its length!). Other than that it was flat and uneventful. I was maintaining a very comfortable pace and not pushing it too much at all, knowing that the pain would come later in the day.

I was holding back quite a bit just trying to keep everything fairly comfortable and consistent. Two loops along the in-land bit went really quickly – suddenly I was half way and we were heading back towards T2. There was a headwind all the way back. Not horrendous but enough to be working a bit harder to hold the target pace. There was a turnaround point where we got about 5k of tailwind and it was nice to cruise back into T2 at 40kph pushing less than 130 watts! I managed to get a 70.3 bike split PB of 2:40. So far, so good!

My T2 wasn't the fastest as my helmet got caught in my hair, and after almost ripping it out in angst, I was out on the run. Same philosophy here – I was actually holding back from running out too fast, knowing I wouldn't be able to maintain it as the sun was now truly hotting up and the 35 degree heat was becoming oppressive. I ran past a lean lady who commented "nice running!" – this was mini encouragement as I headed out, but the knowledge that there was a long way still to go was at the forefront of my mind.

I was anticipating for the run to be pretty mentally tough – it was a one-lap out and back along the same road which we had cycled – quite rare for the Ironman circuit. It would mean practically zero spectator support and some quite tough mental resolve to tackle the boredom of a straight road of nothingness.

However, it simply wasn't the case. I felt scarily comfortable, actually enjoying the run. I was taking regular gels, salt sticks and water, and feeling on absolutely top form. Something has got to happen soon, surely!? This just isn't sustainable. I reached 5k feeling fantastic. I hit 10k feeling the same. Turnaround point, heading back towards home. I starting upping the pace a bit. I overtook a few more women. I was using a mental mantra every time I started to get a fleeting sense of hardship – I just told myself to relax and it went away. I visualised getting to the finishing chute. My sports psychologist is clearly doing some good! Thank you Ade!

The last 5k, I decided to push it and this did start to feel like hard work. So it should after 15k of cruising! I ended up getting a negative split with my last 5k. As I ran towards the beach and along the extremely difficult finishing chute on the sand (think – definitely not a sprint finish), I looked at my watch. I knew I was extremely borderline with a possible PB, but I did it. A PB by a minute, finishing in 5:12. How the hell had I pulled that off in this heat!? I felt elated. And I felt great.

I ended up just missing out on a podium slot with 4th in my age group. I was also 18th female overall (11th age grouper), which I think is probably my best international result ever, comparatively, and in a strong field (my age group was the largest female field). It seemed like things have clicked into place and all my hard work and heat prep has paid dividends.

It was a nice feeling (other than a PB in 36 degree heat!), to be finished by midday. This meant straight back to the hotel, shower, and then down to the pool for a celebratory beer in the sun. We ended up meeting some other athletes on the adjacent sunbeds and went out with them that evening to a local town popular with backpacker tourists – Hoi An, also known as party central. Dinner turned into drinks which turned into dancing. It was a great way to round off an absolutely fantastic day.

The whole trip was memorable for so many reasons and it just reinforces why I absolutely love triathlon. The places you get to visit, the people you meet, that unique, rewarding feeling of knowing that all your training has paid off and the results are there. It's a whole combination of memories and experiences, with and without the race.

I think this was probably my favourite race ever. I spoke to my sports psychologist and told him that I almost found it "too easy". He said that it sounded like I'd achieved that elusive state of 'flow'. Whatever was happening, I want more of that! The result didn't even really matter in the end; what made it unique was that I just loved every minute of it. The result was just a bonus.

I think that's what's called 'everything coming together'.