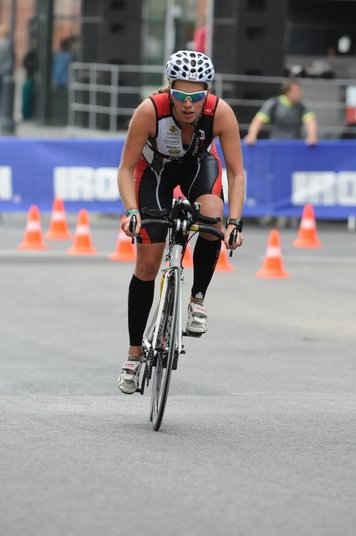 When I knew I would be going long again in September this year, my plan was always to have a half in the lead up to it. Originally, I had signed up for Vachery, which was later cancelled. So I signed up to Ironman Berlin 70.3, which was also cancelled. It was almost as if this race was doomed! Then they announced Budapest 70.3. Three weeks before my long distance felt too close, but after consultation with my coach and getting the green light, I was in.

After having already raced two middle distance races in May and June, I was almost a little blasé about this one as it was only really a 'prep' race ready for Challenge Almere. The course was completely flat so it would be good groundwork. Despite a lot of changes going on (to be announced in a follow up blog post), I felt quite fresh and ready for this race.

Budapest is an unequivocally cool city. It has a great vibe to it, and as a country girl, even this inspired great affability in me. I headed straight to the expo on Thursday morning for a recce swim. In a sheltered part of the Danube accessed via a beach, I had a lovely steady swim, and despite the fact you couldn't even see your hand in front of your face, the water felt surprisingly clean, temperate and pleasant. So far so good. After registering, browsing the athlete village, and spending too much money in the merchandise store, it was time to explore the city.

Warm sun bathed the streets of Budapest and it was nice just to soak up the atmosphere, drink coffee, and relax a little before all the hectic race preparations began. The majestic buildings and impressive bridges really are a sight to see, and the city has a great vibe to it, kind of inexplicable - you'll have to go there to feel it! This was going to be a great race, and excitement was starting to build.

On Friday I had a swim, bike and run on the course, so back over to the expo again in the brilliant sunshine. More athletes were buzzing around this time and the atmosphere was definitely pumping up, with loud music and lots of preparation taking place to get everything ready for race day. After a short, easy and smooth swim I hopped on the bike to test out these flat Hungarian roads which stretched right alongside the river.

I was happily cruising along in zone 2 heart rate at 31kph so I knew this would be a fast course. Until I turned around. Then the headwind ensured that I wouldn't maintain that pace, at least not going so easily and trying to keep my heart rate low. Yep, the course was exposed so this could potentially prove more challenging than anticipated. A short run off the bike confirmed that I felt super fresh and ready to race.

After the athlete briefing I hooked up with a few other triathletes for coffee, banter, and last minute prep tactics before heading back for a carb load and an early night. This was it, race day was looming, the alarm was set, and everything I can do had already been done.

As usual, and although it wasn't quite as pronounced as my first race of the year in Mallorca, I was super nervous. Arriving at the expo early despite my rather modest start time of 9am, I was soon put to ease by chatting with a few fellow triathletes and working out how to spot our bikes in transition (cue massive speakers, thanks for that!).

I headed to the beach to warm up and a whole host of athletes then followed. Off went the pros, and I was waiting tentatively on the start line of the beach…3…2…1…GO! After having been caught up in a horrendous mosh-pit in Mallorca I decided to take the outside line further from the buoys, and risk losing a few seconds rather than get caught in the fight! This proved to work really well as I managed to quickly get into a steady pace and rhythm without any jostling for position.

On the first turn I realised I was quite wide from the buoys and gradually drifted closer so I could take a more direct line. At the 180 degree turnaround point I could see a few speedy 'stragglers' right up front, but in fact, I was in the front pack, which was encouraging. I managed to get on someone's feet here and had a great draft all the way back to the beach. On exiting the water and getting to my bike, I could see hardly any bikes had left transition, something which made me both proud and super psyched! I was overall pretty pleased with my swim time of 32:27 and made a quick transition out onto the bike.

It was immediately obvious that there was a massive headwind as I headed out on the bike, and my heart rate shot straight up as I struggled to hit 30kph. It was seriously strong, and I was keeping equidistant from the other girls who were out on the course. At the first turnaround point, it was a huge relief to have a tailwind and I could finally relax a little in order to get some nutrition on board. I soon realised I was flying along at 34kph without too much exertion – it was to be a bike split of two halves, then!

After a speedy section along the river it was time for the huge climb up to Buda castle (a monumental 50m!), and surprisingly, this felt really good. I felt strong on the climb and the descent was a welcome relief for a bit of recovery, despite a few dodgy speedy bumps and a section of cobbles (think Tour de France)! Because of some of the technical turns and hairpins, there were quite a few people going down… Steady she goes…

The moped referees were out in full force, black carding people for drafting left, right and centre, and at times it was almost impossible not to draft as the men poured out onto the course and space became a bit on the tight side. However I managed to stay back and be vigilant to approaching mopeds, and before I knew it (massive exaggeration), I was on the second lap. The wind seemed to change direction, though, because there wasn't quite the pronounced headwind/tailwind situation on the second lap.

The hill felt harder, the turns felt slower, and I was struggling to get nutrition on board but I kept ploughing until it was time to jump off the bike, and thank god, after almost three hours of unwavering aero position. My bike split of 2:49:52 was a middle distance bike split PB but I had hoped I would be quicker on a flat course. Quite contrarily, a flat course is pretty relentless as there is no recovery; it is basically a 90km time trial.

Another 2-ish minute transition and I was out on the run. Luckily, this was the only completely cloudy day so the sun wasn't too penetrative. As if that would be the pinnacle of all my worries! Nothing quite like tri suit tan marks?! Anyway, as soon as I started running I was hurting. Uh oh. There's an entire half marathon to go. How am I going to do it? This distance should be easy by now surely? Evidently not.

My main objective was to not let my splits deteriorate. I wanted to hold the pace, but my first 7.30 ish minute mile was not likely to be sustainable. I slipped a little over the course of the four laps but managed to mostly hold my pace, so I was pleased with my consistency if nothing else. It was a real struggle to be honest, and I was focused on trying to get gels down and get through it. The last lap couldn't come around quick enough, but I knew I was still in a pretty good position and just didn't want to lose a place. I finished the run in 1:47:19. Not mybest performance but could have been worse.

I was 10 seconds off my PB in a total time of 5:14:57 and was 5th in my age group and 38th female overall. Most encouragingly, I more or less maintained my position since exiting the water so I knew that once again, my pacing across the three disciplines was consistent. Being only two spots away from a podium is definitely my best result yet at an international race, so although I know I can do better, I couldn't be anything but pleased.

I had amazing support crew in the form of my boyfriend, and we all went out for celebratory cocktails later on to revel in the fact that it was over! This did come after a period of feeling completely and utterly broken where I had to lay on my bed and not move for a few hours in an attempt to recover from my physical trauma (172bpm for the whole race, enough said!).

Budapest was a fantastic race, a fantastic city, and I spent time with some fantastic people. This is definitely a race I would do again, and despite it being the first time it has ever been run, I have to say the whole Hungarian operation was slick, well organised and impressively well put together. And what a backdrop...

I'm happy with my result and more importantly, had a great experience. For now. I'm still chasing that sub-5 dream though... 2015?