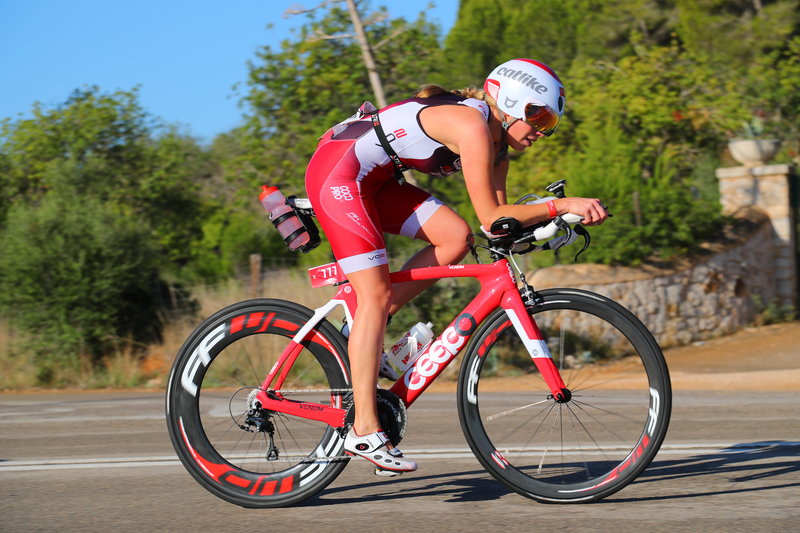 Two years ago I raced the European Middle Distance Championships at
Challenge Paguera, Mallorca
. It was once race too many for me – at the time, I think I was burned out from the season, and coupled with unusually hot conditions and a tough course, it was far from an impressive result.
I decided half way through my season this year that finishing with the World Championships at the start of September would be too early for me to close my season. It makes for a VERY long winter. (and those that know me know how much I hate winter). I was also going well, so we decided to add in Challenge Paguera – my seventh and final half iron distance race of the year. Also, I was keen to head back and see what I could do on the course two years on.
After a couple of recovery weeks post-World Champs (did someone say wine?), I was back into training. By now, lots of people had started their off season so it felt slightly strange to still be hitting hard training sessions. I genuinely expected my body to be feeling it by this point; I almost anticipated end of season fatigue as we entered this last big block.
It didn't materialise. To my disbelief, I was STILL improving. After having seen improvements consistently throughout the year, this was the last thing I expected. I had a tough week of high intensity training (one of those which even made my nutritionist express her concern), and throughout the week, I improved my FTP by another few watts (every little counts!) and just hit some really great numbers in training. It was one of those extremely rare weeks where I felt brilliant across all disciplines. And when I say rare - I really mean it.
I was on for a flying visit to Mallorca having just booked a three night stay (no sunbed/legs/pool pics this time). I headed out alone, feeling very confident about the race. A good bike recce confirmed that I was feeling strong – I had to hold back the power.
The day before the race I wandered down to the swim start for a sea swim and promptly turned right around. The sea was particularly aggressive – it would have been like doing a few rounds with Mike Tyson. Absolutely pointless and just a needless drain on precious energy. I opted to run up to the local pool for a nice, controlled swim and a run back down to keep the legs moving. Perfect.
Usual pre-race briefing and racking faff commenced and I was back at the apartment, feet up and stuffing pasta in my face.
After a not-unusual rubbish night's sleep, I got up at the extremely sociable hour of 6.30am (got to love Spanish times), had breakfast, and went down to transition. I came back to the apartment to chill as my start wasn't until 9.20am. I felt relaxed and comfortable, the weather was absolutely perfect – sunshine, no wind, and what's more, the sea had calmed down quite a bit. YES.
I lined up on the beach and felt good to go. The start of the swim was hilarious – because of the huge waves we had to get past the break, so basically just waded out for the first five or so minutes. Every time you waded forward a bit, a huge wave would come and smash you right back. It was borderline laughable. Also a bit frustrating as it was tiring trying to push through it. Once past the break though, the swim was actually really pleasant.
A lovely warm 24 degrees, clear water and just a little bit of chop made for a really pleasant swim. I noted that at one point, I was actually enjoying it. I was pushing and I could see I was in the front pack but we started to disperse. I couldn't see many women in front of me and then we started to reach the men who had set off in the wave five minutes before us. Then we hit the men who had set off 10 minutes before us. I could still only see a few pink hats as we started to make our way towards the shoreline. So far so good.
I exited the swim and chuckled a bit at my seemingly rubbish time of 35 minutes but knew I was not that far off the front. The number of bikes still in the bike racks (almost full) confirmed it had been a slow swim for almost everyone.
A huge steep ramp out of transition (it was almost like a wall, I felt like I was doing the Ninja Warrior thing for a second. What's next, swing ropes?), and off out on the bike. After the first section out of town, we started to make the gentle ascent of what would turn into the biggest climb on the course. I was passing a lot of men, feeling strong and comfortable and pushing hard.
My coach Mark had set me some pretty ambitious power targets for the bike – harder than I have pushed before for 90km, so I set out hard with the aim to hold it. The climb went well; I wasn't being endlessly passed by people like I had in 2014. I was also overtaking people on the technical descent (YES to cornering skills in the Alps). Part of this initial section of course involved an out-and-back loop and I could count the number of women ahead of me as they passed on the return leg. There was probably about 15 in front of me – overall. I knew I was having a good race and it spurred me on.
After the descent there was some undulating parts of the course before looping down towards a nearby town called Santa Ponca, where there were rolling speedbumps and roundabouts to navigate over. I was still feeling pretty good as I approached the end of the first lap – only 10km to go and quite excited about the rest of the race.
Down on the bars along a flat section of road heading into the town, I suddenly hit a harsh speed bump (not one of the obvious rolling ones we had been across previously). It was so violent that it jerked me off the bars and my arms were dislodged as I fell forward. At this point I inevitably lost control of the bike, and could feel it falling away underneath me before I crashed down on the tarmac and skidded along before coming to a halt.
I slowly sat up. I didn't move. I took my helmet off and promptly burst into tears. A man came over and told me to get up. I still couldn't move. He suddenly reached underneath my arms and hauled me to my feet, guiding me over to the kerbside to sit down. Someone took my bike off the road. He tried to pour my clear gel liquid from my bottle onto my wound before I waved him away with a firm "no!". I could see my right arm was scratched up, as was my left one, which I couldn't really move. All I could feel was searing pain down my left side. I couldn't stop crying.
A very kind lady with a Spanish accent but impeccable English was helping me. Apparently someone had called for an ambulance. She told me that she worked locally and had stood at this exact point because last year, loads of people were coming off the bike because of the inconspicuous bump in the road. I wondered why on EARTH the organisers hadn't put a warning sign up at this point to prevent it happening. Then, right on cue, as we sat waiting, a guy crashed his bike at the exact same point. Luckily, he seemed ok, after hobbling around a bit he wandered over to check I was ok but I think he later got back on his bike and carried on. I wondered how many more would crash at that point thoughout the day.
There were moments when I sat there wondering if I should get back on. "What about Tour de France riders? They do it." Then I realised, as I carried on crying, that I'm too pathetic for that. I was simply in too much pain; I couldn't even lightly touch my arm without experiencing extreme discomfort, let alone rest the arm on the aero bars or control a bike. It was over. I had to admit this to myself. This harsh reality just made me cry even more.
Finally, the ambulance came and a male and female paramedic took me inside. Neither could speak a word of English so for a while, the kind lady who had helped me was translating. She was shocked that I had come to Mallorca alone to race and seemed concerned that I had no-one with me to help me at the finish area. (Note to self - never do a race alone ever again.)
She explained that the ambulance would take me to the finish area so I could be seen in the medical tent. The paramedics cleaned my wounds and were very sympathetic. The female paramedic even took my face in her hands and kissed my forehead. I felt like I was in a bad way. I still couldn't stop crying.
After what seemed like a lifetime of being in the ambulance, sirens on and having all sorts of blood pressure and heart rate checks conducted as we went along, we arrived. I had been lying flat on a stretcher bed and as we pulled up, I realised with absolute horror that we had arrived at the stretch of the run course which was right beside the finish line, where the athletes would loop around on every lap of the run.
This meant that there were spectators EVERYWHERE. As I was wheeled out, strapped down to a stretcher bed and wheeled down the run course towards the finish line, I could not believe this was happening to me. I felt completely humiliated – probably because never in my wildest dreams did I imagine being stretchered down the finish line. Or anywhere - I've never even been on a stretcher. Or in an ambulance. Or crashed my bike. Or broken a single bone. I was mortified. For so many reasons. I just couldn't believe my race was over. My first DNF – ever.
I was moved onto one of the beds in the medical tent and was asked the same questions by another group of Spanish medical staff – only a few of who could speak English. They checked me over and asked me to move my arm in certain ways. I was still crying (yes I know). They finally announced that the ambulance would take me to Palma hospital. I was desperate to get my phone from my hotel so I could alert my family – I knew they'd be tracking me and I knew that they would be worried sick if they saw that the tracker had stopped. I said I needed my phone first. They said it wouldn't be possible because of the closed roads, so I declared that I would walk there. I got up, off the bed, and said that I am fine – I can walk.
They all just sort of stared at me in silence, unsure of what to do next. (I think they wondered why I was STILL crying if I was fine.) I reaffirmed that I was fine – I went over to one of the English speaking medical staff and told him I did not want to go to hospital. I had already conducted a whole plan in my head during this long process - I would try and get a flight back to the UK tonight so I didn't have to stay here alone and in pain. The medical guy told me that he didn't think anything was broken but that I should go just to get checked out. I said again that I refused to go and that I would go to a UK hospital tomorrow. I was desperate to get home.
He made me sign a declaration form (presumably so they aren't liable if I later die, or whatever) and then I sort of just mumbled thanks to everyone and wandered off. I was still in my bike shoes, holding my helmet, with my arm in a makeshift bandaged sling and a swab of gauze over my worst cuts. I suddenly realised the harsh reality that now I was out of the medical people's hands, I was completely and utterly alone. Left to fend on my own.
As I walked slowly back to the hotel (still crying), people stared at me with sympathetic sadness. A few let out a noise of surprise/sympathy, a sort of "ooooh" (as if to say "I feel really bad for her"). It was so humiliating – I don't know why I felt humiliated, it was strange. I guess because I hate the fact that I couldn't finish. The course had finished me off instead. I just felt absolutely devastated. To finish my season like this was horrible. To be out here alone was horrible.
I went back to my apartment and rang my parents in tears. They were so worried that they offered to fly out so they could come and help me. I think the worst part was worrying how on earth I would manage with my bike all alone. I promptly changed my flight to 9.30pm that evening. The rest would get sorted.
Luckily, because of my now quite extensive network in the triathlon world, I had a message on Facebook from a guy who I'd never met. He had seen me get carried out the back of the ambulance and asked if I needed anything.
I contacted him and said it would be really lovely to have some help this afternoon to go and get all my bits from transition, collect my bike (wherever on earth it was), and possibly to help me pack my bike away. I met up with Mike and his wife and they were absolutely lovely.
We managed to get my bags and then we went for a nice quiet coffee and chatted about races – it was such a help to have a distraction and someone to talk to, knowing there would be help for me when I needed it. Mike did a great job running around asking the officials about where my bike was, and a bit later on, we walked right out of town to the incredibly inconvenient place where they had left it (in a store cupboard, at the back of an exercise class room, at a gym where the staff had no idea that bikes had been left there).
I ended up managing to pack the bike away alone as after a few Ibuprofen, the pain was stabilising a bit. After a nice but lonely dinner in the evening sun on the beachfront, I was feeling sad but pleased to be getting home that evening. A bit of help from some friendly people at the airports, and I was finally picked up in the UK and home by 12.30am. It had felt like a very, very long trip despite being only two nights.
The next morning I went to A&E at 7am to get checked out. An unnecessarily long wait and some x-rays confirmed that it was just soft tissue damage. There was a sharp pain in the front of my shoulder which hurt when I lifted the arm, but thankfully it was probably just the impact which was causing swelling and soreness.
I was gutted but really grateful that it wasn't anything more serious. Luckily I was on my end of season break after this race anyway so it wasn't like I had to get back into training or anything, so I was looking forward to a couple of weeks of taking it easy (did someone say wine again?) – now enforced by my injuries. Weirdly though, the break felt a bit anti-climactic – I was so looking forward to earning it – to that feeling of finishing my last race, having spent every bit of energy I had, and feeling satisfied with a hard but rewarding season. Now, I almost didn't feel ready for the break – I had felt in such good form and then hadn't even been able to see what I was capable of. It just came abruptly to an end.
One consolation was that I was third out of the swim in my AG and was definitely in a good position on the bike. I still wonder what I would have managed, as I think I would have been close to a podium on the day. I guess I'll have to wait until next year now! I have decided to race Challenge Paguera again next year – I want to go back and finish the course, to do it and myself justice and to put my demons to rest (and to mind that goddamn bump).
It wasn't at all how I envisaged finishing my season, but I have come to terms with it – in hindsight, I most definitely escaped lightly from my crash having heard other people's stories. It comes with the territory and while it may have been the first time that it's happened to me, suffice to say it won't be the last. While it's never 'good' timing to crash out during a race, it was, in context, fortunate to have happened during this race as at least it hasn't impacted my training or any upcoming races.
This will now only serve as fuel to come back into the 2017 season with even stronger determination, vigour and confidence to get the best out of myself and to continue improving. I can't complain, 2016 has been a good year for me and while it didn't end very well, the fire is still very much alive.