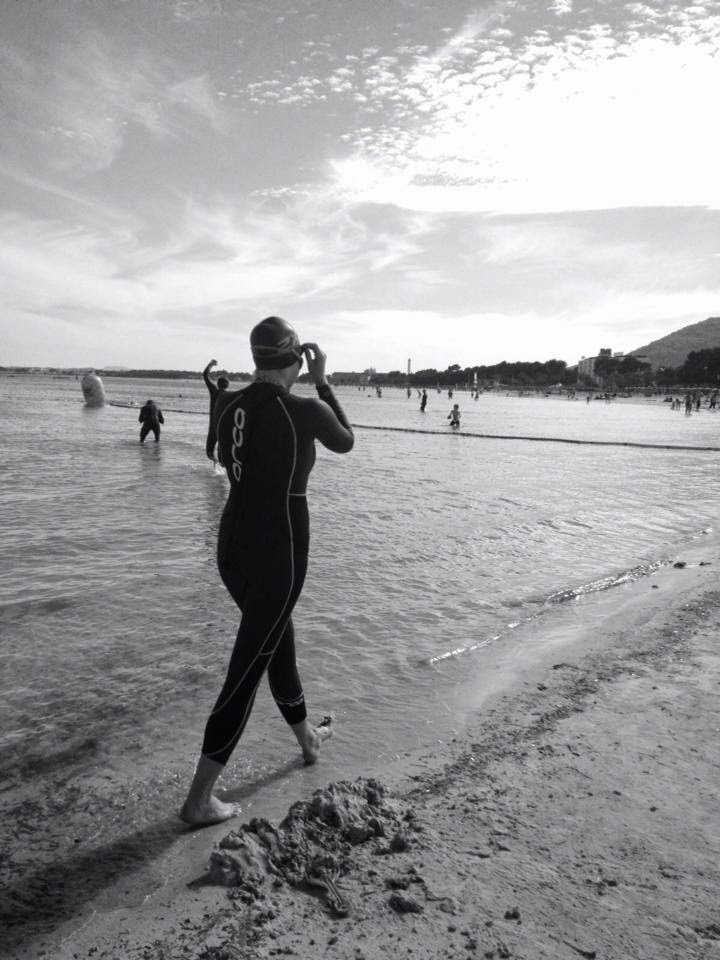 Ok, this one is personally very exciting for me. I don't want to create false hype but it's a major development for me and the direction my triathlon aspirations are going, and it's going to be an incredible adventure.
After a year of working with award-winning coach Steve Lloyd of
Absolute Tri
, I have achieved above and beyond my goals and expectations in triathlon. If someone had said to me one year ago (before I even had a coach) that I would be where I am now, I would have dismissed them with the flippant assumption that they were suffering from a borderline mental disorder...
I recently spent the day with Steve discussing my goals for next year and the groundwork needed to get there, and it proved a very positive exercise. I've been incredibly happy with Steve, we have built up a great relationship over the past year and he (gradually!) earned my trust in him. I genuinely believe he can take me to great places in triathlon, but despite this, there was a looming realisation that in order to see significant improvement in my performance I might need to consider not having to drive a 250 mile round trip for my coach to see me train once every few months.
Things always happen for a reason, and I truly believe in grasping opportunities when they present themselves. So when I was recommended by the owner of my bike shop,
Lovelo Cycles,
to get in touch with a local guy who coaches triathlon who they had become acquainted with, I thought "why not?". However, wary as always, I proceeded with trepidation as there are many 'triathlon coaches' out there who aren't all they're cracked up to be. Knocking out generic online programmes for all their clients. I don't want to sound high maintenance but I don't want that - give me tailor-made plans please! It's not a big ask - everyone is different and coaching is fine-tuning an athlete's performance, looking at every detail of their life to make sure they are at their optimum.
Anyway, given that I live in a rural market town the chances I can find a triathlon coach 10 minutes from my house who is not only sufficient, but one of the BEST (see, told you I wasn't high maintenance :o ) is so slim it's anorexic. Not the case, apparently. Luck strikes my doorstep.
I will now be working with
Rick Kiddle
, former British Triathlon Champion and one of the first ever triathletes in Britain. After competing in the World and European Championships and Commonwealth Games he became one of the first National Triathlon coaches in Great Britain. Not only is Rick an established BTF Level 3 coach he is also a tutor and assessor for BTF, introduced spinning to the UK in 1996 and set up
Heart Zones UK Ltd
in 2002, now the basis of all heart rate zone training. In 2010 Rick launched the National Open Water Coaching Association (
NOWCA
) with legend Martin Allen, coaching the coaches!
So credentials-wise - Rick has it. A lot of it. He also has an endless pool on his premises and about 15 Wattbikes/Cycelops bikes, both of which will be instrumental in my one-to-one sessions with Rick. When I asked him if he could improve my swim, his response was unforgettable: "If I can't get your swim down to a sub-1 hour Ironman swim time there is something wrong with me." Confidence, we like that.
This new partnership is extremely exciting and we are both looking forward to working closely together to help improve my performance and take my training to the next level. As part of the partnership, I will also be helping Rick raise the profile of his businesses locally and nationally.
Having a coach who will work with me a number of times per week will not only be a bit of a shock to the system (no more slacking off in training!) but will also enable me to make ongoing improvements to my technique (much-needed!) and to constantly challenge myself mentally and physically under the watchful guidance of one of triathlon's greatest!
Rick will pretty much become the most important person in my life as we work relentlessly towards my goals for next season and beyond. No over-exaggeration, even even if that sounds a bit sad!
I'm also very lucky to have recently partnered up with Triathlon Training Spain, run by Swim Smooth expert Martin Hill who owns Complete Fitness Coaching and created the Palm Paddle, which I'm using in training drills. Triathlon Training Spain will be supporting me with training camps next season in sunny Alicante, kicking off with a swim camp in January. Some intense warm weather training camps will be a welcome relief from the cold UK winters, I can't wait for a few "holidays" to really kick me into shape! Benefits also include coming back with an jealousy-inducing tan...
I'm over the moon with such amazing partnerships, I feel so lucky to be surrounded by professionals who are so enthusiastic about helping my progress and achieve my dreams. (Cheesy line was well overdue).
But honestly, I'm struggling to express how excited I am about this adventure, and I'm going to do everything it takes.
It's going to get serious now. And I'm ready for it...