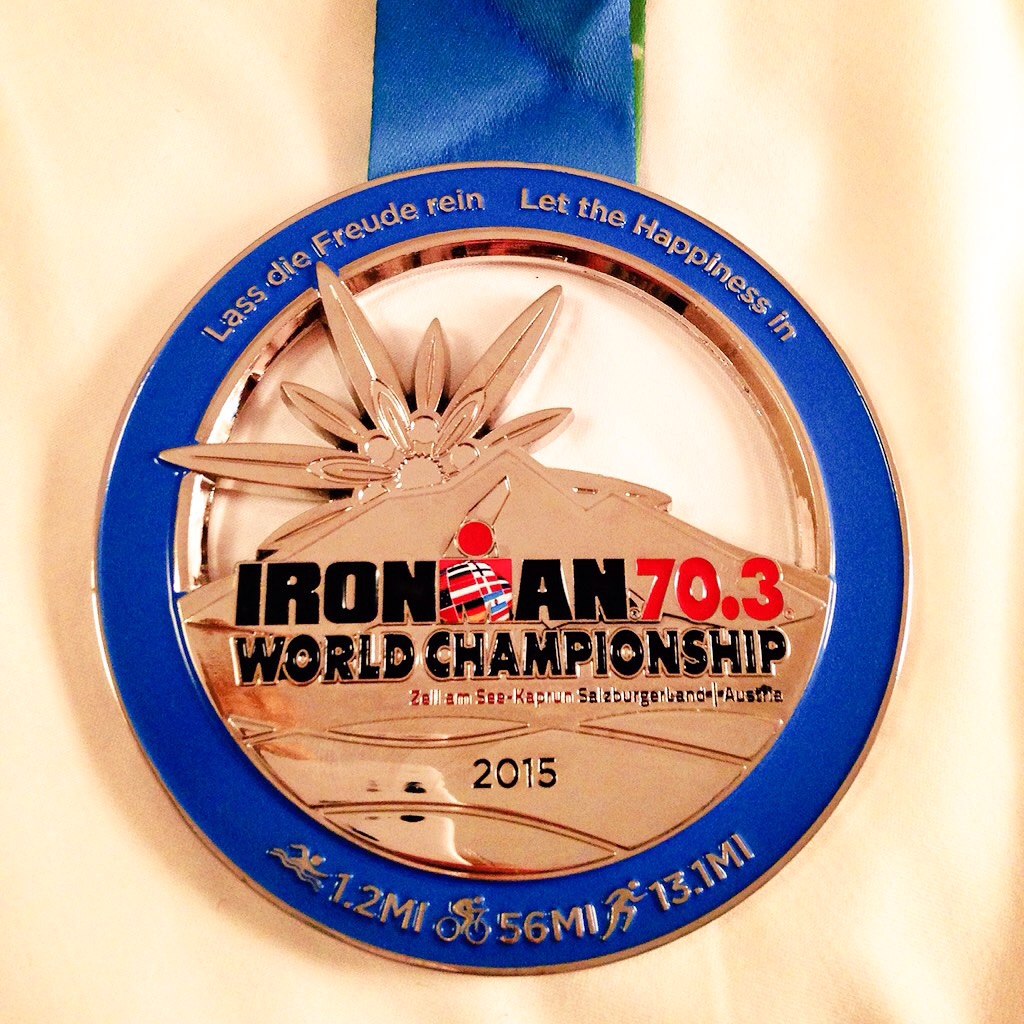 "Every man in the world is better than someone else and not as good as someone else."

My objective for 2015 was to qualify for the Ironman 70.3 World Championships, which I achieved in my first race of the season in Malaysia. This was the biggie. It's been a stacked season so far and racing has gone well, training has been optimum and I was feeling in good shape. Everything was hinging on this race.

Although I had nothing to prove in this race, I wanted a fairly good result. I knew that it would be an absolutely stacked field - the best of the best from all over the world, so I knew I wasn't a contender by any stretch of the imagination. I guess I just didn't want to be at the back of the field, knowing that I would be racing against supremely fast girls from all over the globe!

My parents were coming out with me to support me; that's a benchmark of importance in itself as they only ever come to my biggest race of the season! It was going to be exciting, nerve-wracking, and daunting, to say the least, but I felt I was ready. It's all in the bank - there was nothing more I could do.

We spent a few days in Salzburg sightseeing - I got race prep paranoia being stuck out there while the plethora of posts about practice swims, practice bikes and run recces in Zell am See filled my social media channels. Meanwhile, I was casually wandering around museums and visiting castles and gardens in some kind of 'Sound of Music' parody. WHAT!?? Actually, I soon realised it was quite refreshing being away from all the 'hype', as when I arrived in Zell on the Friday before the race, it was like athlete overload.

Finisher's tee shirts and compression socks in abundance, I registered at the expo after a spin on the bike reassured me that although it was scorching hot, the bike course was going to be a fast one. Not only that, but it was probably one of the most stunning race venue locations I have ever seen. Excitement was building.

The day before the race I woke up with quite bad stomach cramps. This is really unusual for me, I don't tend to get any type of stomach ailments - ever! I'm known in my family for having an iron stomach! Ignoring it, I went off for a practice swim and short run which went quite smoothly, before heading to the run course to watch my friend Katerina in the open race on the Saturday.

It was a source of annoyance for me that the open race athletes got to start at 6.45am in the cool, while my start time was a jaw-clenching 12:05, right in the heat of the midday sun. Incidentally, Zell was undergoing a very rare heatwave - apparently it is usually early to mid teens temperature with a massive abundance of rain. Not this weekend - 31 degrees at least and not even the wisp of a light breeze.

However, with the famed saying 'control the contollables' ringing in my head, I knew there was no point in getting angsty about our start time or the climate, for I could do nothing about either. I was stuck on plain food all day as per my usual pre-race day strategy but my stomach wasn't getting better. I know my body well, and I know I didn't feel right. It was cramping a lot, and I was developing a headache which was making me feel worse. The most poignant thing I noticed was that I felt, in general, fragile. FRAGILE. No. Just no. This is NOT the overriding sentiment you want to be approaching a race with.

Fingers crossed that I would wake up feeling normal again, I went to bed at a nice casual time of 11pm. No early night required this time around. What ensued was me waking up pretty much every hour. This may sound normal to all you racers, but I don't get these insomniac race symptoms anymore! I've slept perfectly before all my races this year. Not really an issue anyway, so it didn't particularly bother me.

My stomach felt a little bit better but I still didn't feel right. Good job I didn't have an entire morning of hanging around to do. Oh wait. Yes I did.

I walked up to the race start at 9.30am - the heat was already searing, but I have to say it was absolutely beautiful. Wall to wall blue skies and the lake was like a millpond. Wow. Come on, let's do this.

I handed my wetsuit to my parents and arranged to meet them back at a certain spot once I'd finished in transition. Faffed with the usual race morning bits before they announced that transition was closing. I started to try and make my way back to the transition entry area, but they announced it was closed. They were feeding people through towards the swim start area so I followed along to try and get back around to my parents. I was promptly met with metal barriers and officials saying I couldn't get through. I tried to get back into transition but officials said it was closed. Oh. My. God.

I asked the officials to get through, panic rising. They kept refusing but it appeared that I wasn't the only one who had made this same 'mistake' (!?!? this wasn't made clear to us at any point that we wouldn't be able to get back to the transition entry!) This one-way system was very, very problematic. I was negotiating (borderline tears at this point) with the officials for about 20 minutes. They kept refusing to open the barriers. I could almost see my parents but we just weren't allowed through. I asked them if this is the case then I can't start my race. They just shrugged.

FINALLY, one of the officials came running up and let us through. I managed to get my bag from my parents, relief flooding through me but not diluting the adrenaline that was now coursing through my body. I went to sit down in a shady spot to try and recover some composure and reduce my heart rate and my now-shaking hands. That was close. VERY close.

Only 1.5 hours to wait now!

I sat with a group of American women who I got chatting to and my stress dissipated. It was a long wait, but as time passed I went off for my warm-up swim. My swim wave, which was the very last wave of the day to go off, at 12:05, consisted of 18-34 age groups. These girls were KEEN. I have never seen anything like this at any race every before, but as we were channelled through to the pre-swim areas, every time an official moved us forward, they RAN to get in position. This was my first realisation that this was one hell of an aggressive bunch. *Gulp*.

Soon enough the gun went off (while I was still clearing fog from my goggles). I had positioned myself on the far inside line at the front, as usual. As soon as I started to swim someone was almost on me and I just let them go. Cue first feelings of being non-aggressive/fragile. Not really like me. I was really keen on avoiding getting smacked in the face and these girls were like little pitbulls. When I reached a buoy, I just let them go and held back a little as I didn't want a fist fight.

The swim actually went relatively smoothly. I think I was in the middle pack but I was soon overtaking the women who went off in the wave before us - the 3 minute gap wasn't generous enough, as it became a game of dodging slow swimmers. I was even reaching the older men who had set off two waves previous to ours.

Anyway, I was out of the water in 32 or so minutes, which I was happy with. Ran straight past my bag in transition. Smooth. Out on the bike and I knew the fast girls were long gone! I seemed to be in the mix with all the older women (35+) category that had set off in the wave before me, but I was overtaking a lot of them. So far so good.

It was fast. I was averaging a cool 38kph and feeling good. Soon enough we began the climb, and the heat was really making itself known. I was feeling fairly strong on the climb and trying to hold back a little so I didn't overcook it, after all, there was still 50k to go even once I had finished the climb and the long descent. This course really was breathtaking. Massive mountains towering over you, and greenery everywhere. It was hard to appreciate the beauty during this 14km slog; my focus was on grinding it out. I was overtaking quite a few people which is certainly new to me, I'm not really the best* climber! (*pretty rubbish*).

The gradient wasn't so bad for the majority of the climb so you could maintain a moderate pace. At around 11k we passed through the prettiest village I have seen, it was like an alpine picture postcard. This marked the start of the brutal section - 2k of 12% gradient. I was crawling. Not literally, but it was tough going in that heat. Much to my surprise, there were a number of people who had got off their bikes and were walking up the hill. WALKING UP THE HILL!? This is a world championships! Get a grip! My Morzine training was not in vain, as although it was tough I was grinding it out and then.....summit! WOOHOO!

Now begins the fun stuff. I knew my descending was strong, I'd had plenty of practice in Lanzarote, Mallorca and the Alps this year. I was overtaking. Everyone, in fact. No one overtook me on the descent, and I was enjoying it a lot. GO. Steep sections and tight corners didn't faze me. The initial part was fairly steep but after that it was a low gradient so it was back to pedal grinding. But it felt GREAT.

I was holding pace above 40kph so I knew I was making good progress. However, I was fast realising that it would be borderline whether or not I could get a sub-3 hour bike split. The climb had just been too goddamn hot and I hadn't been able to eat. I had taken on board two bottles of energy drink but other than that, nothing. I was on water now and still had a long way to go. The last bit of the bike seemed to take forever as you loop back down into town and past the transition area at around 65k - leaving it behind with still another 25k to go was a bit gutting! The small little rises in the landscape felt hard after the climb had taken its toll on my legs. Just. Keep. Pushing.

As I came down the final stretch towards transition we were on a very small lane and I went past an official who shouted something at me. I had that mid-race deliriousness, evidently, as I suddenly thought maybe I had missed a turn. I couldn't see any other athletes and during my momentary logic bypass, I stopped my bike completely. As a girl caught up with me I asked her if I missed a turn but she mumbled something and carried on, so I followed her, overtook her again and carried on down to transition. YOU IDIOT.

Into T2 with a 3:03 bike split (damn) and ran straight past my bag again. Oops.

Oh dear.

I ran out of T2 and my heart sank. No, I plodded out of T2. Where the hell were my legs!? They weren't here, that's for sure. They felt like lead. This was going to be grim. The heat was absolutely permeating me - I'm supposed to cope ok in heat! Well I wasn't. I felt like I had absolutely nothing. I ran towards the town and it loops a little uphill a few times. God I was suffering. I saw my parents as I headed out towards the other side of the lake on lap one, and told them I was absolutely dying. I felt like crying. And then when I felt like that my chest would tighten up and I couldn't breathe properly. Calm down, just keep going.

As I settled in to an appallingly slow pace, nowhere near hitting my target splits, I took a gel, hoping the energy would perk me up. The opposite. Stomach cramps ensued and my legs felt heavier than ever. I wanted to walk. I did walk, at the aid stations. I was close to quitting, I wondered how I would ever make it round this course. This was almost the worst I had ever felt during a race. No no no. A long, gradual hill killed my pace even more. There were girls flying past me in the opposite direction with two bands already around their wrist, indicating they were en route to the finish line. Christ. I had a long, long way still to go.

At around 40 minutes into the run I took another gel. Instantly, I was crippled with pain. It slowed me down even more and I knew I couldn't take any more gels. Water from now on. As the stomach cramps finally subsided as I headed back towards town and the turnaround point, my pace picked up. I was feeling a lot better and starting to feel moe positive too. YOU CAN DO THIS. I knew I wasn't going to break any PBs or even be close to my target time but I didn't care anymore. I just wanted to finish. I was doing the best I could while feeling pretty horrific.

At the turnaround point I saw my parents and Katerina which helped. One more lap to go, keep the pace going. As I turned back for the last 5km, I thought I would try a gel again, as I had been running for a while on nothing and could feel myself flagging, majorly. Half a gel then. Instant crippling cramps paralysed my pace again and I was back in plod mode. Only a few more kilometres to go, thank god. My pace slowed but as I rounded the corner I was never so glad to see a finishing chute. After realising that I was on for an appalling run time, I was hell bent on it not being 2 hours, and amusingly, I finished the run in 1:59:59!

I walked around to meet my parents and instantly broke down in tears. It wasn't even about my race or about my time, I no longer cared. I cried because it had hurt so much, it was one of the toughest races I have ever done. I finished in 5:46 and in 55th place. Distinctly unimpressive, but again, I didn't really care. I knew the heat we'd had to race in would have added at least 10-15 minutes to my time, and my stomach troubles and nutrition issues would have cost me too (in fact that night I was pretty ill with an upset stomach so I knew something wasn't right with me.)

Having said that, I don't want to make excuses for myself as I never dreamed in a million years that when I tried my first triathlon three years ago I'd end up competing in a world championship event. I was racing the best of the best and I know I am nowhere near these excruciatingly talented girls at the front of the field. Yet. Maybe I never will be but who knows. I'm gonna goddam try to be.

On passive reflection, it was an amazing experience and a steep learning curve. I know my run needs a lot of work and I know my nutrition strategy needs some refinement. That's ok though, because at least I know. I am honoured and humbled to have raced in a world championship against the best in the world, and I want to go into next year's world championship with confidence in myself and respect for what it takes to be up there at the front of the field. Also, I need to not lose sight of how far I've already come. Patience isn't my virtue, but hard work is, and there's a lot of it to come.