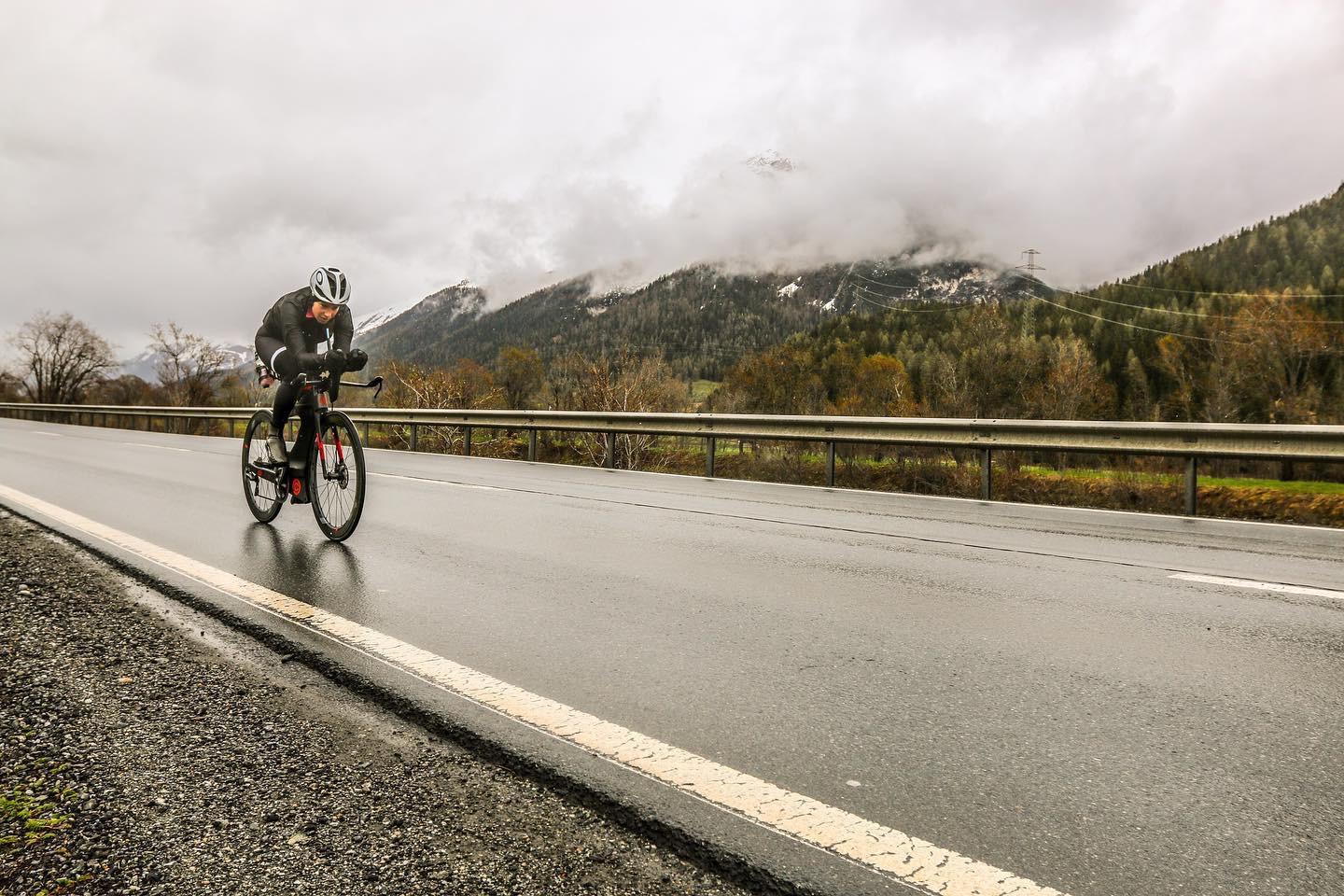 Summer may have finally arrived, but it certainly hasn't felt like it over the past week as I've battled with rain, snow and freezing temperatures. Guess that's what happens when you get high!
In preparation for my next race of the season, Ironman 70.3 Luxembourg, I decided to book a late-May training camp to St Moritz, the famed Swiss altitude training base favoured by Olympians and World Champions.
It actually worked out pretty well as when I mentioned it to my coach Duncan (SISU Racing), he was already heading out to watch some of his athletes compete at Ironman 70.3 Rapperswill the following weekend. Great, so he'd come out early and spend a few days smashing me in training!
Keeping an eye on the weather forecast leading up to the camp, I went well-prepared and packed some warm layers. And just as well! As I drove up the twisty mountainous roads I saw the temperature reading in the car drop from 24 degrees Celcius to just 7. As the roads swung skywards, I was entering great plains of snow. Oh.
Metres of snow banked up high at the sides of the roads, and as my car struggled up the Julier Pass, I knew I was in for an interesting week. And "interesting" it most certainly was.
You immediately know you're at altitude when you walk up steps and feel your heart racing. Sleeping at 1900m, your airways feel almost congested and each morning we'd all wake up with thick noses, a feeling of grogginess and slightly raspy chests. Training was a totally different story. A worse one.
I had flown out with my brand new Ceepo Shadow which I had only picked up the day before, from the awesome team at i-Ride who kitted it out for me in preparation for my race season. I had never ridden the bike and there was a fair bit of new technology to get to grips with.
The first ride up the Julier Pass felt pretty brutal – at an average gradient of 7% I could definitely feel it, and coupled with trying to tweak my position on my new bike, and some pretty serious altitude, it was right in at the deep end on the first day. I went for a long steady run around the lake and nearly froze my fingers off. This felt like stupidly hard work, even at an easy pace!
Hard work comes at a price
This week wasn't just about getting some steady volume in. In fact it wasn't about that at all – nearly every session was high quality which meant that at altitude, the training effect would be huge, but it would feel extremely challenging.
The first four days were character building. We were subject to pretty appalling weather, with rain most days and temperatures in single digits. The only place where the climate was agreeable was in the pool, and I had some chunky threshold swim sets to contend with!
Ok, so all training, and indeed training camps, involves hard work. And to an extent you can take it, but sometimes, it just tips you over the edge a bit.
I learned a lot about myself physically and mentally when a couple of sessions nearly broke me.
The first one was at the track when I had the classic 8x 1km threshold reps. Except add in 1900m altitude, 7 degrees Celcius and relentless rain, and you can imagine the challenge. I had got to six reps and really wanted to call it a day. My whole body and mind was screaming at me to give up. I stopped after the sixth lap and bent over, barely able to breathe. Duncan pulled me upright and could see there were tears running down my face. He asked me why I was upset and I lamely responded with "Because it hurts!". Haha. The shame!
I walked away, wiping away my tears and tried to pull myself together.
I have been working with a mindset coach, Coach Raisie, for over a year and we'd had a session in preparation for the camp. I channelled everything she said to me, gave myself a talking to (MTFU, basically!), and started my seventh rep.
Incidentally, the seventh and eight reps were the fastest of the entire session. Isn't it interesting that after reaching a mental low during a session, you have the capacity to pull off the best performance? It taught me a lot about how so much of hard training really is in the mind, not the body.
In a weird way, I was really glad that had happened. We are all going to experience some pretty big lows during endurance racing, and it's not about trying to avoid them happening, because they always will. It's about how we deal with them when they do happen. The fact I could deal with it and push through to the other side and go on to perform better than I had before, was key. This is the stuff we need – this is the magic ingredient.
The second time I had a bit of a moment was during a TT effort ride in the pouring rain. The roads were absolutely gushing with water, the temperature was freezing, and I was soaked to the skin. I also couldn't hit my power targets, I was feeling terrible and not in a good place mentally. Altitude really does affect performance but I wasn't rationalising it very well, I just wanted to give up.
Duncan saw me in the van and I said I was in a bad place – although he offered to give me a lift back I wanted to soldier on and ride it out all the way back home. After a total sense of humour failure at the turnaround point where my training partner James had to try and pick me up from my mentally floored state, I managed to push on back home.
Although this time I didn't manage to get a great performance in, I did continue the efforts on the way home even after being given the green light to just spin it out. Again, I managed to push through the mental dip and continue the session despite the character building conditions and wobbly mental state.
Luckily, the weather improved for the last few days and I managed to avoid any more mental wobbles (even though I still couldn't hit my power targets!). This was in part due to Duncan giving me a pep talk about putting limitations on myself, and also Raisie sending me some messages and recordings about how I need to approach the training with a better mindset.
All obvious stuff, I'm sure, but sometimes we just need a little external support, especially when we are giving it our all, day in, day out, session after session.
A week at altitude saw:
- 10k of swimming
- 400k of cycling (including two TT effort rides and one hill reps session)
- 70k of running (including four track sessions)
A 27 hour training week, all at 1900m altitude. A pretty big week by any standards, but when you add in altitude and challenging conditions it really was a tough camp. Not my usual 'legs by the pool' pic, that's for sure!
It was a great way to get to grips with my new Shadow, put some really high quality work in (even despite pretty pathetic power numbers on the bike!), and have a lot of fun in the process. We did have some really fun downtime in between the sessions and I felt truly privileged having my coach there to push me on.
It's time for a couple of rest days before my last quality week prior to Luxembourg, and I'm really excited to see whether the altitude training has had any effect on me physiologically. I'm delighted to be working with Forth Edge so an impending blood test will soon give us an idea of whether my body has responded by producing extra red blood cells!
Most importantly though, it reinforced a few things for me and I'm truly grateful to have such amazing support around me, it really does make such a difference. I am absolutely loving the process of working hard (even with the wobbles!) and it only motivates me to continue working hard. We're only human, after all.
I've seen some rubbish numbers but I've also seen some brilliant ones this past week, and it's all about putting it in context for what it is. But really, none of that matters because it only counts on race day. And I cannot wait to see what that brings…