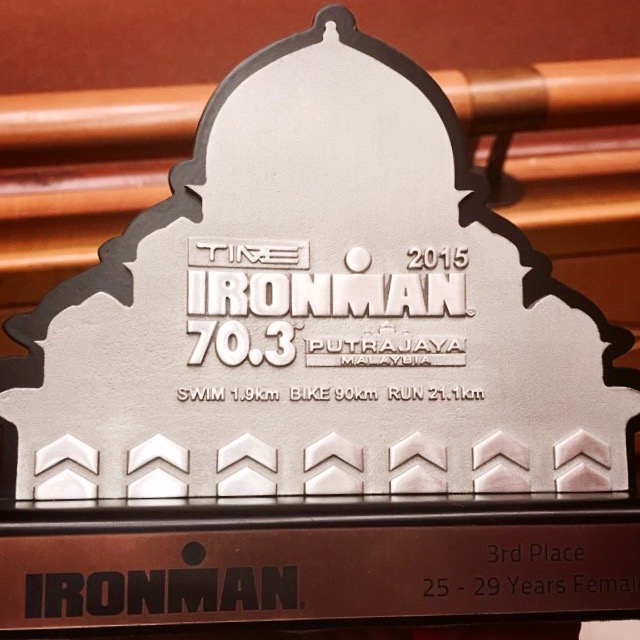 At the end of 2014 I had to inform my coach what my objectives were for 2015. This was fairly easy. I wanted to podium at an international 70.3 race and qualify for the 70.3 World Championships. As part of my strategy in doing so, I picked an Asia-Pacific race in Malaysia. Secretly, I didn't think I would be able to qualify.

I just proved myself wrong.

The build-up to the race in Thailand was pretty idyllic but once I arrived in Malaysia it got real very quickly. I had only allowed four nights in Malaysia so after registering on the first day and putting the bike back together (yet again), there wasn't an awful lot to do but start loading up on carbs (my favourite part!).

After almost getting arrested and put away for a (highly illegal) practice swim in the lake (apparently Malaysian law takes it very seriously and it's worthy of jail time), I had a last spin out on the bike and had to climb over the central reservation of a highway to get back, because I couldn't find out how to turn around without feeding onto yet another highway! Eventful, yes.

Putrajaya is a beautiful city, far more so than I ever expected. It's home to all the national government buildings so is extremely well maintained; think manicured lawns, immaculate streets, attractive architecture and flowers and greenery everywhere. Even a few monkeys hanging out in the trees.By the same token it's also only about 30 minutes from Kuala Lumpur so we headed there for an evening of traditional Malay cuisine (which was spectacular – think coconut flavoured everything!) It's a very cool city, especially with the iconic Petronus towers sparkling in the skyline which somehow, you cannot stop staring at.

On race day morning my usual pre-season pre-race nerves kicked in with full force. Oh wow. By the end of last season I had almost shaken this, but with a new season ahead of me and the first race which I wanted to perform well in, I was feeling sick to the bottom of my stomach. Luckily the extremely hardcore drum and bass playing in transition took my mind off it – it was like being in a crack den! Had to laugh though; the only pills I had were salt sticks. Rock and roll.

Sadly my friend Claus had to pull out of the race due to an irreparable problem with his Di2. Cue lightbulb moment – NEVER GET Di2. So I was also going to get support along the course, which was obviously good for me but I would rather that he were able to race!

The rolling swim start was unusual but actually really chilled. All swim starts should totally be like this. Just line up and stroll onto the pontoon, jump off with a few others and you're off! Job done. I'd had a quick warm-up swim so was good to go, and set off at a nice steady pace (until I got kicked in the face). Obviously it was non-wetsuit and the 30 degree water definitely made it feel harder work – kind of like swimming in a bath. I got kicked in the mouth again and my goggles had leaked from the first kick, but I was overtaking quite a lot of people so all was good. The swim felt long though, what was that all about!?

I ran out of the water feeling quite strong in 36 minutes, not the fastest but I later found out I was 22nd female out of the water and 111th overall, so not too bad I guess.

Smooth T1 and out on the bike to tackle the two loop bike course. I set off not wanting to go too hard to begin with, conscious of the fact there were two loops and by the second loop it was going to feel like cycling on the surface of the sun. Even at 7am it was over 30 degrees and the humidity was choking.

I was pleased to be overtaking a lot of people on the bike, cruising along at 34kph without exerting myself too much. The course was a lot more undulating than I thought it would be though, there were continuous ups and downs so you couldn't really get into a good pace/rhythm before the next long upward slope. That kind of course eventually feels quite wearing on the legs!

Smashing back energy drink and GetBuzzing bars was keeping me strong, but I reached the end of the first loop feeling a little tired, but on target for a 2:45 bike split. The sun had started to come up and you could really feel the heat starting to sap every bit of energy. But that wasn't about to be my worst problem.

Oh no.

One of my aero bars had come loose and was rattling around. This was not a good situation to be in. I contemplated trying to stop a support vehicle to tighten the screw but didn't see one and didn't want to waste time. There seemed to be less people on the course now as well, where was everyone!? The aero bar situation became quite perilous. I was struggling to change gear as the whole bar was sliding up and down, loose in its holder, and spinning around where I needed to change gear at the bar end. I was trying to decide what to do if the whole thing actually came off. All sorts of things crossed my mind, including ambulances and hospitals, and stuffing it down my tri suit. I found it was easier if I actually stayed on the bars as it held it in position, but when I needed to climb, brake or take a drink, it just rattled around and got worse. Oh god. This could end badly.

10k from the finish, I heard a ping. Yep, that was definitely the bolt coming out. I now had one aero bar which was swinging around and sliding up and down, making it virtually impossible to change gear. Interesting. Just power through, not far to go now. I made it through to T2 and ran off the bike with my aero bar swaying around carelessly like a demented raver. Yeah, I'll deal with that later.

Suffice to say my bar issues had cost me time. I'm not going to blame it all on this though – at this point in the day, around 11am, the sun was really hotting up and the climate was beginning to take its toll. What's more, I was tired from pushing on the bike and hadn't been able to eat a great deal as I wasn't feeling very much like solid food on the bike. This meant I had slipped time on my second lap and ended up finishing the bike in 2:55.

As soon as I started running I knew I was in for a long, painful, torturous experience. The heat was searing, oppressive, claustrophobic. It was hard to breathe and walk, let alone run and race. I have never experienced anything like this.

I started out at sub 5:30/km which isn't particularly quick, thinking I would just hold that pace and keep it steady. I couldn't. It soon slipped to 6:00/km and I was waning fast. I got into a routine at every aid station.

- Avoid the guys chucking buckets of water over people's heads like the plague (soggy shoes = blister hell)
- Grab two cups of water and DOWN them (one was simply not enough!)
- Grab two iced sponges and drench my head and face (and my ludicrously hot ears) in one; stuff the other one behind my neck in the back of my tri suit.
- Intermittent gels (right before aid stations so I could actually dilute the stickiness – think dry mouth/dehyrdration/gels. Yeah, not a nice combo)
- Try not to die

The first lap was completely deserted, there was hardly anyone around and it made for a really dull, painful run. After the first lap (which felt like a lifetime, especially with the dawning realisation that I had to do that all over again), there were many more people piling onto the course so it made for marginal entertainment as I plodded round. Even the Malays were walking! What!? Everyone was walking! Come on people!

Finally, I was nearing the finishing chute and a Malaysian guy next to me said, "one lap?" - to which I very smugly said "nope, two done, I'm finishing!" His face was a picture of shock: "WOW!" Yeah. Wow. A half marathon in over two hours. Hmmm. Anyway, there weren't many people finishing and I finished with a nice strong sprint to top off 5 hours 40 minutes of racing, before being drenched in an ice cold towel. That felt like heaven.

As soon as I finished I found out that there had been a problem with my swim time and it was recording 52 minutes!!! OH MY GOD! As if! The first thing that came to mind was that people tracking me would think I'd had a right epic in the swim. It was also making the difference between 3rd and 4th place, but I wasn't too worried as I had been assured they would sort it.

Overall, I finished 119th out of 1,000 ish competitors and was 25th female (including pros). My very first podium with 3rd in my age group.

After some chill time, refuelling session and a much-needed shower we headed back to the auditorium to the awards ceremony. Hearing 5x Ironman World Champion Craig "Crowie" Alexander talk about how he "nearly quit the race 40 times today" because of the tough conditions reassured me that my time probably wasn't so bad when you factor that in. All the pro times were slower than they are at European races so that reflects how the conditions affect performance!

I waited anxiously (for a very long time) while they were allocating slots for the 70.3 World Championships. Come on, come on, come on. My age group was the second to last called out, and with only one slot allocated to my age group it all hinged on whether numbers 1 and 2 were going to accept. Finally, they called out the names. Nope, number 1 wasn't here. Number 2? Nothing. They had barely finished calling my name when I started jumping up onto the stage to accept the slot! (Desperate?! No of course not…!!) I was beyond excited. Obviously.

It hadn't really sunk in for a while afterwards. I'm not sure it actually has even now. I think because I am a bit disappointed with my overall time and know I am capable of much better than that it makes me feel like my podium and qualification were a bit flukey. But I guess I am hard on myself! The climate was the toughest I have ever raced in by far, and it's totally not to be underestimated. It has a huge impact on performance and the fact that I was 116th finisher even including pros and men says a lot to be honest.

Ultimately, the fact that I have achieved my 2015 season objectives in my very first race is a huge confidence booster and an extremely rewarding feeling. I have qualified for two World Championship events this year and when I think about where I started a few years ago, as a non-swimmer and coming almost last in local UK races, it makes me realise what I have achieved. Perspective is a wonderful thing.