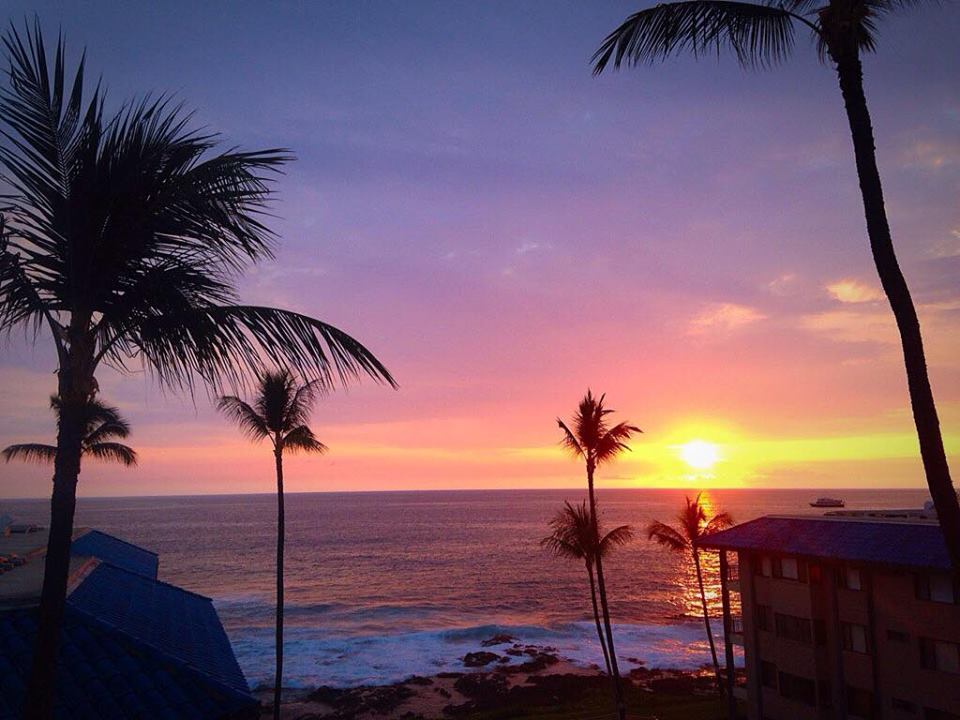 Kona. This one, single word, this one single place, a speck of an island in the middle of the Pacific ocean: it carries more significance in the world of triathlon than any other word or place in existence. It is the holy grail of Ironman. It is the history, it is the future; it is the dream of thousands. Kona is revered, respected, and never to be underestimated.
I was lucky to be able to visit Kona this year to watch the esteemed Ironman World Championships. My friend Hollie Cradduck was racing and I knew a few others who were also competing, so I decided it would be my end of season break holiday following a year of tough racing, training, and working.
It's difficult to even know where to start; I think I experienced every extreme and every emotion on this strange, captivating island. It is utterly surreal in so many ways.
The race
The first few days were mostly about the race as I was helping out with a bit of promotion for
Racecheck
with my friend and co-founder, Alexandros. The first thing that hit me was the heat and humidity. It wasn't as bad as South East Asia which I raced in earlier in the year, but it still made for tough conditions just to walk around in, let alone race!
The Ironman expo was every bit as infamous as its reputation earns. Pro athletes, sporting legends, and some of the best triathlon brands in abundance. Free stuff left right and centre – always remember to take a bag to fill up! A casual chat (and autograph, of course) with the one and only Dave Scott. But the most striking thing is the ubiquitous presence of athletes, probably among some of the fittest people on the planet and the most ridiculous specimens of sportiness. Right there, in your face. And OH MY GOD do they look it.
The first few days seemed to fly by with a balance of athlete-centric exploits and some spectacular sightseeing. 4am on race day and I woke with a slight ripple of fear through my stomach. Oh hang on! Logic re-established that I wasn't in fact racing. Thanks GOD for that. Down to the start we headed. EXCITING.
We all know what it's like on race day morning. Pitch black, then the light starting to slowly open up the day. The smell of anticipation was electric. The atmosphere was fraught with tension; the sense of thousands of athletes all with the same thing on their minds. The race. Everything that they had to do to be here on this start line was coming to fruition on this one, spectacular day. The pressure on each and every one of them, all on their own gruelling journeys, was immeasurable. Would it sound bad to say I felt a bit smug here? Relaxed. Relaxed and slightly smug.
We managed to find a perfect spot to spectate the age group swim start. I sat there nervous, excited, and actually felt quite emotional. I kept getting goosebumps, it was an intense experience and I couldn't believe I was here, to watch what I consider one of the greatest races on earth, in REAL LIFE.
The swim was a spectacle. The motion of thousands of humans moving in the water at the same time was a bit mind-blowing; the helicoptors flying ahead for the live TV coverage and the shores of Kona-Kailua absolutely saturated with thousands and thousands of spectators. So many people, such an indescribably atmosphere. Bring it on!
We managed to somehow blag a VIP spot at the start of the bike coming out of transition.By accident. Hell yeah! It was perfect, we got probably one of the best views of the pros coming out on the bike before the course started to get really busy with age groupers. After the bike start, it was all about breakfast. Nothing to do until run time but eat, drink and chill!
The live coverage on twitter of the pro race was so exciting that we were completely absorbed with what was going on even though we weren't actually watching it at this point. I was *a bit* hyper all day. Or was that too much coffee? Probably both. We had positioned ourselves in probably one of the best spots for the run – one mile into the run out of T2 on the famous Ali'i Drive, where we would get to see athletes twice as they doubled back on themselves and came back past us. Extra screaming opportunities.
Before long, the pros were out on the run and we were shouting and screaming them on (especially the Brits). I am the biggest triathlon geek ever so I knew who all the pros were, recognisable by their sponsors/kit as they headed down the road towards us.. The excitement was incredible. The heat, on the other hand, was overwhelming, even by my standards. It was enduring suffering just standing there in that sun – I could not even fathom racing in it. No thanks. I'll stick to clapping and screaming. Much easier.
Watching the race gave me some reflection time as well, and I very quickly established that I was extremely glad to not be racing this event. I felt very happy and relaxed in the knowledge that I wasn't racing (for once) and I had no pressure or fear or anxiety about race day performance. I could just sit back and absorb the build-up and the intense atmosphere. I have also never spectated at an Ironman and I loved it. So much so, in fact, that I might just give up triathlon and become a professional spectator. Seriously.
Ok that's not true. It MIGHT be true if it weren't for the captivating way that Kona gets under your skin. I think it was only when I stood at the finish line much, much later in the day (about 9pm – we had been supporting for 15 hours at this point) that it affected me really significantly. I don't think words can do justice to that finishing line. Nor can pictures. Hollie finished strong and it had been an emotional amazing journey for her, it was great to share that with her, Nathan, her boyfriend and all-round dude, and her family.
The finish line was undoubtedly the best part of the race. It was like a massive party, right up until midnight. Flippin' electrifying! I screamed at every single person who came down that finish chute. There were people delirious, barely able to walk, there were people collapsing, people with sweat, blood and sunburn, there were people over the age of 75, there were people under 25. The most special thing about every single person, though, was that look on their face as they came towards the finish. We have all experienced it. Ecstatic relief at finishing and that unbridled sense of achievement. Wow.
That's when it hit me hard. I NEED to do this. There was never any doubt in my mind that one of my goals one day would be to qualify for and compete at Kona. However, after driving the course (which is quite possibly the most boring and mind-numbing course in the world), seeing the struggles of each athlete throughout the day, the conditions, my end of season race fatigue contributing there as well – I started to wonder momentarily whether I did actually want to race this. Then the finish line changed that for me.
The mix of emotions I had experienced throughout the day; I recognised each and every sensation that the athletes were going through as I have been there. It just impacted me how special this race really is, and how I will never be satisfied with my triathlon exploits until I have experienced it myself. We all know how addictive it really is. This was the pinnacle – the zenith of global triathlon. The best of the best, at the very top of their game.
The island
The race does strange things to the island. It becomes a pretty polarised illustration of humanity. The athletes are one extreme end of the scale; cruising around in the best shape of their lives and probably swallowing the fact they've spent more money on this trip than they ever have on any race or holiday. At the other end of the spectrum, there are the locals who tend to be a bit overweight, have an apparent tendency towards narcotics and there's a fair few homeless people around too. Apparently island life is a bit mental like that.
The climate is also pretty extreme! On Kona-Kailua side of the island where the race takes place, it's a hot, arid landscape largely characterised by lava rocks and a good few palm trees. Your classic Kona image. Just a 15 minute drive uphill away from the shore, though, and you are greeted by massive, dense, exotic jungle and staggeringly rapid altitude. I visited the summit of biggest mountain on earth and was wrapped in layers and layers of clothing – going from sea level to 14,000ft was bizarre and the altitude certainly had an effect. Watching the sun go down and the stars come out is a moment I will never forget.
On the far North East side of the island (Waipeia) the climate is even stranger. It is tropical jungle but almost permanently raining. We saw, from helicopter, the largest active volcano in the world which was only a few miles from the tallest waterfall in North America. The extremes just keep coming.
I've got to mention the athlete after-party. We managed to blag tickets for the pro athlete after-party which was in this open-air bar on the ocean-front. On this day, there just happened to be a tropical typhoon for pretty much the whole evening, and it culminated in everyone dancing in the rain with shirts off, shoes off, faces off (you know what I mean!) in a state of happy, relaxed inebriation. It was NUTS. It was really surreal actually, seeing the pros let go for once and have fun, enjoy life. You could really feed off the energy (and the cocktails, naturally). A night to remember to say the least.
A few other things – the sunsets are the best in the world. Non-debatable. The beaches are amazing, the marine life is mega (we snorkelled with manta rays over 15ft wide, saw turtles and a plethora of exotic fish), tasted famous 100% Kona coffee on an organic coffee plantation, sampled local Kona brewed beer (which apparently doesn't leave the island), ate locally grown macadamia nuts and payayas, and saw plenty of ridiculously hot surf bods. Yep. That'll do.
It's a surreal, magical, captivating place, half steeped in its Polynesian history and half an industrialised cliche of modern America. The race just exacerbated this antithesis of extremes. The experiences I had were unforgettable, and there were so many of them! We created unforgettable memories, had some BRILLIANT (if expensive) nights out, and saw some of the most incredible natural wonders in the world. But the overriding notion I have, coming away from the island, is that the next time I will be back, it will be to compete in the Ironman World Championships.
It inspired me beyond measure to take action, push myself even more, and start focusing on this long term objective. The end of season break was a special one; half filled with relief that I am no longer having to train or race, half filled with anticipation and excitement at starting training again and getting my form back as I continue towards this very significant goal.
I know I am nowhere near ready for a race like Kona now. It will be a few years, at the very least, to see this dream become a reality. But one day, I will be there. I know I will because I will do everything in my power to make it happen. Maholo, Kona. Oni'i paa.