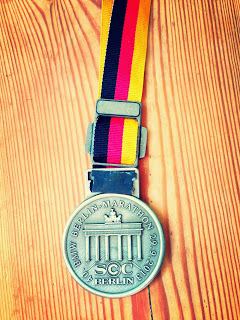 Marathons. This is kind of where it all started for me, and I'm probably not the only one. Way back in 2011 (see my irony here) I ran the London Marathon, my first ever feat of this kind. It was textbook stuff - I got a charity place, thought it was the biggest challenge ever, trained hard, and ran it in 4:06. I was over the moon, and the very next day, I signed up to run the Amsterdam Marathon that same year, in the Autumn. For some reason, I never stopped.
Of course it's addictive, training is now my drug. Since 2011, I have consistently run two marathons a year. It was my contract to myself; to explore the world by doing cool things all over the place. This year it was Paris in April, and my very last race of the season: the Berlin Marathon.
Ready for the last race of the season
This race, at the end of last year when I signed up for it, was a biggie for me. I'd done a few triathlons that year but wasn't taking it seriously at all, I was totally rubbish and had only done one middle distance at this point. However, the way this season has snowballed and somehow I have ended up slightly better than mediocre at this triathlon game, coupled with the fact I did an Ironman only 8 weeks ago, meant that the marathon was relatively inconequential for me, I was almost just going through the motions.
Beautiful Berlin
I knew I'd get a PB. That, for the first time in my life of marathon-running, was an absolute given. I was 100% confident I would, for a number of reasons. I ran Paris earlier in the year with a borderline chest infection, ran the whole thing steady because I had Mallorca 70.3 only a few weeks afterwards and didn't want to compromise that race, and I'm 3/4 of a stone lighter, thanks to my nutritionist
Fitnaturally
. Added to that is the fact that I am the fittest I have ever been in my life, have been training endurance for a year, and had a full nutrition strategy provided to me by
fitnaturally
. (In previous marathons I had 3 gels, this one I had 7!) I just didn't know how much of a PB, at this point...
So the odds were good. Great, in fact. I flew over on my own after a delightful 3am wakeup call the day before the race, went from airport to Expo, registered, checked into my BEAUTIFUL apartment (it is worthy of capital letters, trust me), and focused on rest and nutrition.
The apartment of dreams
I woke up feeling, again, for the first time ever since running marathons, confident and not at all nervous (former nervous-wreck on marathon mornings). I walked 2 miles to the race start, it was cold but a fantastically sunny day. Perfect conditions, bring it on.
Through the start line alongside 40,000 other runners, what an atmosphere. Nothing new to me though, and I have to say that for the entire marathon, I was relatively oblivious to the Berlin scenery, supporters, and other runners bar the few in my immediate vicinity!
I started off at a good pace feeling comfortable and strong. 7:30 minute miles, not bad. When I reached 10k in 50 minutes I knew that if I could maintain 8 minute miles, I would be on for a 3:30. This would be unbelievable (for me). I focused on retaining good form and smashing back a gel every 30 minutes. I skipped every other water station to save a bit of time (water is over-rated, anyway!). Half way, I started to hurt a bit. Ignore it. Two thirds of the way, I started to hurt a lot. Ignore it. My achilles was a little sore, my legs were a lot sore. Ignore it.
For the first half, 8 minute miles were really comfortable, for the second half, I had to work a lot harder to maintain this, especially in the last 10k. I blocked out the pain, and ploughed on. I was gunning for sub 3:30 and aware of the fact I was so borderline, I was in some kind of self-inflicted concentration camp, as I pushed and pushed for that goal.
Here is the irritating bit. There seemed to be a false finish line. Maybe it was just that oasis in the desert moment, a momentary, halucinatory mirage! I'm sure that was the finish line I just sprinted to, why are people still running? Bloody hell, I have to do another sprint finish! It just seemed to carry on and on. My Garmin definitely read nearly 27 miles, but maybe that was all the wavering and people-dodging along the course. Anyway, I was again oblivious to what I'm sure was excellent crowd support, and did my second sprint to the actual finish. Heart rate 189, OUCH. Over the line in 3:31 (damn).
I couldn't help feeling marginally disappointed that I didn't quite make sub 3:30, but I had just smashed my PB by 23 minutes! That was more than I thought I was capable of, and it was a great way to finish off the season.
As one of the 'Marathon Majors' Berlin is up there as one of the biggest in the world. I was very chuffed, therefore, to find out the following stats (boring figures alert):
545 out of 9,000 females
90 in category (under 30) out of 1100
34th British female
Not bad for a token race, but the most important thing is that it marked the end of a fantastic, life-changing season for me. A year of PBing all over the place, some exciting trips around Europe, and a great network of people supporting me. If next year is anything like this year then I will be well and truly euphoric....