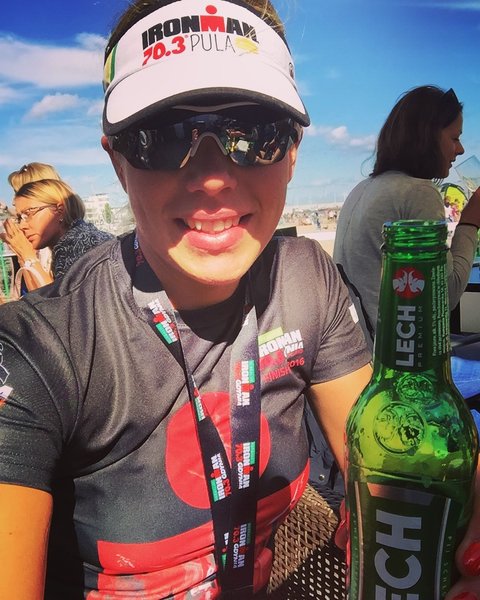 Last year, I donned Gdynia 70.3 as 'The Perfect Race'
(read the report here)
– it was hands down my favourite race of the year, for a whole manner of reasons (not just biased because I had the best result of the season), and this year, I went back to see how I would fare year on year.
Benchmark races are always good to see where you are at and how your performance has changed – but due to variable conditions it's not always easy to get a straight-up comparison. In any case, I had a gap in my season and needed a race a few weeks out from the World Champs – this fit my calendar perfectly.
This time I opted for a flying visit, heading out on Friday and back on Monday – as you know, for me, this is a pretty swift trip! As it turned out, it worked perfectly. I also shared a taxi with another competitor who I ended up hanging out with over the weekend, and I am sure we will remain firm friends – another reason why I enjoy travelling on my own to races, it's always great to meet new people and make new friends in the triathlon world.
The weather was atrocious. Pretty much constant heavy rain on the day I arrived, and the day before the race was a bit on and off as well. Race day forecast was sunshine though, so things were looking up!
As I reported on Racecheck.com last year, everything about this race was impressive, and this year was no different. In fact, they had improved aspects of the race which improved it even more – registration and the expo (biggest I have ever seen) were all in one place near transition and the start/finish this year, as opposed to being across the other side of town. The finish line had moved to the beach which was fantastic, and with the huge grandstand seats and a Mercedes car up on a plinth, it was as impressive as ever.
I felt pretty confident leading up to this race due to a combination of factors, including an excellent training block and some really decent sessions provided by my
coach
, a new nutritionist,
Renee McGregor
, who has been fuelling me the past few weeks, and some absolutely instrumental work with Chris, my biomechanics coach, and Ian, my chiropractor at
Total Balance Clinic
, to loosen off some extremely tight muscles which were causing discomfort and inhibiting my performance.
I also knew this was a course which played to my strengths, plus I was familiar with the course, which always helps. Or at least I thought I was…
My research about the race was obviously really thorough as they had changed the bike course to one loop (from last year's two loops of extreme flatness). What's more, this loop was hillier – more constant undulations than hills but still a not insignificant 750m of total climbing. The swim course was also changed slightly to reduce the massively long 1km run into T1 – this was a huge improvement, albeit it did involve a climb up about 12 steps to get out of the water!
Race morning arrived and the sun was shining. The wind was also blowing and with my first time racing on a disc wheel, I was unsure of how much it would affect me.
Heading down to the beach, I felt ok. I'd had a good swim, bike and run in the days leading up to the race so knew my splits had potential.
We were off. Women were bunched in a starting group with the two youngest male categories so I just got right to the front in the hope of avoiding a battering.
The swim was pretty smooth. Loads of non-stingy jellyfish to keep you company, and the weirdly non-salty sea water was pleasantly warm (20 degrees). At the first turnaround there was quite a bit of chop which made the going quite tough, but nothing too drastic. I remember the swim feeling long last year, not sure why this is but I was looking forward to getting out! Pretty pleased to see a swim split of 33 minutes, given the choppy second half.
Smooth T1 and out on the bike. Now it as time to see what the course was like, since I didn't have a clue! The first 10k were the same as last year then it was time to hit the 'climb'. This was actually a really nice climb – low gradient and quite long so suited me well. I was hitting a decent power but feeling comfortable. We had a headwind for pretty much the entire first half of the course which made it quite tough going, but manageable (especially when you're used to Lanzarote!).
I was trying out some new nutrition for this race – I had used it a few times in training and partially for a recent local race, but not for a full race nutrition package. It seemed to be going well, along with my incessant downing of salt sticks!
For the first time in a while, I was really enjoying this bike. I finally felt comfortable on the bike again after Chris had sorted out all my tight muscles, and my power average was the highest I have seen in any race since I started using power. I was keeping it steady though, saving something for the run.
I knew my bike split would be slower than last year because of the 20mph winds and the climbing, and it was – however I was quite happy with my 2:47 bike split, and as I arrived in T2, there weren't even that many bikes back yet. Fist pump.
Out on the run and immediately my legs felt a bit heavy (as they do). I glanced at my watch and decided there and then that I wouldn't allow myself to 'settle' into a comfortable pace as I have done recently. I really needed to push myself on this run so I set a pace from the beginning which I was pretty sure I wouldn't be able to hold – not ridiculous, just probably not doable for 21km. Or so I thought.
The first lap (of three) went really well – there is a considerable hill on the run – long and steady but enough to feel it, especially the third time around! I was running at a pace which I don't think I have ever seen on a run off the bike during a 70.3. Come on. I was willing myself to hold it. Half way along the run, I realised that if I could maintain this pace, I was on for a PB. GET IN. It was time to dig.
The last lap was really tough as I tried to hold the pace, gels were going down well but that hill was making it tough to keep pacing on target. Come on, come on, come on. I was really feeling it at this point, but just kept pushing, harder and harder. The last 2km seemed to go on forever, I felt a bit sick at this point (probably from the effort), and was just telling myself it was a state of mind - keep moving forward. I could see the finish line. Just a few more minutes.
That finish chute was probably my favourite. In any race. Ever. It was INCREDIBLE. The crowd support along the whole run was absolutely amazing, but the grandeur of that finish line was unbeatable. Suddenly, as I ran down, every person at the side was banging their hands against the stiff sides of the chute, making an absolute racquet. I broke into an enormous grin (I don't usually do this!) and just soaked it up. I got a new PB of 5:08 and a new half marathon (off the bike) PB of 1:42.
Suddenly I was very emotional and couldn't hold back the tears. All the effort I have put into training, how hard I pushed on that run, the fact that all the amazing people around me have helped me achieve this PB. I couldn't care less where I positioned, you cannot ask more than that from a race.
As it turned out, I had an absolutely stacked age group, and I positioned in 6th. Yet I was 18th female overall, 9 of who were pros! So I was 9th age grouper – if I was in any other age category I would have been on the podium. Oh well, you can't control that and in the end it didn't matter – that's not why I went there. It was another successful, rewarding and fulfilling trip; I got the best possible result for me, made some great new friends, and really, really enjoyed the whole experience.
A few months ago my coach Mark said to me during a conversation (where I think I was saying I didn't feel on top form) – "Let's see what happens in Poland shall we." Well here it was – all that hard work has paid off and I couldn't be happier.
It's a huge confidence boost as I head into the last training block before the 70.3 World Championships, and I am so grateful to have the best team around me to get the most out of my performance.
Up to this point, I have only been nervous about the World Champs. Now, I'm excited. I am ready for this race.