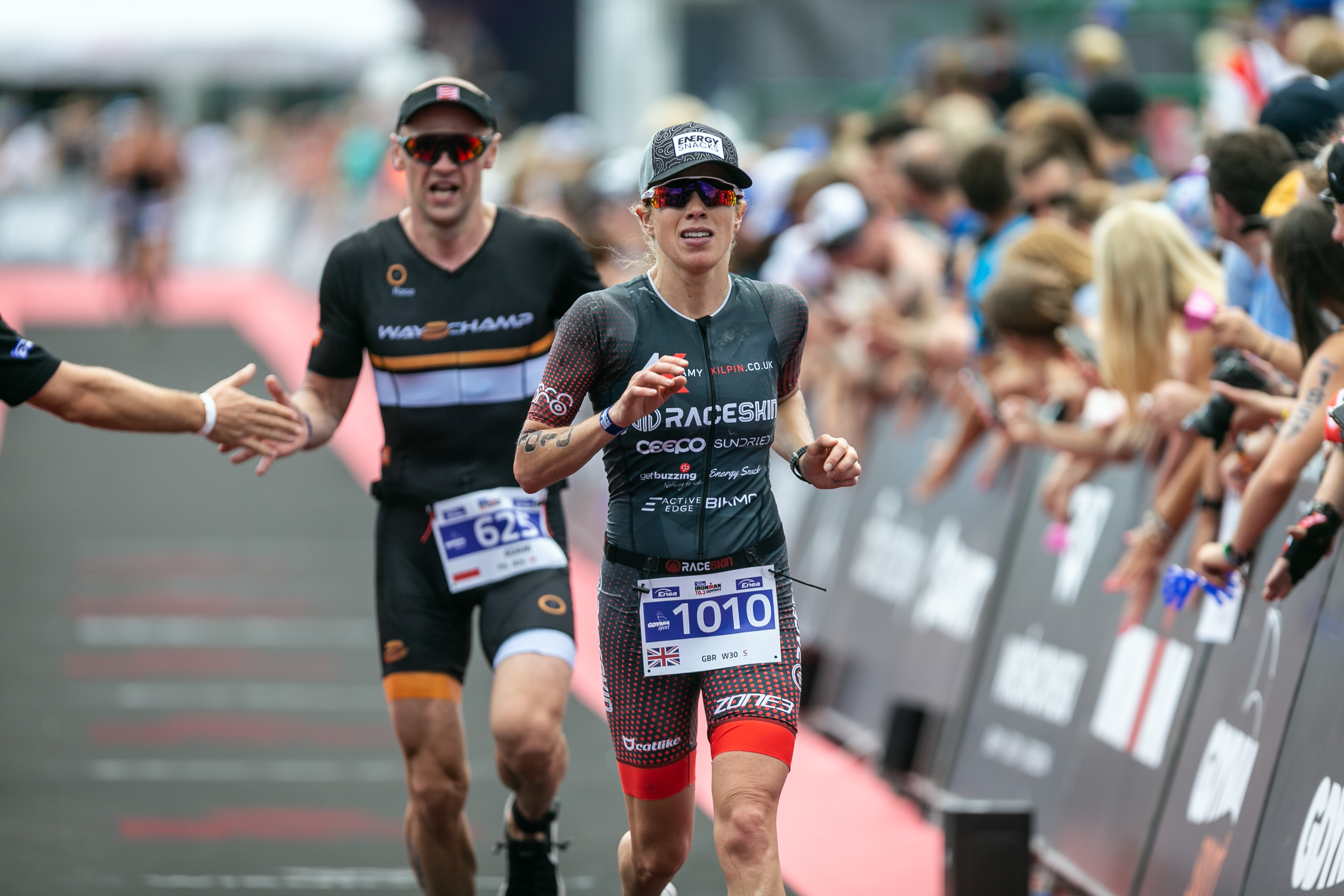 Earlier this year mid-way through my training camp at Playitas in Fuerteventura, I ran excitedly up to my coach Duncan (SISU Racing) and asked if I could enter Gdynia 70.3 in August. Up to that point, we had only two races in the entire calendar and now I was relatively injury-free, pumped by high volume camp training, and probably high on exercise-induced endorphins, I got trigger happy with my race entries…
Admittedly, he was never keen on this idea but I think there was a reluctant "ok" because I entered it. Then I qualified for the 70.3 World Champs in Nice, in September. Oh.
It was only ever going to be a "fun" race, even back in April when I entered it – this was the condition on which I could race it. A B, if not C  race – very low down in the priority of my season.
As I've raced this spectacular race in Poland three times before, it's a good one for familiarity, course and local knowledge, and a quick 'get in, get it done, get out' trip with minimal travel. Perfect.
The weeks leading up to the race were a bit interesting as I had a week off training while climbing the Eiger. Sure, I had altitude, mountain air and a lot of climbing in my legs (and arms) but I can't even begin to describe how much impact this kind of trip has on your body.
I came back from the mountaineering trip straight into a 23 hour training week (and the two weeks preceding were 20 hour weeks too). Then promptly picked up a minor cold. I was coughing a bit a few days before the race and we were debating whether or not I should go.
Duncan told me not to race. My mum told me not to race. (Mums always know best though right?). This time I vetoed them both and decided to go anyway – I can't stress how much I love this race and I knew my body was in a great place in terms of my training. I just couldn't give up the opportunity to see what I could do in a relaxed, no pressured environment on a course I know and love.
As such I had very strict instructions to race conservatively – it was evident my immune system was down and we have a World Championship in just a few weeks' time, so it was not a time for being a triathlon hero. The plan was to cruise in my comfort zone and enjoy it.
As we had placed absolutely zero performance targets on this race I felt totally and utterly chilled going into it. Mega relaxed and happy and looking forward to getting out there. The weather was dire the day before the race, pouring with rain, and yet the forecast for race day was wall-to-wall blue skies and sunshine. It was perfect.
Pre-race prep was casual and relaxing and I knew I was starting to feel sharp after a week of relatively little training, and as I headed down to the beach start with the music pumping, I was beyond excited.
The rolling start began and I tried to position myself close to the front, and we ran into the water, soon settling into a pace.
So here's the funny thing. Because I had been instructed to race conservatively, I just wanted to feel comfortable (ish) all day, so I basically just cruised the swim. At one point, this exact thought went through my head: "I am actually taking the piss." I was semi-laughing to myself in my head, thinking about all sorts of random crap, like I was doing a steady Sunday morning lake swim or something.
I reasoned that even if my swim was a few minutes slower than where it should be, I should be fine on the bike and run – oh and who cares anyway.
Lots of jellyfish. They don't sting though.
More random thoughts. Talk about focused!
I exited the swim after faffing behind some slow people who were taking their time coming onto the steps (I mean, no pressure, we're chilled right?), and glanced at my watch. 32 minutes. WTAF. I couldn't believe this, I mean it's hardly record setting but seriously – I just vaguely moved my arms around for 1.9k while wondering what to put on my Ocado shop when I get home.
Interesting. Out of T1 and onto the bike and cue a lot more faffing as I cruised at about 9kph along the cobbled section trying to get the Best Bike Split race plan up on my bike computer. THIS, by the way, was to prevent me from going to hard.
In fact it was a joke power plan. Like, steady ride power.
As we hit the roads I looked down and realised I was WAY over it. But I felt super comfortable.
So I ignored it, obviously.
The first half of the course involves most of the climbing, but it's all super steady gradient through a pretty nature reserve/forest area. I stayed in my big ring for the entire bike course, and as the world's worst climber that's saying a lot.
Also, there were no women. I was riding with men all day – I think I passed two women the entire time but none passed me. This was good.
I felt relatively comfortable for the whole ride, I mean I wasn't completely cruising it but I wasn't pushing that hard either. It was definitely within myself. I felt a bit sick on the bike which was quite unusual but was hoping it would just pass, although peripherally aware that I wasn't taking on enough fluid as I neared the end of the bike leg.
I rolled into T2 with a 2:32 bike split which was a huge PB on this course (by 8 minutes since 2017), and pretty chuffed with my decent times so far.
Right, time to run. I knew my running was in a good place, in fact better than ever, so I was excited about getting onto the run.
As I started the first lap there was hardly anyone on the run course. I overtook a guy who kept turning his head to look at me as I closed in behind him, and realised it was a male pro. Ok granted he was a lap ahead of me but that's pretty gutting to be overtaken by a female age grouper. I mean, he must have been having a bad day as while my pacing was looking good, it wasn't *that* good!
Half way through the first lap I was overtaken by a female and as I shouted "damn" in my head, I realised that it was also a pro female (one lap ahead of me). It happened again a bit later on but apart from these two pro women, no other women overtook me on the run. Woop.
However.
I wanted my stomach to settle before I took the first gel and about 25 minutes into the run it was not settling. So I took one anyway. Actually, it didn't make my stomach worse but it wasn't getting any better, so I just had to ignore it. Weirdly, I have had no stomach issues all year but my mouth felt like the Sahara desert so maybe I was dehydrated. I made a concerted effort to grab water at every aid station but suspected it might be a bit late.
On the second lap my pace was dipping a bit. The course isn't flat and with a kilometre long uphill drag it was a bit of an effort to hold the pace. My legs felt ok and my breathing was comfortable, but my stomach hurt and I began to feel like I was struggling a bit. Every time I passed a certain point on the course, I told myself I only had to see it one more time before I get to finish.
The course was getting pretty congested with athletes now and as I entered the last lap, I knew I just had to hold on for 6k to the finish line. One last drag up the hill. One last turnaround on the sea front. Then it was the home straight.
The last kilometre was very uncomfortable. I was feeling very sick by this point and was telling myself repeatedly how much my legs were aching (they weren't too bad actually) just to try and move the focus away from my stomach. I felt if I focused on my stomach it could be game over in the final km.
I pushed hard towards the final finish chute and ran down the carpet totally oblivious to everything that was going on – apart from noticing my time (which I had absolutely no clue about until this point), in red digits above the finish line. 4:43. Nice, that'll be a new PB by 4 minutes then!
Almost immediately through the finish line I started to wretch a little. Oh dear. (Sorry, this is gross). Totally conscious that there were friends and family just a little further up waiting for their loved ones I leaned over the barrier and was sick. Not a huge amount, but I even surprised myself. After 35 (or so) half Ironmans, 9 marathons and 2 full Ironmans, I have never ever been sick. Very weird.
My stomach felt like it was in bits as I ambled over to the athlete finisher village.
The tracker said I was still going with a finish time of 5.5 hours so I knew that something had gone wrong somewhere. Eventually the results came up and said I was 4th – damn those girls ahead must have been fast!
I was a bit gutted to just miss out on the podium after such a solid season but you can't ask for more than a PB. I didn't manage to get a 2020 World Champs slot at the rolldown either as there was only one available in my age group.
Pretty happy with how my race had panned out considering the less than ideal lead up and what was a pretty conservative race effort, I headed home ready to focus on the World Champs in a few weeks' time.
Once home, I randomly checked the official results on the Ironman website and it said I was 3rd in my age group.
It then only dawned on me that the 4th position was 'open' – this was my overall position amongst the whole field of non-pro women. But the tracker and results hadn't shown my age group position so I just didn't bother going to the awards ceremony, thinking I had come 4th!
Gutted to have missed out on a podium experience and some nice trophy bling but it's not about that. I was stoked to not break my 2019 podium streak for every single race I have entered, and also pretty happy to have come 14th female overall including 10 pro women. Oh, and the PB. Yeah, you can't ask for more than that really.
It was a huge confidence boost as I know that if I can execute that kind of race under those circumstances, I am capable of much more. 100%.
Now though, it's time to get the last block of training in before the big stage in Nice… where it really will be a test against true talent.
---
Huge thanks as always to my awesome sponsors: Ceepo/iRide Raceskin Energy Snacks OTEC Bikes Total Balance Clinic CocoPro XEndurance Active Edge Aminoman Zone3 Ffwd Sundried