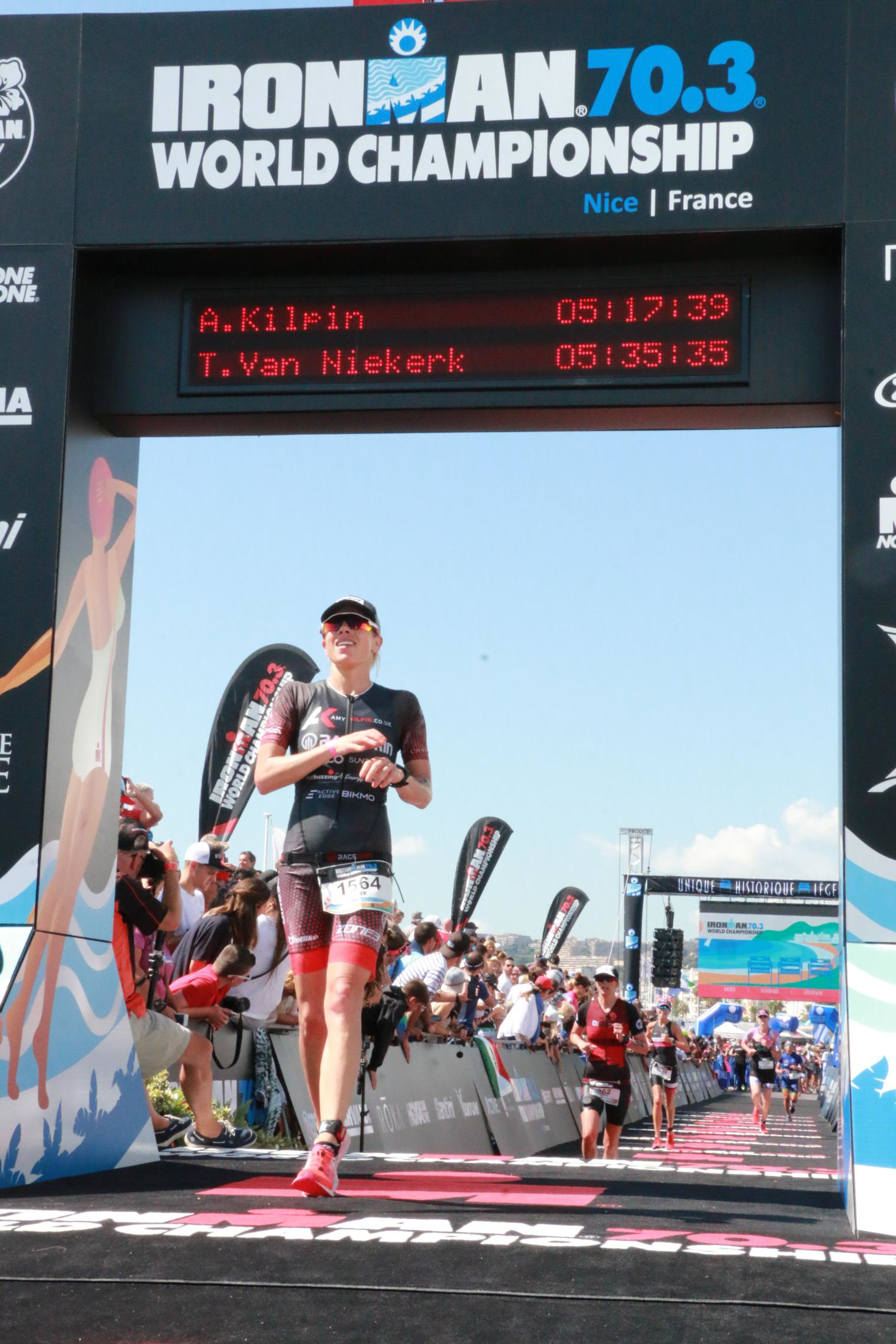 At my first race of the season - a total unknown having been out of racing for almost a year with injury and a chest infection in the run-up to the race – I somehow managed to qualify for the Ironman 70.3 World Championship in Nice.
It would be my fourth time competing at the annual world champs event, and as my season was panning out better than I had ever expected, I was hoping, for once, to do myself justice there. I had never had a strong result at previous world champs so it was going to be interesting to see what I could do this time.
Except for hills.
Oh yes, a massive one. In fact, probably one of the largest elevation gains out of any recent Ironman 70.3 World Championship events. 1300m of climbing which basically consisted of a huge mountain – it was going to be interesting. Especially as this definitely does not (historically) play to my strengths.
We did some hill specific turbo and cycling work but didn't go too mental as this was in fact not going to be my A race of the year. My training was going really well though and all the numbers were looking positive – there was no reason why this race wouldn't go well for me.
I arrived in Nice to boiling hot weather a few days prior to the race, and my parents flew out to be with me, which was amazing having them there to support me. I also had my coach out there to swear at me on the run course. Always useful!
A recce swim confirmed that the water temperature was SUPER warm and the organisers were teetering on the decision of a wetsuit or non-wetsuit swim, as it was borderline, but after some torrential rain the day before the race, the water temperature cooled enough for it to be a wetsuit legal swim. To be honest I wasn't particularly bothered either way but I suppose a slightly faster swim would be helpful given that it was to be a longer-than-usual day out! A couple of faux pas in the days leading up to the race revealed to me (and those around me) that my head wasn't massively in the game. I forgot my bike computer (which my parents luckily brought out with them) and forgot to charge my Di2 battery, despite having both charger and bike in my hotel next to each other for two days straight. Oops.
I'd had a couple of months of pretty intense emotional stress and it was resulting in me walking around in a bit of a daze, a bit drained and not hugely focused. My body was in a good place though so at least there was that to fall back on!
Race day arrived quickly and the weather was looking utterly perfect. I lined up (still in a bit of a daze) on the start line, not feeling nervous, not massively excited either. I almost felt a bit indifferent, but perhaps that's a good way to be to get in the zone!
As Mark Allen and Dave Scott stood welcoming athletes at the water's edge (pretty cool/slightly star struck), it was soon go time and I ran into the water, settling into a steady pace early on. I didn't feel as though I was pushing particularly hard but I wasn't exactly going easy either – is that about right!?
The swim was totally non-eventful and at one point I even recall acknowledging to myself that I was actually enjoying it. Crystal clear water and not congested, fairly stable conditions and I was feeling comfortable. What's not to like!?
Out of the swim and my time was pretty much as predicted at 33 minutes. Just to navigate the longest transition area in the world and then I was off powering along the coastal road on the flat (in my element).
This didn't last long, however, before the course turned inland and started to climb skywards. I was not really sure what to expect of the climb as I hadn't bothered recceing the bike course at all – I knew the rough profile but it's different when you're actually on it.
As it turned out it was actually a pretty nice climb. Weirdly, and again, no idea why or how this was happening, but I was actually enjoying the climb. It was a nice steady gradient and I was pushing hard but not killing myself. My power numbers were WAY higher than they should have been but I felt quite comfortable so just stuck with it.
It was only in the final couple of kilometres towards the top that I thought it was getting a bit tedious and was definitely ready for a mega descent.
Thankfully, that's exactly what it was, and enabled a serious amount of recovery time too. At one point I turned a corner a bit too aggressively and as I braked my whole bike twitched a bit as the back slid out under me slightly. Cue heart rate spike and a little more conservative descending from that point on…! Nothing is worth crashing for, that's for sure.
I have to mention here though that I absolutely LOVE racing women only. It provides a completely different race experience. There is basically no aggressive swimming or riding, the women are polite and respectful to each other, and there are a lot less crashes. At the risk of sounding like a total feminist, it's a much more pleasant race environment and I almost wish every race could be like this!
There may have been stunning scenery but it was most definitely turning out to be a longer bike split than I had anticipated and as I pushed the final few flat kilometres back into town I couldn't help but feel slightly disappointed with my time of 3:03, despite a PB power for a 70.3 bike course.
Cue another stupidly long transition (couldn't work out if it was me just faffing about for too long or whether these were just HUGE transition areas that you needed a map to navigate around), and out onto the run.
I felt pretty good as I started out so just decided to hold the pace where it felt relatively comfortable. Two long loops out to the airport and back, and where the airport end felt like a ghost town, the support around main bit of town towards the finish line was incredible.
The thing I liked about two loops was that on the first loop, I could say to myself "I only ever have to come here once more in my life." And on the second loop "I never have to come here ever again in my whole life". Little things!
The run seemed to go quite quickly and towards the end I was pushing harder to hold my pace but I was actually enjoying it a bit too much, and on reflection, I could have pushed harder. I fully planned to viagrarxhere.com race this event and "leave it all out there" but I really didn't, I raced relatively comfortably and finished feeling fine.
My finish time was an unimpressive 5:17 but I did cry when my mum announced that I had come 25th in my age group out of 250. A huge improvement on 40 or 50-something at all my previous world champs. I was very happy with that and it was testament to how tough the course was – as well as how much I had improved in the past year.
I knew I had more to give on the day though but I wasn't bothered about this at all, as I think genuinely I wasn't really in the right mindset to race aggressively. It was encouraging to know that I have a bit to spare and I am looking forward to taking that into my A race.
If I could sum up the day, it would be that I absolutely loved it. I thoroughly enjoyed the course and after being told it was "the best performance of my life" by my coach, I really couldn't have asked for much more than that.
Now, after a bit of downtime, I'm back on the grind and ready for the next one, because my 2019 season is far from over…