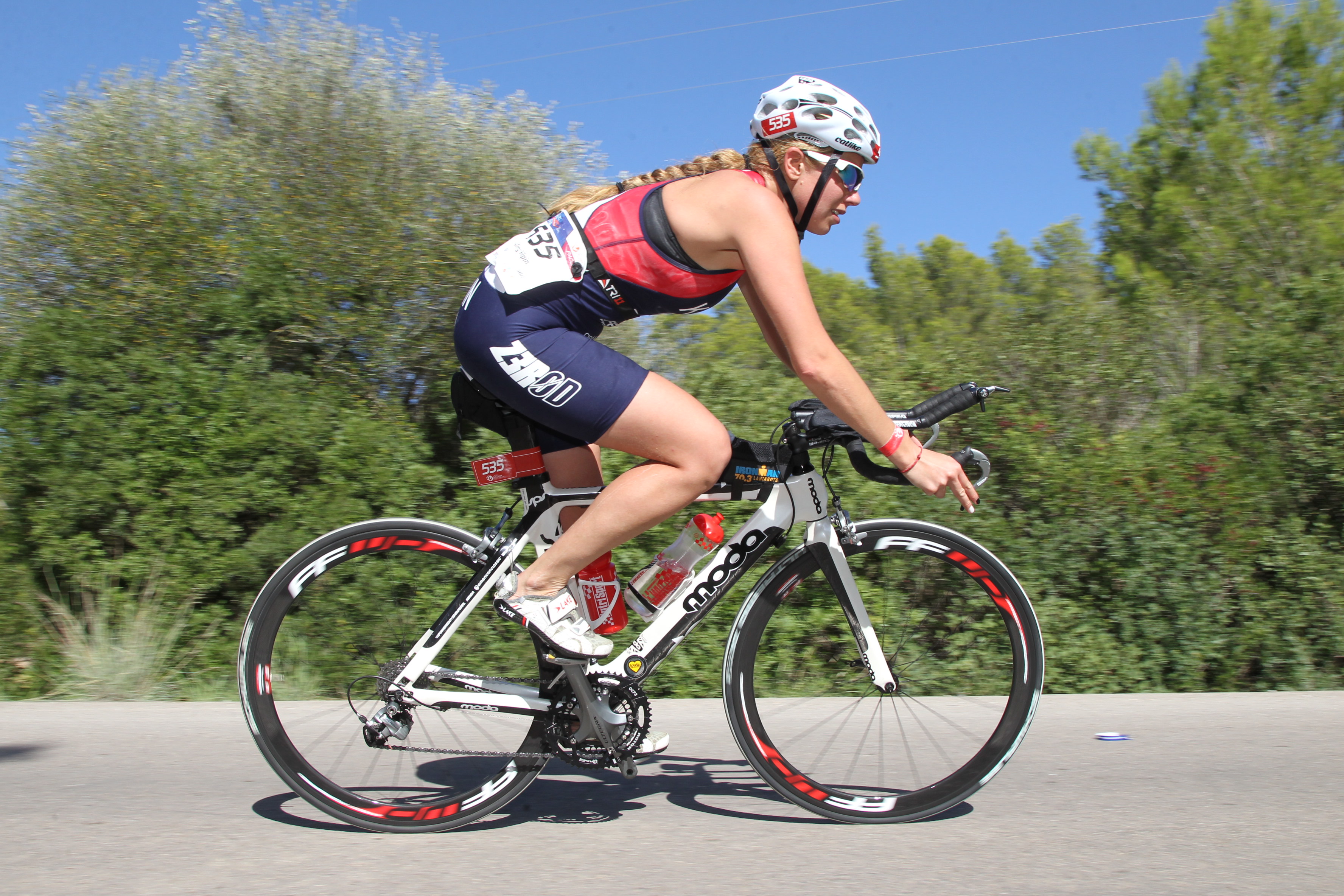 Earlier this year, when I found out I had qualified to compete for GBR at age group level at the European Long Distance Championships at Challenge Almere, it was going to be my 'A race', the pinnacle of my season, and my last race for the year. Then I found out about the European Middle Distance Championships in Mallorca in October, and after much (hardly any) self-debate, I entered.
Double GBR qualifier, yeah that'll do. Sure I'll be fine, I have a whole five weeks to recover after Almere. Famous last words.
I knew that by the time Almere came around, I was already starting to tire. I was squeezing the last few drops out of my season and actually, after finishing, it felt like the end of my season,more psychologically than anything else, because my A race was over. I could relax. Challenge Paguera-Mallorca was just an end of season tick really, a last week in the sun before the off-season proper. I needed to just keep ticking over until this race.
Arriving in Mallorca, it was just as you'd expect. Or not. Imagine strong winds, torrential rain and choppier seas than a surfer's paradise. Not boding very well. All week, I felt very disinterested in the race, and was already lusting after life after Paguera. Looking at all the holidaymakers chilling out drinking beer in the sun was making me very envious. This off-season couldn't come soon enough.
A few pool swims (one of which was spent trying to keep up with Helle Fredriksen. Believe it or not, I failed.Yes really!), a couple of short easy rides and a run off the bike were all I needed to get to the start line this week. Already, as the week progressed, the heat mounted up and the sea calmed down. Not necessarily a bad thing though. Or was it!? My attitude probably was though; lying on the beach all week, all I could think about was some stodgy food and copious amounts of cocktails after the race, and it was this sentiment that was keeping me going!
This isn't normal for me. I love racing, and while I don't always get excited to race (I think this is now my natural, almost instinctive pre-race strategy, to not get caught up in the hype beforehand in order to conserve energy, excitement and adrenaline for race day only), I am quite positive and look forward to it. My overriding feeling going into this race was "I can't be bothered".
It sounds a bit dismissive of my GBR qualification but it didn't feel in the slightest bit special to me. I wanted it to be over before it began. I guess this pre-empted how I would feel on race day to some extent but with racing you never really know until the day arrives and you're out there on that course giving it your all.
I knew it wouldn't be a PB course. The swim was non-wetsuit, the bike was hilly and the temperatures would be hot. I knew I needed to pace myself on the two lap bike course ready to smash the run. The run, although I am not the fastest by any stretch of the imagination, is usually where I gain places. Especially in the heat.
So race day arrived with a leisurely start, the unusual absence of an alarm, and a scorching midday gun time. It felt strange just standing there on the beach amongst all the holiday-makers, without a wetsuit, the crystal blue sea shimmering in the sun. I felt so relaxed, it didn't even feel like a race. I was feeling more excited though, so this was a good thing, my mojo was back and I was ready to go.
I lined up at the front, this, as I have mentioned in recent blog posts, is my new strategy in order to avoid getting caught up in the mosh-pit. I won't be first out the water by a long way but I like to get a clear run and position myself at the side where I can relax into a good pace without the distraction of fighting my way through the swim. This worked well and I felt pretty good, going nice and steady and not pushing too hard. The sea still felt surprisingly choppy despite its apparent stillness, I guess you always get some degree of movement in such a large body of tidal water. The salt was burning my throat a bit but other than that, I felt ok. Not rapid (as if I ever am), but ok.
I exited the swim in 35 minutes which wasn't bad for the lack of wetsuit, and I didn't feel like I had pushed myself that hard, I just tried to keep a steady pace and conserve energy for what would inevitably be quite a tough day. Oh and watching the fish swimming around kept me a bit distracted.
Transition was characteristically massive, probably around 1km, and I felt like I wasn't really rushing as much as I usually do, it was almost leisurely. I jumped onto the bike and off up the hill into the searing heat. The bike course consisted of quite a long steady-ish climb up into the mountains with some ups and downs in between, and I was careful to go quite steady in order that I woulnd't suffer on the second lap. The heat was penetrating, there was little in the way of a breeze and aero bars weren't really much use with all the climbing.
I had decided to go sparse on drinks bottles, opting for a small 500ml one with my usual energy drink given that the firs aid station was within 10km. I was a bit aghast when on reaching the aid station, the clear bottles were only one-third filled with water. In this heat!? Are you kidding me!? I knew I had to get to 30k before being able to get any more liquid on board and that this wouldn't be enough… No choice but to push on.
A lot of undulations later and we were cruising down into the clubber's dreamland of Magaluf, with a flat section along the seafront. At the aid station I opted for iso drink as well as water, hoping to compensate in some way for my not-so-ideal hydration situation. I was managing to eat my usual solid foods and at this point, felt ok. Again, I didn't feel like I was pushing very hard but I was conscious of the heat and getting to the run start in quite good shape so I was holding back more than usual. And maybe the 30 degree heat factored in somewhere here?
The second lap was a slightly different story. I knew as soon as I hit that first mountain climb out of Paguera that this lap was going to be a struggle for me. I was only 45k in and feeling it in my legs already. I could feel myself slowing down but I couldn't really be bothered to do anything about it. During the second lap I started to struggle to take on nutrition. I had some stomach cramping and wasn't feeling particularly great. The heat was intense, over 31 degrees, and I simply felt tired.
Quite a lot of people were overtaking me and at one point my chain fell off. Where in previous races this year these things would have bothered me, I didn't really care that much. I casually put my chain back on and trudged on. By the second half of the second lap I couldn't eat anything and I was struggling to stay in the aero position because of lower back pain. This was all not normal for me either! Help! Shall I bail? Where's a mechanical when you need one!?
It was at this point I kind of realised that I'm not going to be a contender in this race anymore. This swiftly became a mission to finish. I was even steadily overtaken by a guy in the 60-64 category. Tragic. But he was probably nails to be fair. The open category athletes were also overtaking me, but I just didn't have the inclination or the energy to try and keep up with them.
Back into T2 and there was a rather unsympathetic run around the whole perimeter of transition, which I only realised when I started running the wrong way. Oops. Again, I didn't feel that pressure to rush as much, I knew I was losing some time but I didn't really care that much.
Onto the run and into the heat. It was permeating through me, almost unbearably so. Just. Keep. Going.
Instantly, I felt rubbish. Where in Almere I felt amazing on my first lap of the run, I knew that this was going to be very different. I was instantly suffering. I lacked energy and competitiveness; again, it hammered home to me that I "just need to finish". At best, actually, as even finishing was looking a bit tenuous here!
Next strategy, get a gel down when my stomach has settled and then I may pick up a bit. One 5km+ lap down and my stomach hadn't settled. I thought I should try and attempt a gel anyway, but my stomach cramps persisted. It was strange, I never get this problem these days so I couldn't work out why. Maybe the 300ish mls of foreign isotonic drink I'd had on the bike? Maybe the different food I'd had because it had been a midday start as opposed to an early morning? The heat? Dehydration? Who knows.
Two laps in and I had reverted to coke to try and settle my stomach and while initially I think this may have started to work (or perhaps placebo effect), it soon worked against me and the moment I took some on board I had chronic cramping to the point where I thought I might even have to walk. My pace was just a plod really, I had completed two laps, just over 10k, in an hour and I knew I was gunning for a 2-ish half marathon time. Absolutely rubbish but I could not do anything about it.
The third lap was painful, I thought about quitting (but then I had considered this even on the second lap of the bike), but I knew it would be stupid, I could definitely push through. I was only on water a this point, and apart from a gel and a few sips of coke I hadn't had any proper nutrition since the first lap of the bike.
On the last lap, as usually happens, I picked up slightly and in fact my stomach had only just started to settle. I took half a gel half way round, just to push me through the last couple of kms without collapsing or something. I did feel light headed and was just focusing on keeping hydrated, although by this point, the sun had started to dip down and it was feeling more pleasant.
Every time I had come round past the finishing chute I had wished I was there. Now I was there. I finished with a nice strong sprint (ish) and felt absolute, unadulterated relief. That's it, for six months now. My last race in the bag. THANK. GOD.
My overriding feeling was disappointment, I had come somewhere near the 6ish hour mark which was not what I had hoped for or expected. In fact quite far off that. I was gunning for sub-5:30 but I hadn't been able to pull it out of the bag. Not even close. I felt emotional, teary, and completely and utterly drained.
This was not the drained feeling of having just raced a tough course, this was me, absolutely and utterly empty after six months of performing at a high a level as possible, for putting 110% into every race, every training session, every day.
I was spent. There was literally nothing left.
I couldn't eat anything, I cried a little. Then I got over it.
I had just come 8th in my age group at the European Middle Distance Championships, representing GBR, where I was contending against people who had all qualified to be there. Come on, get a grip.
It dawned on my at some low point during the bike that this time last year, I would have been happy just to finish this race. I was a novice just getting into it and had no idea or even iota of interest in chasing times, and here I was, at a European Championship event disappointed with my time and a top ten placing.
I guess I am always striving to do better, like manyof us. But considering I had crammed in a full iron and two half distance races in the space of eight weeks, at the end of what was already a tough and quite fulfilling season, it was way too much to expect high performance at this event, especially competing with such amazing fellow athletes who have been in the sport longer (and are probably more naturally talented) than me. And I haven't even mentioned the conditions, as they were damn hard!
But on reflection, I should be happy with that. I am actually happy with that. Every athlete I spoke to said it was the hardest triathlon they have ever done, with no exaggeration, and I really think it was - all
the times reflected that.
But as someone said to me recently, it's the tough races where you really learn, and there is stuff to take away from it.
I'm now going to enjoy the off-season before getting stuck into a serious Winter training programme, with new goals and horizons set for next season. My big thing to take away from this experience is to live, learn, and be grateful for what I have achieved so far.