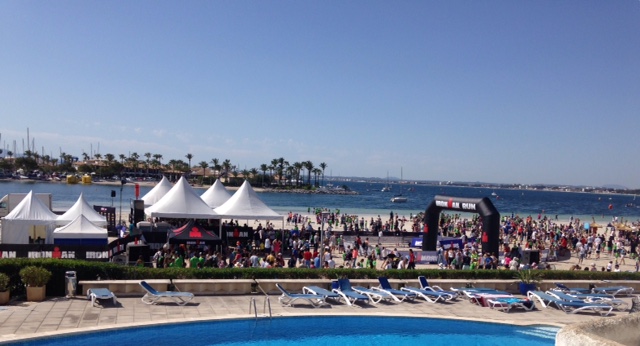 I think there's a fair expectation that anything you work hard at in life will result in improvement. Especially if it involves a good degree of commitment and consistency.

I've raced Mallorca 70.3 the last two years and it wasn't originally on my 2015 race radar, however, knowing so many people racing, I have to say the friends/social aspect of the race is really fantastic and I needed a 70.3 leading up the long distance world champs in June anyway. This was really a C race for me; a bit of a benchmark race given that I've done it twice before, and a warm-up before Sweden. Apart from a fact - anything with a beach and I'm sold!

I felt maybe the calmest I have ever felt pre-race. Despite knowing the course well I still cycled the technical descent, swam the swim course a few times, and familiarised myself with a slightly amended run route. My preparation was no different - there was certainly no complacency (apart from the moment where I nearly missed checking my bike into transition by 1 minute....!!! Don't ask...) - I think my relentless training over Winter and my recent result in Malaysia were giving me confidence. Plus it was a course I knew well and there was some chill out time with friends before the race. Bonus.

My plan was, ultimately "be faster than last year". It should happen by default really, after a year of hard and committed training, plenty of hills and wind practice in Lanzarote, and having just come back from SE Asia, the heat would definitely not be an issue for me. In fact, I felt like I was probably better prepared for any race than I have ever been before. Maybe getting cocky because this one is so familiar to me!

Things didn't quite work out like that though.

I was aiming for faster splits on the swim and bike - I wasn't confident that my running had improved over the past year so I was working on the basis that a couple of minutes slower would be acceptable.

I lined up on the front row as usual, for the dry-land swim start. I had a clear run and kept to the far side away from the buoys so I wouldn't get caught up in the throng. I was setting a strong pace and feeling great, and when I was almost at the turnaround point I glanced behind me on a quick breath and it looked like there was no-one behind me! My first instant thought was "OMG. I am actually last" but then as soon as logic entered into the equation I realised I must be at the back of the front pack. Ok, I can live with that! It didn't look like there were too many in front of me in my wave so I willed myself to carry on with a strong pace heading into shore.

Because the timing chip isn't until you get to transition (and Mallorca is notorious for having the world's longest transition and swim exit), I thought I had scraped in at 30 minutes-something, but my official time was 31 minutes something or other. Essentially the same as last year, which was a tad disappointing because I thought I might knock a minute or two off.

I had been feeling strong on the bike in training and leading up to the race so was confident I could get a sub-3 hour split. I decided to pace myself well and not push too hard on the climb so that I could really hammer the 50k flat time-trial-esque second half of the bike course. I was overtaken a lot on the climb, usual story for me as a poor climber, but this didn't concern me because I was ready to put the hammer down on the flat bit!

I realised at the bottom of the descent that I would not be able to beat the previous year's bike split. Not. Good. As I progressed along this part of the course feeling strong and pushing along at around 36kph, the thought that I was slower than last year was plaguing me. Eating away at me. I was trying to make sense of it all. It didn't make sense to me and all kinds of negative thoughts were going on in my head - probably not conducive to good racing, but I couldn't help it. I didn't slow down in defeatist attitude, in fact I just felt like I needed to be working harder so I could make up time, even though I knew this wouldn't happen!

The last 30k seemed to drag a bit. I was losing momentum and the only positive was that I was managing to smash back peanut butter sandwiches and Get Buzzing bars and feeling great, despite my heart rate hovering around 170bpm! I had slowed to around 31/32kph now and couldn't hold it much faster than that because of a quite strong prevailing head wind for the whole last section of the course. Could that be my slow bike excuse? Nope, don't think I can pass that one off!

I came off the bike in 3:11 feeling disappointed but determined that my run would not let me down. I set off out of T2 with my first kilometre at around 4:53 knowing I wouldn't be able to sustain this pace, and lo and behold, I didn't. My plan was to not let my pace slip under 5:20/km and I think apart from a few wavering moments, I stuck around this pace. I barely noticed the heat so this definitely was not an issue! I felt like I was struggling to hold my pace at threshold - it was hurting far too much for this slowness!

The run actually seemed to go very quickly for once, I think the new course layout was a massive improvement as it took in a more central area of the town which meant more spectators. I ran down the chute finishing in 5:43 and bitterly disappointed with my performance, which was 12 minutes slower than in 2014.

After cooling off in the sea (such a perk to this race!), I headed back to my apartment which overlooked the finish line. Much to my amazement a few people had messaged me saying I was 5th! Oh wow, perhaps then my time reflected tougher conditions this year?! However, my excitement was short lived and I came back down with a massive slam as the tracker decided to update itself (eventually) and my position was slipping further and further away from the podium. It stopped at 13th in AG (last year I came 12th in AG). Damn.

I couldn't leave the apartment for a while after this as my performance was gnawing away at me and my eyes were leaking! Sounds a little pathetic but after the amount of work I have put in across a whole year, to get a slower time was absolutely debilitating. It made me wonder what the point of this all is.

After I managed to get over myself, I went back to the athlete garden to see a few friends. Over the time I spent in Mallorca, being with friends was one of my favourite things and I was so grateful to be able to talk things through with them, share race experiences, and remember that life is sometimes about other things outside of triathlon. That's really important.

As I gradually spoke to more and more people about the race, almost everyone had a disappointing personal performance and many were also slower than the previous year. This doesn't make it ok for me though. I don't want to make a single excuse for why this happened. I was acclimatised to the conditions where others were struggling in the heat, so it wasn't this. Nutrition was great. nPeople asked whether I had just had a really bad race and I can't say I did. I felt good. I was working really hard at threshold, so it wasn't because I was holding back or not particularly bothered about the race. There is no reason. And this is what makes it worse. I just want to know why. If there had been a justifiable reason such as nutrition issues, a recent injury, a mechanical, a brutal climate, etc, then at least I could learn from it, know what to take away from the experience and how to avoid/work on this problem for future races.

This is the part I am struggling with. How can I know how to improve if I don't know the reasons behind a performance decline? It is certainly filling a lot of head space for me at the moment, but after my initial devastation, I have been trying to look forward, take it as an anomaly, and remain positive about the future.

It's incredibly difficult for me to just accept that "it sometimes happens". I am extremely driven, committed and have an unbridled passion for training and racing to the point where it dominates my life. I ask questions, I need answers. I work hard, I want results. Something needs to change, evidently, but I don't know what it is just yet.

I hate negativity. It's one of the things that keeps me going in this sport and despite my fair share of doubting myself, being hard on myself (a lot!), I try to remain positive a lot of the time. It can be tough though. I think this is one of those times where I just need to keep positive and focus on working even harder to achieve what I want to. If anything, this experience is motivating me even more to perform.

I know it's not sustainable to only ever improve and I know this won't be the last time that this will happen, but in the meantime, it's head down, heart rate up, and all about looking forward.