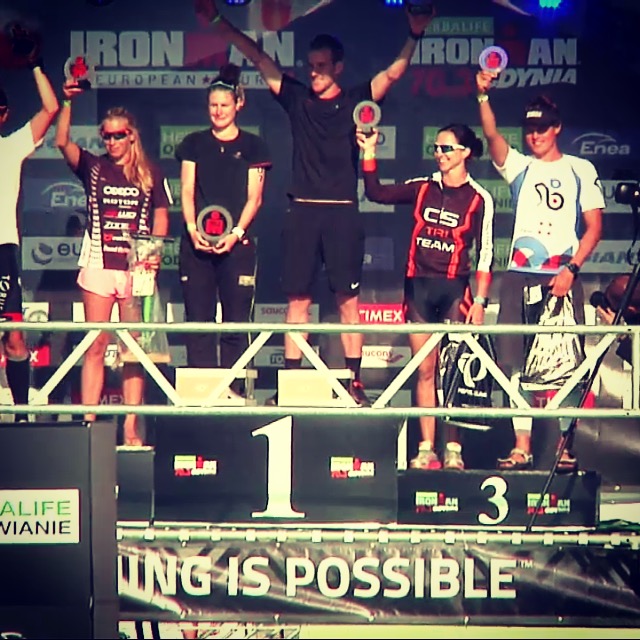 Ever had that "perfect race"? The one where nothing goes wrong, everything goes to plan, and it's executed better than you ever even imagined? Poland was it.

This wasn't a key race in the season's calendar for me. Once I had qualified for the 70.3 World Championships this just slotted in nicely as more of a warm up race. It looked flat and fast and was hosted by a country I had never visited. That'll do.

Things didn't start so well when my already late night flight was delayed by five hours. I've been lucky that with around 16 flights this year I have never experienced any issues. But RyanAir was about to change all that (I know. I hear your surprise at this revelation. It's not like they thrive off a reputation of excellence). So arriving at my accommodation at 3am was never going to put me in the best frame of mind for my pre-race preparation. Which, I'd like to add, I take pretty seriously.

I have pre-race rituals and if I waiver from the norm, it freaks me out! But all in all it was actually fine. I had a relatively chilled day registering the next day and a massive sleep the following night put me right. Good. Ready to go then.

A sweltering 33 degrees the day before the race, I watched some of the sprint triathletes struggling along on the run course. My 20 min run was a sweat-fest of the highest order. But the excitement was building. I have to say, for an inaugural Ironman 70.3 race the whole registration process and race set-up was extremely impressive. It is billed as Poland's largest triathlon so the organisers obviously knew what they were doing before Ironman acquired the race. Nevertheless, it was fantastic.

The weather forecast for race day was an absolute shocker. And we all know I'm a sucker for hot sunny places. What are the chances! Every day wall to wall sunshine and warmth and on race day, torrential rain and storms. Brilliant. I didn't let this influence me one bit. Control the controllables.

Race day came around quickly. This was it. The start of the perfect day.

I woke up before my alarm, feeling relatively fresh. That's already a tick. That alarm always makes me feel groggy. Not this time. I got ready and had my usual race breakfast. However, it wasn't accompanied by the usual dodgy stomach feeling influenced by nerves. Nope, after I'd finished my oats I was considering having more. What!? Unheard of! I refrained. No, stick to the plan.

I was singing along on the way to transition on race morning – as it happens, the Lego movie theme tune, 'Everything is awesome'. YEAH IT IS. Oh wait, no, that was only confirmed later on in the day. I Felt great though, so excited and relaxed at the same time! Zero nerves.

After walking the million miles to my bike in transition I went to the beach to suit up and have a quick dip. I was in the first wave (after the pros) so stood right at the front on the inside line, my usual spot. The gun went off and we ran in, for ages. It was that annoying depth where it was almost too deep to run and too shallow to swim. Cue dolphin jumps (is that what they're called? I don't actually know.)

I had a clear run up to the first buoy swimming with the front pack (apart from a few lead strays). Not a single knock – didn't even get close. It was great.
HANG ON – ARE THOSE THINGS JELLYFISH!? Yes. Yes they are. Loads of them. All about fist-sized. It didn't actually bother me, but on the way back in I did find myself wondering if one would go in my mouth. Oh the logic that evades us during a race.

After the first buoy I started to pull away from the pack (or they were dropping off, more likely). At this point I could only see three swimmers in front of me, a little way ahead so I couldn't even draft. I passed one of them, who shortly after passed me back. I was basically following these three swimmers the whole way around the course. Not close enough to draft, and absolutely no-one else around me. We swam up to a massive galleon-type ship (yeah, lack of terminology knowledge here too) and it was the most bizarre mid-race sensation. I was on my own.

It actually felt like the longest swim in the world. I think because I was on my own I relaxed a bit too and just cruised along. It was a bit boring though. Nothing to chase or draft! As I exited the swim my Garmin read 2.1k. Thought 34 odd minutes seemed slow for me. Either I've had an atrocious swim or everyone found it 'longer' as I was 8th female out of the water and 3rd in my AG.

Poland was home to the world's longest transition – even longer than Mallorca, for those of you who have done it. I'm not sure this is actually true but it was RIDICULOUSLY long. Not just the run up to the transition entry but actually the transition itself. Yeah, something like 6 minutes. Let's gloss over that. Actually even the pros were about 5 minutes!

Out on the bike and I knew there weren't many women in front of me. I overtook two coming out of transition, but one overtook me again early on in the course. I thought this would be happening for the entire bike section, but amazingly, it didn't happen again at all.

The first part of the bike course is a bit technical as you make your way out of town, but after that it's pretty straight and flat. My strategy was to hold back on the first of two bike loops, save some for the reserves. I was averaging about 32kph so held it around here, keeping an eye on power too.

Once again, it was weird being out on the bike course alone. On some sections there was no-one about, at one point I even wondered if I had taken a wrong turn! I hit a long straight out and back section with a tailwind so was cruising at about 37kph easily. On the turnaround point you could feel the headwind quite a bit, this was the only 'grind it out' bit on the course as on the way back in, another tailwind and some speedy splits.

Hitting the technical bit in town was exceptional. The crowd support was brilliant, and because I knew there still weren't that many in front of me it made it even more special. On the second loop I decided to push a bit harder. I was now averaging 35kph and on the faster bits, 38+kph. This felt amazing. Quite a few men were overtaking me but I didn't care. Stick to the plan.

On the way back in I was still feeling absolutely fantastic. I was actually smiling, it was insane. I have never ever felt this good on a bike in my whole life. I was at the end of the bike feeling like I could easily do another loop. Usually I feel tired by this point but I felt absolutely amazing and had a massive PB of 2:41. Later on I found out I was 1st in my AG off the bike. Wow. Just wow.

Into the massively long T2 and out onto the run. Hmm. Yeah this was going to hurt. This was where I was about to potentially lose places. I know my run isn't as strong as it should be at the moment but I had pacing to hit, and I was going to goddamn stick to it even if it killed me.

After the first km or probably less, a young girl came absolutely storming past me. I looked at her rapidly disappearing up front and wished I could run like that. Anyway, stick to the plan. I was feeling relatively good, no gastric discomfort at all and hitting above my target pace. Would I be able to hold onto it though? Probably not…

Three laps and the second lap definitely felt the hardest. On the last lap it was time to empty the tank but it was already pretty empty, as far as my legs were concerned! For the first time in my life I was actually drafting on the run – there was one section along the seafront which was super windy, right into a headwind, so I just sat behind people on this section. There was also a 1-2km hill on the course, which, although only a very low gradient, definitely made its presence felt on laps two and three!

In the last 2km I decided to go for it, opening up in the last 1km. I had hit my splits bang on with a conservative target half marathon time of 1:50, which is actually what I achieved. The finisher's chute was amazing as most people were still peeling off to complete laps two and three and I ran down to incredible crowd support. Thank. God. For. That.

I finished in 5:15:01, only a couple of minutes off my half iron PB. I had no idea where I had come but I knew it had to be pretty decent as only a few girls had overtaken me on the run. Another indication was the massage tent – there were only two people queuing up! This is a rarity in an Ironman event so I went straight over there to get one. Ideal.

As I was exiting the massage tent my friend Claus who was racing but had to pull out because of a dodgy ankle after the bike section, held up his phone with the Ironman tracker on it.

2nd AG position, 13th female overall. I was also only 1.5 minutes off the winner of my age group. I tried not to let myself get too excited as I have experienced dodgy tracker finishing positions before! But it couldn't be far away from accurate as I hadn't seen many women up ahead. It was correct. 13th female overall including the pros, 8th female age grouper. This was my best result ever!

I was buzzing. After refuelling it was time to hit the awards ceremony. The podium was impressive, almost like a formula one podium up high on scaffolding. Only problem was I couldn't understand a word as they were making all the announcements in Polish. I took a guess and ran up to the podium just before my name was called. This was amazing. They handed over a massive trophy and a track pump. Get in!

We went to the 70.3 World Championships slot allocation ceremony. Initially, I thought I wouldn't take the slot but after having a word with myself (and a few others), I decided to JUST DO IT. Hell yes. That's if number one didn't take the slot. She didn't. I did. I am going to the Sunshine Coast in Australia.

I loved Poland. I even had a bit of post-race blues the next morning (which I never have!). I MISSED the race. I woke up the next day wishing it was the day before. I've never had that before! I also never expected this result in a million years. What's more, even if I hadn't had the incredible result, the race was just, quite simply, perfect.