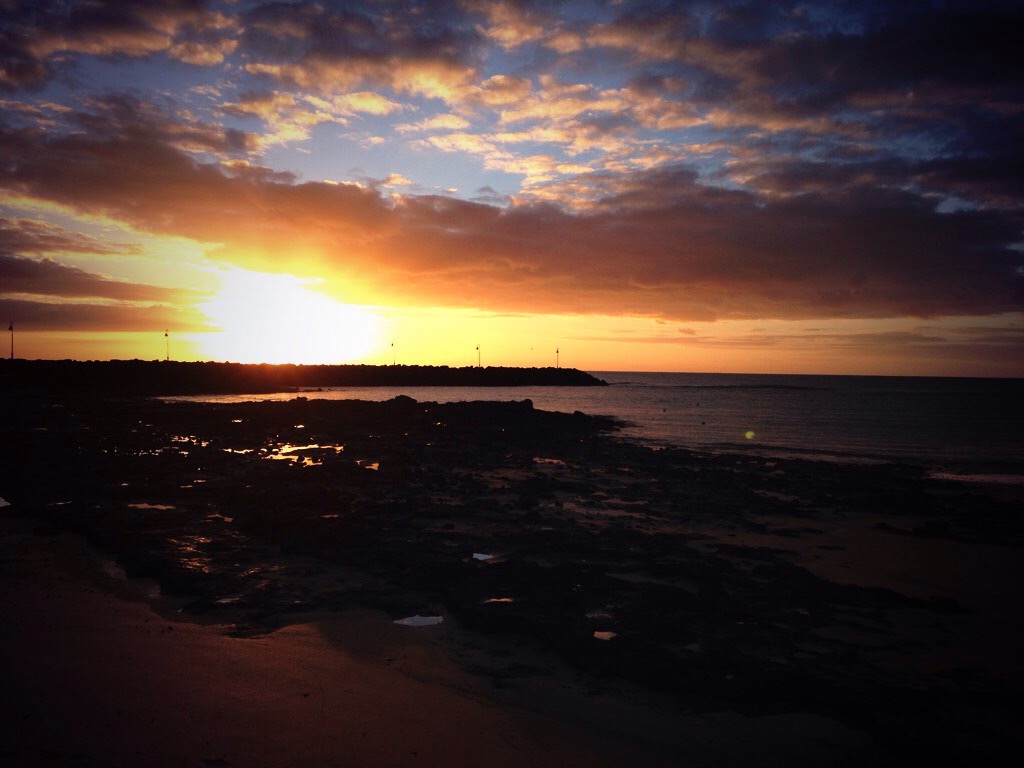 "Once you have tasted flight, you will forever walk the earth with your eyes turned skyward, for there you have been, and there you will always long to return."
― Leonardo da Vinci
There has become something which I do when I want to escape. To avoid the hoards of people, the traffic-laden roads, the daily tediousness life can sometimes bring. And the biting cold. We all know how much I hate the cold.
It's an island, nestled off the coast of Africa, majestic and beautiful in its volcanic grandeur. Yes, Lanzarote. It is my bolthole, and I don't know why. I just keep going back. It does this 'thing' to me, which I can't even articulate.
Recently, I went out there for another week to kick start my training. I have been privileged to be sponsored by
Lanzarote Retreats
, and this time, I stayed in the luxurious
Tiagua 81
in a beautiful setting – probably the poshest triathlon training camp base ever. Serenity matched by functionality. Yes please.
I pretty much always go to Lanzarote on my own, and this was no exception. I had befriended
Hollie Cradduck
at the Challenge Paguera race in October after over a year of tweeting each other, and with her having recently moved out there, we planned to hook up. And we did just that. A lot. It was one of those instant friendships – I don't think I stopped laughing for most of the week. We created memories that I won't ever forget, and forged a friendship I will always have.
The Lanzarote social scene is pretty much like its training scene – enthusiastic and full on! Plus I know many people on the island already from spending time there - it was practically an endless string of activities: training sessions, coffee at Lanzarote Retreats office, lunch at
Tabla
, more training sessions, dinner at
Cantina Teguise
, drinks, even more training sessions, dinner at
Barstro
, more training, more drinks, a triathlon go-karting afternoon courtesy of Mike and Julie at
Lanzarote Information
, a photoshoot with the brilliant
James Mitchell
for
Zone3
wetsuits, even more drinks… the list goes on. And I've probably already bored you. But you get the picture.
It was SO. MUCH. FUN.
Good times don't seem to fade out there – no matter how many times I go to the same place, do the same rides, visit the same restaurants, train in the same pools, drive the same roads, do the same runs – it's always an incredible place. Each experience is unique.
Anyway, before I land myself a job at the Lanzarote Tourism Board, the reason for this is that I had some thinking time on the bike. As many of you know, I am self-employed, something which happened to me at the beginning of the year (yes, it did happen to me rather than me forcing this choice) and as a result, this has afforded me great flexibility with racing and training abroad. But why stop there?
While in Lanzarote (and it doesn't really take a genius to work this out), I realised that I could train in this incredible climate, be around some awesome people, and live a pretty elementary lifestyle on this sedate, serene island. Carpe diem.
Apart from the fact that the climate is so good; the terrain is tough - and next year I want to ramp up my performance and train as hard as possible. I know that hours and endless hours of riding on these hills, in this wind, with a whole plethora of top athletes roaming around is going to do me a lot more favours than sitting on the turbo for an hour. No relentless cold, no endless darkness (OK I may be dramatizing it a bit) – this is going to be quality training. And a quality life.
I am so lucky to have the flexibility with my work to make a decision such as this. And while I can, I am going to. It was one of those moments where everything just fell into place, and all of a sudden, it's happening.
So, my plan is to move out to Lanzarote for two to three months in the New Year, come back and enjoy a Summer season of racing (mostly abroad), and maybe even head back out for the Winter again. And from there, who knows.
For now, I want to keep my roots in the UK and my heart in Lanzarote, because right now, "there I have been, and there I long to return"...