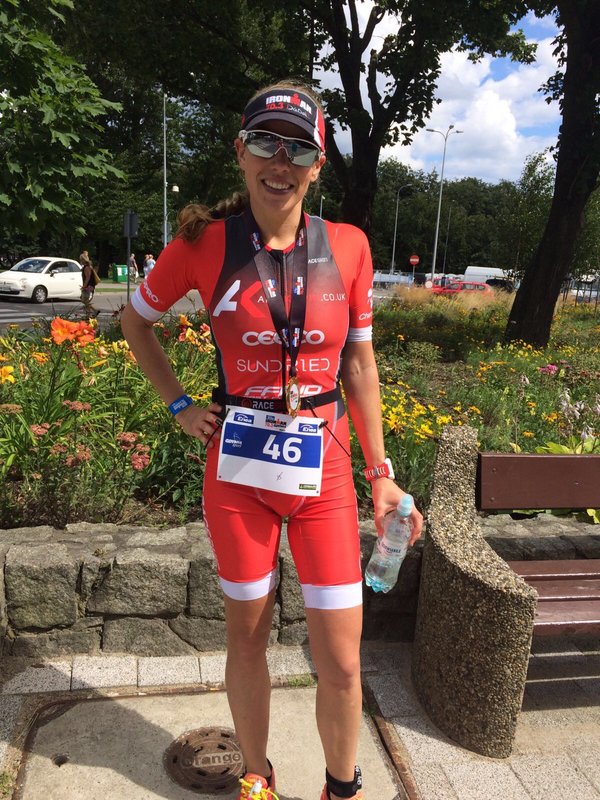 Although I make a habit out of travelling to new places to race, I always think it's good to have a 'benchmark' race – one you go back to year on year to measure improvements. Sure, conditions can vary considerably, but you can often get an idea of your performance gains by testing yourself on the same course.
Plus I'm also a fan of going back to races when you need a 'filler' at some point in your season – it's easy when you know the place, know the course, know the logistics etc. It makes for less hassle, less stress, and you can often get there, race and get away within just a few days.
This is the reason I have raced Ironman 70.3 Gdynia for the past three years running. Well, this is one of the reasons – one of the main reasons is actually because it's unequivocally one of the best races on the circuit – and as someone who has raced all over the world, I don't use that statement lightly! It's easy to get to, cheap when you get there, the race is one of the best organised races I have ever experienced, the atmosphere is amazing, and you can do the whole trip in just three nights. Plus, it starts and finishes on the beach. Need I say more?
Anyway, I went back to Poland for my penultimate race of the season; a 'warm-up' for the 70.3 World Championships. It was especially exciting this time as my parents were coming along to support me, which, given my penchant for exotic race locations, doesn't happen that often these days!
Things had been going very, very well in training. Better than ever, actually. It's been a solid season so far and things were still improving. For the 2015 and 2016 seasons, I had posted PBs at Gdynia 70.3, and although I wasn't expecting a PB, I knew I was capable of knocking a chunk of time off my course best.
My coach Mark messaged me the day before the race: "Feeling good?". To be honest, I never feel particularly good during taper week. When I'm hitting all the harder sessions I feel great but as soon as that taper comes, it's hard to feel 'sharp' – I tend to just feel sluggish, heavy and like I've lost fitness, although I know that's all in the head!
On race morning I felt quite nervous. Nothing out of the norm but maybe also because my parents were there. I'd had a pretty busy/stressful few weeks leading up to the race as I am right in the middle of buying my first house on my own, and there is SO much to do! So even with a decent taper, I wasn't exactly feeling 'fresh'.
I stood on the beach with the new rolling start about to take off. Then the gun went, so loudly it made me jump, and we were running (more like wading) into the water. I remember this swim is always quite slow, and it was obvious that it was the same for everyone as the fastest starting pen based on split time was for athletes who predicted they would swim 'under 32:59'!
Maybe it's all the jellyfish getting in the way. I've never seen so many, they must have been freaking out having thousands of swimmers slamming into them. They don't sting, they just feel a bit gross when you mash your hand into one, or one goes into your face like a slimy film.
At the first true turn point, the water got very choppy. It was hard to get any rhythm going and any delusions of trying to get a PB swim split for this course went flying out the window. It was survival mode. It was pretty horrendous, I was begging for it to be over as I battled through the chop. Really draining as well, and I swallowed a bit of water which doesn't usually happen.
Finally, we were heading towards the swim exit. Out into T1 with a 34 minute swim. Hah, not breaking any records with that! I had to sit down as I put my bike shoes on as I nearly fell over, probably from all the motion.
As an AWA athlete my bike was racked next to the pros so that was an absolute bonus – straight out and onto the section of cobbles before we hit the roads proper. I was struggling to calm down after the tumultuous swim; it felt like a good 25 minutes on the bike before I felt like I had settled into the pace. It just felt like I had burned a few matches and needed to set things back again before I ended up in the red for too long.
We hit 'the climb' on the bike course as the road snaked its way up through this sort of national park area. I had to focus quite hard to keep the power on, my legs weren't feeling great and I was starting to feel a little worried about how the day would pan out.
At 35k into the bike I genuinely almost started crying. I felt pretty ropey, and couldn't believe I wasn't even at half way. In fact, I was only just over an hour in – at this rate the bike would take me three hours! It felt like it was taking forever, I was losing a bit of power already and didn't feel like I had that much energy, despite my nutrition all going to plan. I also felt sick right from the off, pretty unusual for me so early on in a race.
I ploughed on, the whole first half of the bike course was into horrendous headwinds of around 40kph which was just absolutely energy sapping. Also most of the climbing is in the first half, it's sort of a constant rolling course so you don't really feel like you get much momentum up before you're on a short climb again.
Finally, at 45k ish, the loop turned back on itself and there it was. That beautiful tailwind. YES. This is what we need. I had forgotten how fast the last section of the bike course is, particularly the last 25k where I was averaging over 40kph. It's not really downhill as such but there is some low gradient descending, and the tailwind was doing wonders.
I only realised in the last third of the bike leg that I was on for beating my previous time on this bike course – the first half was spent doubting whether I'd even get close to last year's time! Now I knew I would take some time off, I was spurred on and pushed a bit harder towards the end.
I ended up coming off the bike in 2:40 – taking seven minutes off last year's time, despite the brutally windy conditions. Guess I'll take that!
Just the run to do now, thank god. I was glad to get off that bike, for some reason I really struggled and wasn't really holding much hope for the run given how knackered I had felt on the bike. I started running and it took a good 20 minutes to find my run legs. At that point, however, I had the onset of massive stomach cramps. Jesus Christ, where had this come from? It was awful, I have never ever experienced that kind of stomach pain during a race. I almost had to stop and walk.
I was gurning, and gritting my teeth, thinking I'd be holding on just to get something like a 1:50 run split. Damn. There goes a sub-5 then. I was in so much pain it made me want to cry, I couldn't take on gels either. Annoyingly my legs felt really good so I just cruised along at a fairly plodding pace, hoping it would ease off.
Amazingly, it did start to ease off. The pain became a discomfort which I could then start to ignore and run through a little bit. I braved a bit of gel and felt ok. It eased off a little more during the second half of the second lap. The run was going SO quickly – I couldn't believe I had ticked off 11k already, it felt like I was jogging! Right, time to pick up the pace again now then!
I did a quick calculation in my head and realised that I was on for a run PB. How the HELL had that happened when I plodded the first lap!? It was bizarre! My legs felt amazing, so, so fresh – I couldn't believe how good I felt after feeling so rubbish on the bike! I picked up the pace a bit more, I was feeling so strong.
It would have been quite amusing watching – on lap one I shouted to my parents how tough the race had been so far. On lap two I was rubbing my stomach and saying it was really painful with a grimace on my face. On lap three I ran past them smiling with my thumbs up. Haha, triathlon is so weird – the different emotions we go through. I felt like some sort of psychopath with split personality disorder!
The last section of the run was amazing, I was absolutely loving it. How odd, I never feel like that towards the end of a run. Maybe that's the secret – plod the first lap and pick it up from there!
I realised I could just go under 1:40 which was awesome – my current 'off the bike' half marathon PB was 1:42, the same time I had achieved on this course last year. Then I ran down the finish line and couldn't believe my watch – it said 1:37! Flipping heck, that's pretty much my standalone half marathon PB! Where on earth had that come from!?
I was also delighted to go sub-5 yet again with a time of 4:56, especially with tough conditions on the day. After chasing the sub-5 goal for years, this was my third sub-5 race this year alone. And now a massive five minute half marathon PB – that's huge!
I was over the moon. I didn't care where I'd come as I knew I'd done well as a personal performance. As it happens, I was fifth in my age group (that goddamn elusive podium), and 19th female overall – including eight pros. Guess I'll take that!
It was wonderful celebrating with my parents that evening, I am, super happy with the progress I've made this year and can't thank my coach Mark enough for this.
I don't usually do a 'thank you' diatribe at the end of blogs but I'm so grateful I have the most amazing people around me. Massive thanks to my parents for being the best support imaginable, and all my fantastic sponsors who I am absolutely honoured to work with over these past few years.
I might not have hit the podium but I know I'll get there eventually.
Next stop, World Champs!