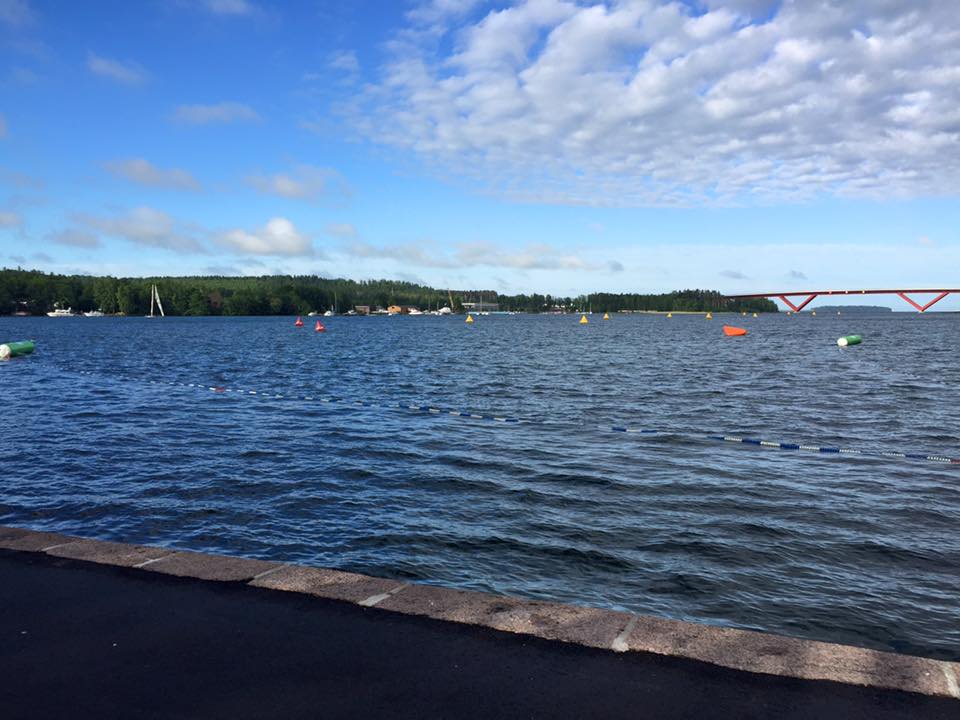 2015 was going to be shaped around one big race, my A race: the ITU Long Distance World Championships in Motala, Sweden. I had qualified to compete for Great Britain in my age group, and having decided to not do a full Ironman in 2015, the three-quarter distance suited me well. I have never competed at a world championship event in my life, nor did I ever think in a million years I would be. It was going to be exciting and yet one of the biggest challenges I had faced in triathlon.

My season started well so I was feeling positive about the event, yet arrived in Sweden feeling my usual taper-induced sluggish and lethargic self. I think it's got to be my body preparing itself for the ordeal ahead, as despite always feeling about athletically-competent as a slug, it seems to wake up on race day! How the hell this event came around so quickly I do not know - the first six months of this year just seem to have disappeared in a flash.

I felt surprisingly laid back about the event, and with a few spins and one bitterly cold, extremely choppy swim on the course, pre-race day arrived. It was announced that the 4k swim would be reduced to 1.5k due to the water temperature sitting at a baltic 13.8 degrees, and air temperature at just 14. This was initially a real disappointment. Although not the fastest swimmer by any stretch of the imagination, I knew my swim endurance was solid and I could possibly have an advantage here over weaker swimmers. Still, it was an 'uncontrollable' and there was no point in over-thinking it. That was the decision so it was time to get the job done.

I was calm on race morning, steady in the knowledge that I had done all the hard work and now it was time to just pace myself, race smart and hard, and take it to the finish line. I can't control other people's performances so whatever happens, wherever I am placed, as long as I do my absolute best then there is nothing else I can do.

As we all know, I'm a bit of a fair weather aficionado so in the lead up to the event, temperatures of 14 degrees and rain weren't really inspiring me. However, on race morning, you couldn't have programmed in better weather even if you could control nature. It was glorious - wall to wall blue sky and sunshine with a light breeze, and 21 degrees celsius. Perfect.

It didn't prevent the lake water from feeling devastatingly cold though - it was a bit of a shock to the system getting into that! The wind also meant that the water was a bit choppy, but manageable. Swim conditions soon became the least of my worries though, as the second wave, which consisted of all women and the 'older' men set off in what can only be described as a fist fight mash up. Within about 15 metres I had been punched in the face and my goggles had been knocked and filled with water, so I had to stop momentarily to empty them and reposition them. The repositioning only worked temporarily as a couple of hundred metres down I had to do the same again. Resolutely, I told myself if they fill up again then screw it - I'm swimming anyway, I didn't want to lose anymore time. They did, so it was squinty eye for the way back in!

Unfortunately, the knock had given me a bit of a shock and I had panicked a little, and was struggling to regulate my breathing in the fist-fight-frenzy. A combination of the cold, the choppy water, and the beating we were all getting was making for an extremely uncomfortable swim. I was rapidly becoming grateful of the shorter swim, willing it to be over. As I approached each buoy I was filled with dread at being bashed again, and was struggling to stay calm. I never usually have this problem so I know the knock had taken a bit of confidence away. I vaguely wondered if everyone else was finding this as tough or whether I had been unlucky. I was silently praying it wouldn't set a precedent for the rest of the race...

As we hit the turnaround point there was no let up and I was still getting a little bashed aroubd. Admittedly, I had chosen the very inside line but I didn't want to go wide as the starting area had consisted of such a wide line I knew it would add minutes on to my time. Risk the mosh-pit for the time-saving; it was a fine line but I think it paid off. Never have I been so glad to see the exit of a swim. I ended up somehow getting a 1.5k swim PB of just over 26 minutes.

I entered T1 more casually than usual, with just a light jog to try and get my heart rate back down and under control after that torrid experience. All smoothly done and onto the bike, I decided that again, I would start off easy to keep things under control - it was going to be a long day and it was imperative that I conserved energy and managed my pace to remain consistent.

The first hour on the bike seemed to fly by and before I knew it I was one lap down. I was averaging about 34kph - the course was very flat, very fast, and quite scenic too. There was quite a strong wind on the bike but I am fairly used to windy conditions now so this didn't particularly bother me. Thank god for Lanzarote! It was nice yo-yoing with some familiar faces and a bit of good old British banter on the course, keeping us all in positive spirits.

As I got halfway into the second lap it dawned on me that three laps of this bike was a bit of a mental slog. Joe Skipper came flying past me asking how many had already come past. It took me by surprise and I just shook my head, my mouth full of peanut butter sandwich. I lamely shouted 'go Joe' afterwards, only having realised it was him after he had passed me. I wanted to catch him to say I'd seen Ruedi Wild go past about 4 minutes earlier as the elite lead, but as you can probably imagine, it wasn't possible. Knowing he was on his last lap and I still had more than a whole lap still to go (about 55km) was a bit of a "goddammit" moment.

Onto the last lap and the long sloping hill (pretty much the only one on the whole course) out of town felt much harder. My legs were definitely feeling fatigued, but I knew I had to grind it out and was still cruising along relatively comfortably at 32kph, I just wanted my pace to remain consistent. I was getting considerably irritated by the unbelievable amount of drafting going on amongst the Swedish team. They dominated the race in terms of competitor numbers, and I followed behind a group of Swedish females who drafted the entire 40km lap. Despite the motorbike officials sitting alongside them for a good 20 minutes, I didn't see any penalties issued and was feeling extremely peeved by this complete lack of fair play at an important world-class ITU event.

The last slope down into T2 was great recovery after what was essentially a 120k time trial. I had accounted for over 4 hours for the bike so was super chuffed that I managed to complete the bike in 3 hours 36. This was good. Very good. It's all about the run now, this was showtime...

Straight out onto the run alongside the lake and my first impressions were how great the support was! Secondly, how absolutely stunning the run course looked as it skirted alongside the beautiful shimmering Lake Vattern. Unfortunately, my third realisation was not as positive. Instantly, the run felt hard. This isn't really what you want when you have a whole 30km of running ahead of you. I usually run off the bike feeling good, at least initially, so this was unusual for me. However I don't usually cycle that fast for that period of time. You gain some you lose some. Hopefully I wouldn't lose too much...

I hadn't been able to consume enough calories on the bike, I knew that. My stomach unusually felt a bit uncomfortable and I struggled to eat. I knew this would effect my run so I had a gel straight away. My strategy was a gel every 5k and by the second one, I was feeling better. After the first lap I was speeding up and when I hit 10k over my target time in 53 minutes, averaging about 5:20/km I was feeling good and positive.

At the 15k mark I even gave myself a little 'fist into palm' boom as I was right on target with my run and feeling strong. "Go Kilpin, come on, we can do this" (WHAT a geek). I was ignoring anyone who overtook me, knowing I couldn't control anyone else's race, only my own. I had realised by this point that I didn't care where I placed because I knew I was putting in a strong performance (for me) and had already exceeded my expectations in terms of time. I was on for a sub-7 hour race and my only focus was to maintain my pace and hydrate and fuel efficiently in order to do so.

The three 10k run laps were certainly slightly soul-destroying. It's a mental game rather than anything else and when I had reached over 20k my knees and hips began to ache significantly. My lasting thought was that if this was an Ironman I would only be halfway. I was thinking how I possess zero inclination to do one again. But we all know that's just pain talking and that after the euphoria of finishing, our mindsets change completely. The idea suddenly sounds appealing again after a few beers - wonder why that is!!

My pace had slipped a bit towards the 6:00/km mark but the last 5k I managed to bring it back to 5:35. I was so happy to see that finisher chute. I felt utterly broken, everything hurt. I gave it a damn good go and finished in 6:54:48.

I was 12th in my age group but with a very tough field I was happy with that, at my first world championship event. Nearly all of the competitors ahead of me were Swedish and it proved for very strong competition. I had to remind myself I wasn't competing against your run of the mill long distance triathlete here, it was people who had all qualified to be here. A different level.

Overall I was happy with my performance as I knew that I couldn't have performed better on the day, and that is all you ask from a race. Sure, there are certain things I need to work on, one being my nutrition on the bike and the other is a renewed focus on my run as this is where I lost the most places. I was 11th out the water in my age group and so across the three disciplines throughout the whole event I remained consistent.

What was great, other than this race being in a beautiful part of the world, was that I got to spend time with some friends in the process, as Hollie Cradduck and Aled Smith were there along with their Tenby crew. We spent the day after the race recovering on Sweden's finest beach on the shores of Lake Vattern in 22 degree sunshine, and it was the perfect ending to a fantastic trip in a brand new country.

I feel happy with my performance and know what I need to do to improve. I won't get there immediately, of course, but it's going in the right direction, and along with enjoying it, that's what is important.

It's time for a mini mid-season break as I do something which is unheard of for me - taking a whole week off training to recover, recuperate, and come back with renewed focus ready for my next block of races and the 70.3 World Championships in August. I am only half way through my season and I have a lot more to give. I cannot wait to see new places, focus on new goals, and push the limits...